Why The World Still Needs Superman, perhaps more than ever before.
When it was announced there was going to be yet another Superman movie, public response was muted. Superman Returns was a bland non-starter, and DC has had trouble getting superhero movies off the ground (with the exception of Christopher Nolan's films). And when it was confirmed that Zack Snyder was directing an origin story,  it seemed redundant.
But Nolan was attached as producer for Man of Steel, and Snyder is an accomplished visionary (although unproven in terms of emotive storytelling). But the main problem is with, well, Superman. In many ways he feels outdated. He's 75 years old! That's the problem when you're the first superhero of note; everyone else copies off your blueprint, adding new layers of complexity to their characters.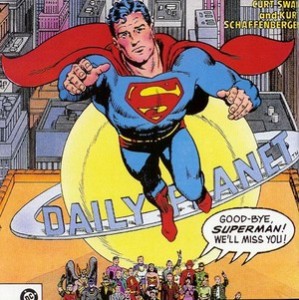 This was why Marvel has dominated comic books and superhero movies for decades; their characters are flawed and relatable; none are as squeaky clean as Superman.
But an interesting thing has happened. With all the suffering of late, be it the Sandy Hook Shooting, the Boston Marathon bombing, the West TX Plant explosion, or the massive tornado in Moore, Oklahoma, Americans are feeling vulnerable, emotional, and weary from tragedy.
I've had friends and family tell me how excited they were to see Man of Steel, and not just because the trailers are impressive. All have commented that after all we've been through that "we could all use a Superman right now."
Last year I wrote why Batman Is The Best Superhero Ever, and I still feel that way. Batman is who we'd like to be, because he feels attainable; work out enough, have enough cool gadgets and you can fight crime too! His lack of powers makes him appealing in that sense.
All the first responders to tragedies, all the parents protecting their children, are leaning on their inner Batman.
But Superman is a deity. We can't fully relate to him. He's an alien, invulnerable and immortal.
But he does all the heavy lifting. If there was a real Superman, we wouldn't have to do the hard work when confronting danger. He could bail us out.
Thus he's the epitome of wish-fulfillment. He's a God, a savior, someone who can take the load off our shoulders.
Superman reminds us of a time when Americans felt more united. The character was created in 1938 by Jerry Siegel and Joe Schuster; both sons of Jewish immigrants; families who were excited and hopeful about their new country and the promise it brought.
When WWII happened shortly afterwards, the country rallied together, and comic book characters were in the fight as well. Superman was front and center. While this feels too jingoistic in this era, it was needed then. If he was real, he could have ended the war overnight, likely avoiding unwanton destruction given his fantastic strength and problem solving capabilities.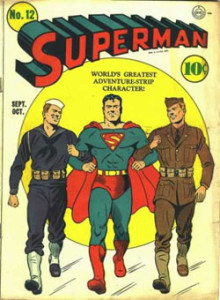 He was also used as a tool to keep American troops entertained and to help their reading comprehension in WWII.
Superman came back into fashion again in the late 70's. Like 'Star Wars', 'Superman The Movie' was an escapism injection Americans sorely needed in the aftermath of the Vietnam War, Watergate, and the rise in violent crime. He just made you feel better somehow. Christopher Reeve felt so inseparable from the character, that when he was paralyzed in an accident, it felt impossible for an actor that seemed invincible to us as children. And when he died, even more so.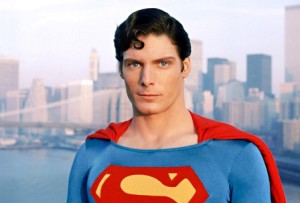 And while Superman belongs to the world, since he was created here, he feels like the idealized American. Not hung up on political squabbles, stupid distractions, or petty grievances. He's looking at the big picture; keeping us all safe, and setting a good example for humanity.
So it seems that Superman is cast aside when we feel smug or content. But when we feel vulnerable, he's needed more than ever. That he still exists in comic books,TV,  and in Man of Steel is comforting.
I have no idea if 'Man of Steel' will be a good movie. It certainly looks fantastic, but making Superman relevant onscreen  is still a trick (reviews are  mixed  thus far). He needs to be omnipotent yet relatable, to let us know that while he isn't human, he represents the best of what we can be.
So I'll be in line for 'Man Of Steel', hoping to leave  the theater with a little bit of the euphoria I felt after seeing 'Superman II' as a kid. The World Still Needs A Superman, even when we think he's outdated. But lately?  He feels as timely as ever.
So what are your thoughts on Superman's legacy, and 'Man of Steel'? Comment below. And check out my dream cast for a Justice League Movie, my list of best comic book movies, the worst comic book movies, and lamest comic book characters!
Check out this cool Man of Steel collectible from Entertainment Earth below, as well as Amazon links to classic Superman comics and movies: