Tyson Meade Talks 25th Anniversary of Chainsaw Kittens Flipped Out in Singapore: a look back at a cult classic 90s alternative gem (featured image photo credit: Dylan Johnson)
Norman Oklahoma's Chainsaw Kittens were the best kept secret of 90s alternative rock.
The group, led by theatrical frontman Tyson Meade, crafted an infectious mix of glam, power pop, punk and new wave topped with a muscular grunge sheen. They should've been the next big thing, but they didn't get the exposure they deserved.
But while they didn't scale the heights of Nirvana or Smashing Pumpkins (despite Kurt Cobain and Billy Corgan singing their praises), they had a loyal cult fan base who will tell anyone within earshot that "you need to check out this band!" Meade's emotive delivery combined with the group's sonic assault was infectious as hell.
They've been immortalized in film thanks to actor Ethan Embry rocking their T-Shirt in 1995 coming-of-age film Empire Records and their track She Gets which was featured on the soundtrack to William Friedkin's 2008 horror film Bug.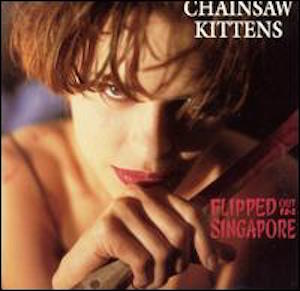 That song was taken from their fantastic 1992 sophomore release Flipped Out in Singapore. Produced by veteran alt-rock producer Butch Vig, it's chock full of Generation X anthems that still pack a punch, encapsulating the volatile glory that was life in the 1990s. And this Friday marks its 25th anniversary.
I recently conducted an email interview with Meade (currently prepping his new solo album) to discuss his memories making the album and why it still holds up so well today. Enjoy the q&a a below:
SLIS: First off, can you believe it's been 25 years? What are your immediate thoughts when you look back on Flipped Out in Singapore?
TM: I absolutely cannot believe it has been 25 years since the release of Flipped Out. My initial thoughts are I'm happy it's had a long life as the underdog that is still continually championed by people.
SLIS:  The album was produced by Butch Vig, who previously recorded Nirvana's Nevermind and Smashing Pumpkins' Gish. I read that Corgan referred Vig to produce your album. Is that correct and were you acquainted with Corgan before that?
TM: Billy Corgan had heard Violent Religion and fell in love with it, which at one point prompted him to write a fan letter to me. Due in part to Gish and how much attention it was getting, he and Butch were close friends. He told Butch he had to produce us. I am sure Billy thought we were going to be the next big thing. I did not know Billy before that and I did start hearing about the Pumpkins at that point.
SLIS: Was working with Vig on the album a big change from self producing your début album Violent Religion? What did he bring to the table? I know he's got a reputation for perfectionism and multiple takes.
TM: Violent Religion was a three day fever dream in terms of recording and mixing and I was there every single minute overseeing every single aspect of it. It was my grand statement on a peanut butter budget. I was relieved of that duty on Flipped Out, which I liked because by the time of Flipped Out we had a different drummer and bassist who were definitely not as good as the drummer and bassist on Violent Religion.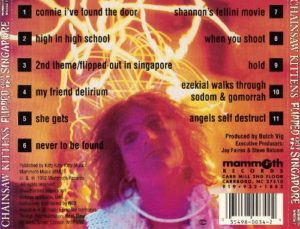 I knew this probably drove Butch mad because there was SO much time spent on getting bass and drum takes that were usable. Butch is a saint. Since he was working with a different rhythm section, its hard to say what he would have been capable of if he had the previous rhythm section or the rhythm section that came along in 1983 – Eric Harmon and Matt Johnson.
Butch definitely, like any good producer, helped cement melody lines. He dialed in on getting a song as good as it can be. That is his strength or at least one of them. Butch made the experience amazing – fun and educational at the same time.
SLIS: Flipped Out in Singapore is that rare record that doesn't have any weak tracks. Connie I've Found The Door, High in High School, Angels Self Destruct, I could go on…do you remember what song you worked on first, and were the songs written out beforehand or were they composed in the studio?
TM; Every song was written beforehand. Half of the songs I wrote on my own and then the others were co-writes with the other Kittens. Sadly, I don't remember what song we worked on first.
SLIS: For lack of a better descriptor, there's almost a John Hughes aspect to your songwriting and titles–High in High School, Shannon's Favorite Fellini Movie, etc…Those song really captures the confusion and drama of adolescence. How did you approach your lyrical concepts for that album? Was there a unifying theme?
SLIS: We were partying A LOT during this period. The Kittens were a year or two out of high school when I was writing and this was very evident to me since I was older. I was partying but I was an observer too. You could say that I was the John Hughes or Cameron Crowe (Fast Times at Ridgemont High) of the group. I had never really thought about it but there was definitely a theme of youth, debauchery and nudity for Flipped Out.
There was a lot of bored nudity and drinking going on in our circle in the Oklahoma Outback at this point. It is a true rock and roll balls to the wall record. The theme song I wrote while riding in the back of a truck the day after a show in Wichita KS. After the show, we had stayed at a party house that had been painted in a mad hatter sort of way to enhance acid trips. Thinking about it the next day hungover from the ingestions the night before, Flipped Out in Singapore (title track) poured out of me.
SLIS: Flipped Out in Singapore was well-received by critics and you had decent promotion. I remember reading about you guys in a Creem magazine piece, and I bought the album the next day. This was how you had to find new music pre Internet! But I think Kittens fans find it hugely underrated and get flummoxed as to why it wasn't a bigger hit upon its release. Do you have any thoughts on why it didn't have more mainstream success?
TM: There are many reasons – I think – it did not find it audience. As much as our record label Mammoth loved us and tried to promote us, we did not really fit with their roster which was more innocuous sorts of college rock bands. We might have done better on a grittier label but that is what it is.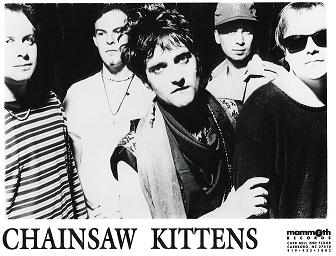 We also shot ourselves in the foot. We had a big show with lots of press in attendance at the Troubadour in LA where Elton John first really made his mark in the USA. Our bass player Clint was so drunk he ate potato chips on stage during our set. The booking agent that Billy Corgan had lined up for us was in attendance and that was the first time he had seen and met us. I was in the bathroom vomiting before the show when I met him. I had become a complete drunken mess to by that time.
SLIS: What are your fondest memories of making Flipped Out in Singapore and the supporting tour? What moments stand out the most?
TM: Mammoth's response when we finished the album was awesome. Everyone at the label was completely speechless and excited when they heard it for the first time. We also knew that Butch had helped us make something pretty great. We toured with the Pumpkins after it came out right before they went in to record Siamese Dream and we got to see them every night when they were at their absolute best in these really small clubs. We became really close to them. All of them treated us like we were their little brothers.
Also our manager at the time Lance, introduced me to his friend Julia Phillips who had won an Academy Award for being one of the producers for The Sting. I instantly loved her. We would drop by her little house in Beverly Hills and sit by her pool and smoke joints. She told the best stories with characters like Goldie Hawn or Richard Dreyfuss or whomever. Sadly, I would get so stoned that I didn't remember any of the stories.
SLIS: The Kittens put out 5 albums. Where does Flipped Out in Singapore rank among them for you? And do you have a favorite song?
TM: Shannon's Favorite Fellini Movie is perhaps my favorite song on that record. It brings back the crazy wild – light and dark – memories of the time. I cannot pick a favorite album really. It's like picking a favorite child. Flipped Out is a rock and roll record meant to be turned up at full volume to the point where the police should show up.
SLIS: Finally–How do you feel about Flipped Out in Singapore's legacy? And do you have any 25th anniversary plans for a reissue or perhaps a live performance in honor of the album?
TM: At the moment, there are no plans but putting it out on vinyl would be pretty awesome. That would be a great 25th anniversary present. I am pleased that it has aged well. And, I am touched anytime I get a note about it from a fan.
Thanks to Tyson for taking time out for this interview. His new solo album 'Robbing the Nuclear Family' is due for release later this year. We'll keep you apprised when an official release date is announced. 
Own it on Amazon: