This is the conclusion to the Top 25 Weirdest Kid Shows Of The 60′s, 70′s and 80′s!
I'll have Amazon links (where available) under the titles if you'd like to revisit these retro oddities.
8. Davey and Goliath (1960-1964)
This religious themed kids show always seemed excessively somber; Davey's childhood looked devoid of joy, but filled with guilt. And he had the worst luck.
Take this episode where he's trapped in a railroad car. The moral of the show? He's never truly alone with God at his side. But hearing God whispering "all alone, all alone, God is everywhere" (at the 10:00 minute mark) is more ominous than comforting. He sounds like a surly hobo, not the voice of salvation.
Davey carries the weight of the world on his little shoulders, and is always getting lost in caves or mine shafts. Self loathing always follows.
There were some episodes removed from syndication. They were perceived as too violent, inappropriate or culturally insensitive. But it's also one of the first kid shows featuring ethnic diversity. It's one big claymation contradiction.
But you gotta love his talking dog Goliath, who was the main appeal for kids.
7. Jot (1965-1974)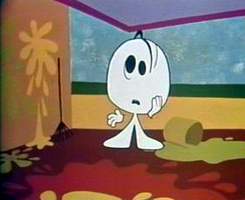 Jot was a Baptist-based religious cartoon created in my hometown of Ft. Worth, TX. It was their take on Davey and Goliath. What made it weird was the fusion of religious teachings and psychedelic animation. Jot was an abstract fellow, whose environment would change colors based on his mood.
It makes me think that they either had a secular hippie doing the artwork or some Baptists were flying their freak flag:
Trivia: Jot first appeared on another local show, Mr. Peppermint's Place, which had its own odd note; 'Mr Peppermint' aka Jerry Haynes, was the father of Butthole Surfer's Gibby Haynes.
6. The Banana Splits (1968-1970)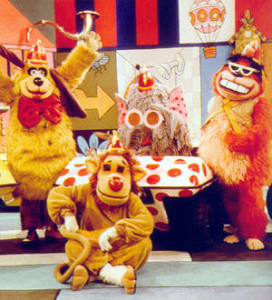 The Banana Splits were a band of odd creatures playing groovy tunes in-between variety segments.
Any kid who grew up on this madness will remember the candy-colored opening titles, and the pied piper anthem of lunacy:
Trivia: Sid and Marty Krofft didn't produce this, but they did design the costumes…

5. Junior Christian Science Bible Lesson Show (1980?-??)
I didn't see this growing up, but discovered it online. I'm glad I didn't see it as a kid because I'd need a straitjacket. Seriously.
This was a cable access show created by David Liebe Hart, recently featured in Tim and Eric's Awesome Movie. He's insane.
I'm not sure how to describe these clips, but here goes. How about a Martian singing about God? Brace yourself:
Or an anti-drug PSA that makes you feel like you're actually on them?
And here's the single worst impressionist EVER:
*Just realized I made a glaring omission for weird, religious, kid shows! Check out a clip from Nana Puddin :-/.
4. Lidsville (1971-1973)
This Krofft show's about Mark, a kid who falls into a magician's hat and lands in Lidsville, a world populated by living hats. He's threatened by Horatio J. Hoodoo, who resides in a flying Hatamaran which shoots bolts of magic into the town.
But it gets weirder! Mark is befriended by a Genie named Weenie. And Hoodoo has a henchman named Raunchy Rabbit. And I'm just scratching the surface…
The crazymeter for Lidsville is off the charts. It's also has a trippy seemingly endless theme song:
And speaking of trippy, does anyone remember these scary Mr. Yuck PSA's from the 70's?
3. Pee Wee's Playhouse (1986-1990)
Pee-Wee's Playhouse was the hippest kid show ever. Paul Reubens built on the surreal world he created with Tim Burton in Pee wee's Big Adventure (Speaking of Burton and kid shows, check out my Frankenweenie review).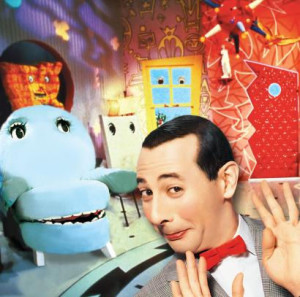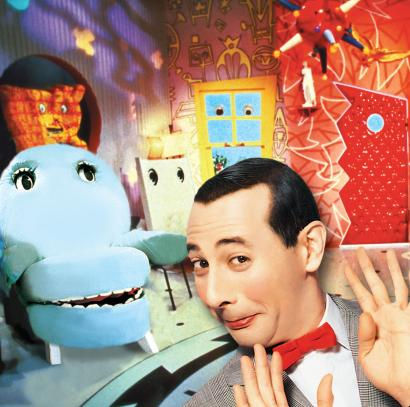 Between the King Of Cartoons, the talking chair (Chairee), Genie, and Conkie the Robot (to name but a few), the playhouse was a dream you'd be happy never waking up from.
It's the coolest kids show ever, weirdest in the best sense. Reubens prepared a whole generation of kids for a more diverse world through his lessons of tolerance and reciprocity.
2. Legends Of The Super Heroes (1979)
This 2-part live-action special featured a bunch of DC comics characters from the Justice League of America and the Legion Of Doom. I was an 8 year-old comic book afficianado, so I was ecstatic. Plus Adam West and Burt Ward were reprising their roles as Batman and Robin!
It aired only once, just like the Star Wars Holiday Special. And like that special, I thought I'd dreamt it up. No one else remembered it, so I questioned my sanity.
Years later I got a bootleg at a Comic Convention. I was overjoyed….until I watched it again.
When you're that young, satire doesn't register. And this was so amazingly wretched it numbed the senses.
The first special ("The Challenge") involved the search for a bomb, and boy was that a metaphor. Check out some of this magic:
The next special was a Superhero Roast, which was even worse!
It was a tacky 70's variety show, bad costumes and worse jokes; a format thankfully extinct today.
The Roast was hosted by Ed McMahon. He never turned down a paycheck.
Click here for a scene featuring jokes by Super Villain Weather Wizard on YouTube.
A sample of the Wizard's (Jeff Altman) jokes: "How cold was it"? "Down on the Mission On Skid Row, they were serving soup on a stick".
Bah-dump-bump-ksshhhhh…..
And then McMahon introduces an inner city hero. His name? Ghetto Man!!
No, this wasn't a South Park satire; it was an earnest attempt at diversity in the 70's. Yikes.
His jokes are real groaners:
"The Weather Wizard man, y'all think he's a big deal…", "a real weather wizard is a cat that can make it through a Chicago winter with no heat"!
"And there's the Flash over there. Oh no, he's over here. They all look alike to me."
"And dig Captain Marvel; When he wants to use his powers he says Shazam!, when we want to use our's we say Kareem!"
Just watch his YouTube clip and prepare to be mortified.
Since it's been officially released on DVD, DC comic fans can satiate their morbid curiosity like I did. It has to be seen to be believed.
1.H.R. Pufnstuf (1969-1971)
Sid and Marty Krofft's piece de acidic resistance.
Also available on Netflix Streaming. Click Here for a free month-long trial.
Pufnstuf was a friendly dragon, but he looked more like a sentient pancake. He befriends a human boy named Jimmie. There's also a talking flute named Freddy, tree people, and a villain named Witchie Poo.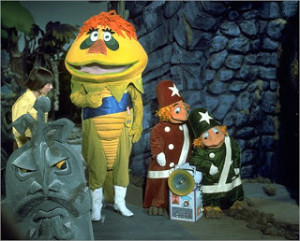 This is the show most often cited when accusing the Krofft's of being under the influence. All I know is if you watch it, you're gonna feel like you're under the influence. And consider the name…and what about the lyrics to the theme song?
"H.R. Pufnstuff,
Who's your friend when things get rough?
H.R. Pufnstuff
Can't do a little cause he can't do enough."
Check out the opening titles:
You kinda left the earth for a few minutes didn't you?
Mr. Show parodied the suspect nature of Krofft's creative process with this hilarious skit:

Some trivia; the Krofft Brothers were hired to do an Atlanta, GA theme park. I can only imagine how awesome that was! Sadly it closed. But guess who moved in to the space? CNN!
Alright, that wraps up the Top 25 Weirdest Kid Shows Of The 60′s, 70′s and 80′s! Now it's time for you to chime in with your favorite weird kid shows in the comments section. And make sure to read about my list of best kids toy's from the 70's/80′s, and The Top 10 Best MST3k episodes.