Top 10 John Hughes Movies: upon its 30th anniversary, see where The Breakfast Club ranks among Hughes' best films.
This week (February 15th to be exact) marks the 30th anniversary of director John Hughes teen dramedy The Breakfast Club.
It became a pop-culture touchstone for Generation X, and an 80's time capsule moment. But it's themes of social hierarchy and the constrictions of conformity are timeless.
Hughes was a master of defining the awkward peaks and valleys of adolescence on celluloid. But he covered other various terrains during his brief lifetime as both a director, writer and producer.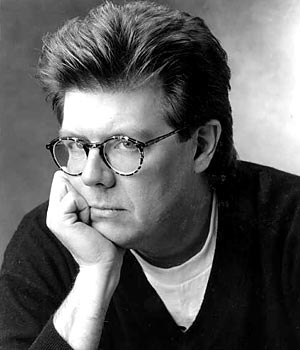 But not all works are created equal. So in honor of The Breakfast Club's 30th birthday (and upcoming re-release in theaters) here's our ranking of his 10 best films.
I'll have Amazon links under each entry if you'd like to own them on Bluray.
10. Uncle Buck (1987)
The late great John Candy elevates this comedy as the title character: a lovable unemployed lout tasked with watching his brother's family. The best bits involve Candy's deadpan interactions with his young nephew Miles ( Macaulay Culkin). This would be the second to last film directed by Hughes (the last being the forgettable Curly Sue).
9. Pretty In Pink (1986)
Hughes wrote the script for Pretty In Pink , but left directorial duties to Howard Deutch. Thus, the material ultimately suffers in this tale of high school heartbreak.
Molly Ringwald is pitch perfect as Andi Walsh, a working class kid with a crush on popular preppy Blain McDonough (Andrew McCarthy). This makes for a rocky relationship due to uneven social statuses. But the real draw of the film is her relationship with Duckie (Jon Cryer), an awkward jokester who can't fully express his feelings for her.
The original ending had Walsh ditch Blaine for Duckie. But test audiences didn't go for it, and Blain and Andi wound up together. Sigh. Stupid test audiences.
The film would've benefitted from more humor and less sappiness. It's ultimately saved by it's stellar New Wave soundtrack.
8. Some Kind of Wonderful (1987)
Some Kind of Wonderful is the better, parallel universe, reverse gender version of Pretty In Pink. Eric Stoltz plays Keith, the working class alternative kid, and Lea Thompson is Amanda, the most popular  girl in school. Against all odds they hit it off, with Stoltz's character unaware that his tomboyish friend Watts (Mary Stuart Masterson) has it bad for him. But this time, things work out as they should: Watts and Keith are destined to be together.
And it's blessed with another killer Hughes soundtrack. Here's one of my all time faves from Flesh For Lulu:
7. Weird Science (1985)
Appropriately titled, Weird Science is Hughes' strangest film.
The sci-fi sex comedy's premise of creating a perfect woman to help her hapless creators lure in other women is kinda creepy if you think about it too much. But this is a film that isn't worthy of too much introspection. It's an overstimulated wet fever dream for frustrated dorks the world over.
Anthony Michael Hall is solid as Gary, and Kelly LeBrock makes for the ideal virtual woman of the 80's. Too bad squeaky voiced Ilan Mitchell Smith is beyond irritating as Hall's best friend/mad scientist Wyatt.
But thanks to crazy set pieces (the post-apocalyptic biker gang party-crashers the standout), and Bill Paxton's prize turn as Wyatt's jackass brother Chet, Weird Science remains an 80's cult classic.
6. National Lampoon's Christmas Vacation (1989)
The Griswold's dysfunctional family holiday get-together has attained the status of yuletide classic. It's easy to see why. Chevy Chase excels as festivity perfectionist Clark Griswold, perpetually frustrated that his family doesn't share his oversized holiday enthusiasm. But MVP goes to Randy Quaid who emanates redneck sleaze as Cousin Eddy: Merry Christmas, shitters full! 
It's mix of screwball comedy and lowbrow humor proves superior to Hughes's more cloying Christmas comedy Home Alone (nope, it didn't make the list. Cue Caulkin's slack jawed cheekslap).
5. Ferris Bueller's Day Off (1986)
Hughes had made such a name identifying with adolescent misfits that Ferris Bueller stood in stark contrast. He was the coolest kid in school: so clever and charming that he plays hooky in the most flagrant and opulent fashion ever seen on film. His frustrated friend Cameron is as close as we get to a typical Hughes outsider.
Matthew Broderick's Bueller is so smooth that it isn't jarring at all when he breaks the fourth wall to lob pithy quips at the audience. Jennifer Grey is even more fun as his jealous sister, while Jeffrey Jones plays the authoritarian killjoy to the nth degree.
The film features some of Hughes most artful directing, filled with indelible imagery of Chicago landmarks. It's a love letter to the city where Hughes spent his formative adolescence.
4. Planes, Trains and Automobiles (1987)
Another Hughes holiday classic. Planes, Trains and Automobiles paired the inspired comic duo of Steve Martin and John Candy. Martin plays Neal Page, a family man desperate to make it home for Thanksgiving. Unfortunately his plans are derailed by Del Griffith, a loudmouth salesman tagalong who delays his journey through a myriad of klutzy antics.
But what starts out hilarious ends on an emotional note when Page invites Griffith to his family's home after learning he is a homeless widower. While touching, one almost wishes there had been an sequel showing how Griffith would have clumsily ruined the Page family's Thanksgiving.
It's worth noting that Candy was Hughes' adult foil just as much as Ringwald and Michael Hall were his adolescent muses. When Candy died, Hughes felt he lost one of his finest collaborators and it precipitated his escape from filmmaking.
3. National Lampoon's Vacation (1983)
Hughes's screenplay for Vacation showcases his unique appeal: equal parts offensive and wholesome. An R-Rated family picture with sex and drugs. Chevy Chase's finest role will always be Clark Griswold, a man whose idea of a family vacation is a sociopathic blitzkrieg.
Clark's hysterical mental breakdown at the thought of not reaching the Wally World Theme Park says it all: this is no longer a vacation…it's a quest. It's a quest for fun! I'm gonna have fun and you're gonna have fun! We're all gonna have so much f***in' fun we'll need plastic surgery to remove our goddamn smiles! You'll be whistling Zip-A-Dee-Doo-Dah out of your assholes!!! HAHAHA!!! I gotta be crazy; I'm on a pilgrimage to see a moose! Praise Marty Moose! Holy shit!!! 
The supporting cast is perfect in their own right. Hughes' mainstay Anthony Michael Hall made his film début playing Clark's son Russ, and Beverly D'Angelo is endearing as his put upon spouse. And let's not forget aforementioned Randy Quaid, and memorable cameos by John Candy, Imogen Coca and Eugene Levy among many. Director Harold Ramis seized on all of Hughes' elements so well that you wished the two had collaborated on more projects together.
2. Sixteen Candles (1984)
Hughes' directorial debut created the stylistic blueprint that made him a household name: exploring the painful awkwardness of adolescence through charming characters and goofball humor. It also made stars out of Molly Ringwald and Anthony Michael Hall.
I don't think 16 Candles could be made today. Well, I'm sure it will be remade at some point, but with the rough edges sanded off. Between the Asian stereotype of Long Duk Dong, and an insinuation that a drunk teen girl can't tell her longtime boyfriend apart from gawky Farmer Ted, it can be jarring to 21st century sensibilities.
But 16 Candles still works despite those shifty elements. It's all about being miserable in high school. When hormones cloud common sense, and the need for acceptance can be crippling if not reciprocated.
Ringwald is endearingly authentic as Sam, bummed that her family forgot her birthday in the hustle of her sister's wedding, and struggling with her infatuation over senior Jake Ryan. Hall is equally effective as a sexually frustrated geek striving for any semblance of cool.
Hughes' dialogue hits a high point when Sam's father (Paul Dooley) tries to console his daughter's heartbreak (before the fairy tale ending): That's why they call them crushes. If they were easy, they'd call them something else.
1. The Breakfast Club (1985)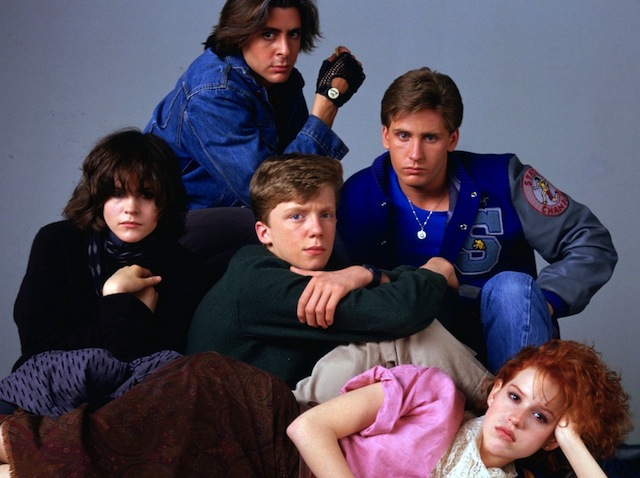 C'mon, could it have been any other film? The Breakfast Club is the sharpest crystallization of all of Hughes's strengths in defining adolescence: his sharp candor of the damage done by high school cliques. Trying to become your own person in the shadow of your parents. And finding common ground with those unlike yourselves, if only for a fleeting moment.
Odds are strong you personally identified with at least one or two of the personality types displayed in the tale of a group of kids forced to interact on a Saturday detention day. And odds are even stronger that you felt a hell of a lot better about yourself after you watched the film. It didn't make life any easier, or offer pat answers. It just made you realize that John Hughes understood you, and that just maybe you could survive the hell that is adolescence after all.
So that's my Top 10 list of the best John Hughes films. What would make up your best of list (or even your worst of)? Tell me in the comments.
Pre-order the John Hughes Blu-ray Box Set on Amazon below:
[amazon_image id="B000002GD2″ link="true" target="_blank" size="medium" ]Pretty In Pink: Original Motion Picture Soundtrack[/amazon_image][amazon_image id="B000002O58″ link="true" target="_blank" size="medium" ]Some Kind of Wonderful: Original Motion Picture Soundtrack[/amazon_image][amazon_image id="B000002GD4″ link="true" target="_blank" size="medium" ]The Breakfast Club: Original Motion Picture Soundtrack[/amazon_image]