Toadies 'Heretics' Review: Texas alternative heroes add an acoustic twist to their caustic rock sound. 
"A running joke over the last 25 years is about putting keyboards and handclaps [in our music]…It's a left turn for the band, and I can understand why a lot of fans would think we're turning our backs on our roots. I think "heretics" really sums that up. It's the us of 25 years ago laughing at us now. Or vice versa."
That's Toadies frontman Vaden Todd Lewis statement regarding the band's new album 'Heretics' (due out September 18th via Kirtland Records), and it's a fairly àpropos way to prepare fans for the band's most adventurous album to date.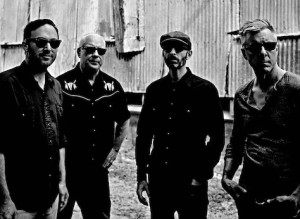 No distortion or feedback as per their familiar sonic signatures. But simply calling it an "unplugged" album doesn't quite do it justice either. It's too ornate and unusual for such a simple description.
Taking a cue from their Dias De Los Toadies festival, where the group often rework classic material, 'Heretics' puts 'Rubberneck' tracks like 'Tyler' and 'Possum Kingdom' in a whole new light: 'Tyler' mixes lilting acoustics with plucked mandolin, while the latter emphasizes its Southern roots with banjo and electric piano.
Long time live staple 'Send You To Heaven' dials down the angst, becoming a trippy ballad with the gauzy atmospherics of Joe Butcher's steel guitar, and Willie Nelson's harmonica player Mickey Rafael.
It's worth noting that the dark urban legend aspects of Lewis's lyrics are almost more unsettling in these more genteel arrangements. Hearing "I love you dear and I know we will not be parted/I'll keep you near, scattered round my apartment" from  'Hell Below/Stars Above' track 'Jigsaw Girl' feels even creepier with its laconic country grace.
Likewise the group's scathing takes on organized religion still feel heated, even in more subdued form: 'Rattler's Revival' is downright funky with percolating percussion and electric piano and the retooled  'Backslider' is a hybrid of Texas swing and 70's cop soundtrack with its simmering horn section.
Also worth noting are the original tracks: 'Belly of A Whale' is one of the group's most unusual songs to date, with a sea shanty tale that recalls XTC and early post-punk thanks to off-kilter acoustics and eerie E-bow solos. 'Queen of Scars' is another lovely ballad, albeit an unsettling sequel  to 'Jigsaw Girl.'
Also impressive is the group's somber cover of Blondie's 'Heart of Glass.' When I spoke to Lewis regarding its inclusion on 'Heretics', he noted that: I always thought it was this silly happy song, but the lyrics are so melancholy and sad so I slowed it down to try to make it match that." The recording bears this out with its stark lovelorn delivery.
But the true show-stopper has to be 'The Appeal', Lewis' ode to his rocky relationship with his pastor father. With jazz-percussion, pedal-steel and organ, it's hymnal quality adds extra dramatic weight to lyrics like "Are we still blind/Chasing our demons and/Feeding that fire inside?" His vocals are chill-inducing.
Toadies fans accustomed to the barn-burning ragers of past efforts may have to recalibrate to fully appreciate 'Heretics' for its adventurous charms, but they'll be justly rewarded.
Dias De Los Attendees are already ahead of the curve. And they'll be able to pick up the new album a week ahead of it's official release at this weekend's installment of the annual festival (click here for festival ticket info).
For those who can't attend, you can pre-order 'Heretics' from Amazon or iTunes below: