The SLIS 2015 Geek Holiday Gift Guide
UPDATED with Cyber Monday Deals!!
Welcome to the third and final installment of the SLIS 2015 Holiday Gift Guide: Geek Gift Edition!
There's a lot of amazing, geek-tastic Christmas offerings this year, and I've handpicked the best in sci-fi, superheroes and other nerdy holiday offerings from Amazon, Thinkgeek, Modcloth and Entertainment Earth.
If you want to preview or buy any item here, simply click on the applicable image (or hyperlink) to be taken to the respective vendor. We get a percentage of each item sold so thanks in advance if you shop through us!
Okay with all that out-of-the-way, let's boogie.
STAR WARS STUFF:
With The Force Awakens just a few weeks away, there's an astounding amount of cool Star Wars merch out there. Here's the best of the bunch.
CYBER MONDAY Special: only $34.99 on Thinkgeek (normally $49.99. Click above image to order)
Retro holiday sweaters are all the rage, and these Vader/Stormtrooper variants from Thinkgeek will get you in the spirit to watch the Star Wars Holiday Special. Or maybe not..
It's clear that BB-8 is poised to steal The Force Awakens from its human co-stars given the amount of exposure the rolling droid is getting in the merchandise arena. This desktop lamp is one such stylish example (hint: there's more to come).
A busted AT-AT might not signal holiday cheer to everyone, but it should.
BLACK FRIDAY DEAL! This Thinkgeek exclusive lamp comes in BB-8, C-3PO, R2-D2, or Stormtrooper variants, and will be on sale for only $23.99 (normally $39.99) on Black Friday. 
Star Wars: Battlefront – Standard Edition – Xbox One
The must-have video game of 2015.
Star Wars Force Awakens BB-8 Crew Socks,White,Shoe: 6-12
Star Wars The Force Awakens Kylo Ren Stormtrooper Athletic Socks 2 Pair PackS
These are not the socks you're looking for…oh wait of course they are! Just make sure not to lose them in the dryer.
So cute they didn't dare include the macaroni entrails.
An oldie but a goodie for Jedi's young and old alike.
Star Wars I Love You/I Know Couple Ring Set
Awwww. Carbonite not included.

But you can put the rings in here for safe keeping I suppose. Seriously, how cool is this?
Speaking of cool…and Solo in Carbonite, here's a beer fridge perfect for intergalactic scoundrels.
Official R2-D2 Inspired Knapsack Rucksack Backpack School Bag
Star Wars Episode 7 BB8 Back Buddy
Star Wars Where's the Wookiee Search and Find Book
A fun variant on Where's Waldo featuring Chewbacca himself.
Darth Vader and Friends
The latest Star Wars children's book from Jeffrey Brown shows the softer side of Lord Vader.
Star Wars: Episode IV: A New Hope (Marvel Comics) 
If you're of a certain age Marvel's Star Wars A New Hope comic adaptation was an integral part of absorbing the opening salvo of George Lucas's space opera: it included scenes cut from the film, and helped you relive the adventures in-between nagging your folks to take you back to the theater.
This deluxe edition gives a pristine reprint with a brand new cover.
The Art of Star Wars: The Force Awakens
Concept art from the hotly anticipated J.J. Abrams entry.
Star Wars: The Original Topps Trading Card Series, Volume One
The original Topps trading card series reprinted here in its entirety along with trivia facts and other bonus material.
Star Wars Christmas Album-Amazon Exclusive – CD Deluxe- Vinyl Replica- Limited Red Disc

This wins most obscure Star Wars gift of the year.  A remaster of the original 1980 Stars Wars Christmas album (yes it was a thing) on a red CD that looks like vinyl. Also Jon Bon Jovi sings on it. For reals.
Sphero BB-8 App-Enabled Droid
A bit pricey at $179.99, but hey it's a app-enabled BB-8 that does all this amazing stuff per the Amazon product listing:
Authentic Movement: Guide your BB-8 with a smartphone or tablet

Listens & Responds: BB-8 recognizes and reacts to your voice

Holographic Messaging: Record and view virtual holographic videos with BB-8

Autonomous Behavior: BB-8 has a mind of its own – explore the Star Wars galaxy together

Adaptive Personality: Your BB-8's unique attitude and actions evolve as you interact

Authentic Movement: Guide your BB-8 with a smartphone or tablet

iOS & Android compatible BB-8 recognizes and reacts to your voice
CYBER MONDAY Special: only $34.99 on Thinkgeek (normally $49.99). Click image above to order. 
More droid awesomeness.
R2-D2 fashion for stylish geeks.

Star Wars Yoda Jedi Master And Chewbacca Wookie Fur Can Coolers
Keep your beer cold they will.
Star Wars – Holiday Darth Vader Ornament 2015 Hallmark
Weird? Sure. Necessary? Nope. But aren't you kind of happy this exists all the same?
Star Wars The Force Awakens Figurine Playset
The prefect action figure starter set for The Force Awakens.
Hear activated lasers will signal proper beverage temperature.
Adorbs.
Those cute cookies will look even more impressive on this bucket of bolts, i.e. fine serving tray.
COMIC BOOK COLLECTIBLES:
CYBER MONDAY Special: only $41.99 on Thinkgeek (normally $59.99). Click image above to order. 
Baby Groot! Sculpted from the CGI files. $199.99 of adorableness.
Guardians of the Galaxy Awesome Mix – Vol. 1 Pendant
Uncle Milton – Marvel Science – Ant-Man Ant Farm
No kid should be deprived of a Pym/Lang approved ant farm, no?
Batman: The Golden Age Omnibus Vol. 1
A gorgeous compendium of Batman's most formative material. Currently only $43.47  (normally $76) on Amazon.
Amazing Fantastic Incredible: A Marvelous Memoir
Stan Lee's biography, told in graphic novel style, of course. Excelsior!
BLACK FRIDAY DEAL: And speaking of excelsior, how bout this? Lee finally gets his own action figure, which comes with a variety of accessories. Sure it's a tad pricey (normally $249), but if you act fast you can get it for only $150. 'Nuff said!
Bruce Lee DJ Shirt Tony Stark Avenger Age of Ultron Shirt
Exactly what it says it is. Sweet.
Adam West and Burt Ward in smushed vinyl form.
Relax in regal warrior luxury.
You wouldn't like her when she's angry. Or maybe you would…
NECA 1/4 Scale Figure Superman (Reeve) Action Figure
Pretty impressive likeness and detail.
SCI-FI SWAG:
Star Trek Pop-Ups Book
This is the preeminent X-mas gift for Trekkies and Trekkers, featuring some jawdroppingly cool pop-up illustrations.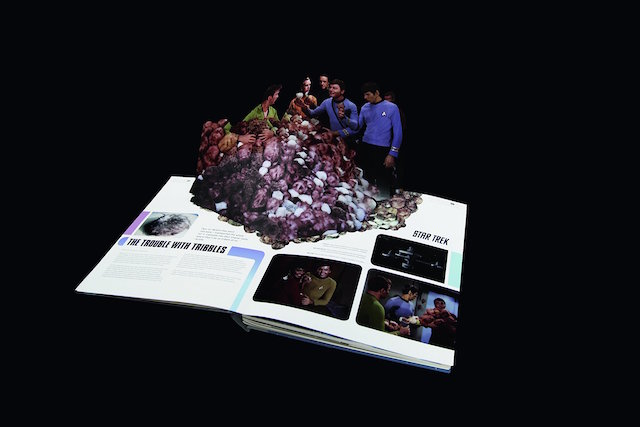 BigMouth Inc Star Trek Drink Kooler Koozie
Drink long and prosper…as long as you pace yourself or course.
CYBER MONDAY Special: only $34.99 on Thinkgeek (normally $49.99. Click above image to order)
Road To Valhalla Tour Mad Max Tee Shirt – LeRage Shirts MEN'S
Imagine if you could get a concert shirt after witnessing Immortan Joe's Drum Corps and the Doof Warrior! Well this would be that.
The Art of Mad Max: Fury Road
Concept art behind George Miller's brutal yet beautiful film.
Trust me, you hide your change in either of these banks, NOBODY will try stealing your loot.
NECA Aliens Deluxe Vehicle Power Loader (P 5000) Vehicle
Oh this is sweet! Please deliver it to bay 12 please.
CYBER MONDAY Special: only $20.99 on Thinkgeek (normally $30.00). Click image above to order. 
Not only does it look sick, it also comes packaged with 11 KITT catch phrases. Hello, Michael.
MISCELLANIOUS AWESOMENESS 
I Lost it at the Video Store: A Filmmakers' Oral History of a Vanished Era
After years of being spoiled by Netflix, one can be forgiven for not feeling nostalgic for the days of video stores. But this book reminds us that they proved a very important cultural role in the development of film culture-featuring interviews with filmmakers including Quentin Tarantino, Darren Aronofsky and Kevin Smith.
The Haunted Mansion: Imagineering a Disney Classic (From the Magic Kingdom)
A look into the creation and legacy of the iconic Disney ride attraction.
The World Of Tim Burton 
Drawings, paintings, poems and stories from the dark yet whimsical mind behind Edward Scissorhands and Ed Wood.
Bond vs Bond: The Many Faces of 007
The title says it all: this fun book pits the various incarnations of 007 against each other by comparing their sense of style, weaponry, combat and taste in women.
James Bond Cars
The history of every Bond automobile, plus all manners of planes, boats, jetpacks and more exotic forms of transport.
Crimson Peak: The Art of Darkness
A look at the gorgeous production design from Guillermo del Toro's Gothic Horror film.
Nicolas Winding Refn: The Act of Seeing
I had a chance to see all the awesome lurid sexploitation posters from Refn's book while covering Fantastic Fest this year, so I can attest that it's the ideal present for grind house fans. Currently going for $70.25 on Amazon (normally $100).
Yahtzee: Jaws Board Game
Jaws. Yahtzee. What's not to love here?
Monopoly: Game of Thrones Collector's Edition Board Game
Pining away for the day when GOT returns? Well at least you can play this nifty Thrones themed Monopoly set to keep you occupied in the meantime.
Art of He Man and the Masters of the Universe
He-Man gets some major love in this tome covering his transition from toys to cartoons and film. By the power of…well you know. I hope the person who created Orko gets slammed in this though. He was the Jar Jar Binks of his day.
Heh heh heh.
Diamond Select Toys Walking Dead: Michonne's Sword Letter Opener Set
Slay all your envelopes in ghoulish style.
New Godzilla Movie Musical Monster Moving Electronic Coin Money Piggy Bank Box
Godzilla will happily accept all your loose change.
Saturday Night Live Schweddy Balls Ornaments – Set of 2
No home should be without a dangling set of Schweddy balls on your tree.
So that wraps up my 2015 Holiday Geek Gift Guide! I'll try to update when Black Friday and Cyber Monday deals become available. Happy Holidays!
If you're looking for even more Geek Gifts, check out the early editions below: