The Mission 'Another Fall From Grace' Review: influential Goth rockers make their finest album since their 80's heyday.
"This album is the lost link between The Sisters Of Mercy's First And Last And Always and The Mission's God's Own Medicine." That bold statement comes from The Mission's frontman Wayne Hussey, regarding the band's new album Another Fall From Grace (due 9/30/16 via Eyes Wide Shut/ SPV). It's a tall order: crafting a modern album that sounds like it was made in the mid-80's by a much younger band.
Luckily, they have the music to back the hyperbole: it's the band's best album since 1990's Carved In Sand.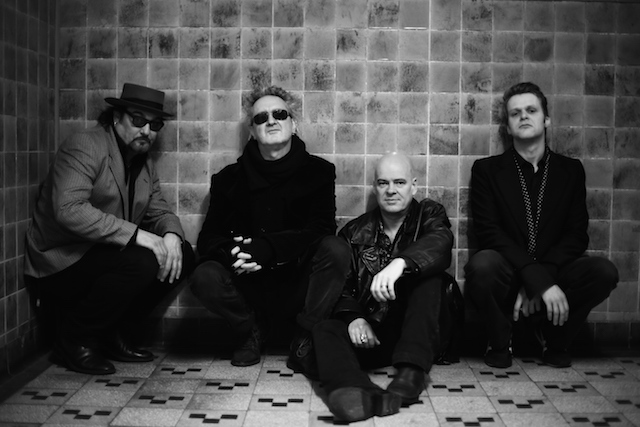 Working with longtime producer Tim Palmer, Hussey and co. have returned to their vintage sound of glimmering 12-strings, theatrical flourishes and Goth dynamics, as witnessed on the shimmering opening title track, with a grandeur evoking their 1988 anthem Tower of Strength.
Hussey's allusions to his work with The Sisters Of Mercy ring loud and true on the album's first single Met-Amor-Phosis. It's an instant earworm: replete with classic guitar jangle and driving bass, with Hussey's lyrics referring to Kafka and the late David Bowie ("there's a new blackstar in the heavens tonight"). Tyranny of Secrets' is another throwback, with a hypnotic descending riff recalling the Sisters 1983 cult hit Alice.
Hussey's pipes are in fine form throughout, the anthemic Can't See The Oceans From The Rain a particular standout with his sonorous wail waxing poetic about a California highway escapade.
Another Fall From Grace features some impressive musical guests, with Him's Ville Valo, All About Eve's Julianne Regan and Evi Vine all making appearances. The most high-profile cameos come from New Wave icons Gary Numan and Martin Gore, who add ethereal backing vocals on Within The Deepest Darkness (Fearful), adding eerie counterpoint to Hussey's hushed vocals as the track escalates from ghostly atmospherics into a pulse-pounding outro.
Gore also adds soaring backing vocals to Only You and You Alone, one of the band's most effective ballads. Their dual vocal's dovetail with emotive potency, while Mission bassist Craig Adams lays down one of his patented tectonic basslines.
Jade is a sterling example of the type of romantic musical melodrama The Mission weave so well: layers of interweaving guitar textures, hypnotic bass and synth-soundscapes build into an anthem with an explosive cinematic climax.
Blood in the Road is another stomper, veering from glistening arpeggiated verse to classic rock chorus, while the somber closing track Phantom Pain adds discordant sax to the mix–an unusual but winning deviation from the band's musical template.
Another Fall From Grace is a striking reminder of The Mission's strengths. For a band celebrating their 30th anniversary, it shows there's still plenty of life left in them yet. To quote Met-Amor-Phosis: "with age comes change." It's an older and wiser Mission for sure, but they've tapped into a musical fountain of youth.