The Melvins 'A Walk With Love and Death' Review: sludge metal masters dial-up the weird on their first double album–half of which will appear on upcoming short film.
Veteran metallers The Melvins are no strangers to the strange–their compositions combine epic sludgy riffs with madcap lyrics and sonic flourishes inspired by the likes of Captain Beefheart. And on their latest release A Walk With Love and Death, the trio take on the double album. And true to form, it doesn't subscribe to the formula–even their own.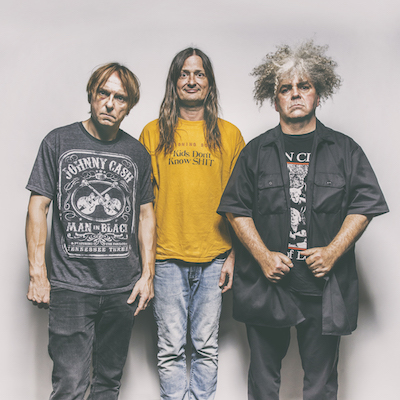 The album is broken into two halves (the first disc titled Death and the second Love). And sonically the two couldn't be more diverse. Death is certainly the most accessible, composed of the types of sturdy, chunky riffs that are the band's stock in trade, but with some inventive variations as well.
Black Heath is a rollicking opener, with a monolithic riff from bandleader King Buzzo augmented with jazzy textures and instrumentation, while the garage psychedelia Sober-delic brings to mind The Stooges Dirt.
The band indulge their love of Sabbath on the gloriously doomy Euthanasia and Flaming Creature, which is a fittingly stomping beast of a tune.
The group go 70's boogie rock on the satisfying Cactus Party, featuring cooing backing vocals from Teri Gender Bender (who plays with Buzz Osborne in the supergroup Crystal Fairy)
Perhaps the best Death track is the most divergent: What's Wrong With You, featuring vocals from That Dog's Anna Waronker: it's a catchy, anthemic tune drawing from power pop and alternative rock (methinks this track also features Pixies guitarist Joey Santiago, as he's included in the liner notes–but given his exact contribution is unlisted, it's only a guess).
Side B (Love) abandons hooks and traditional composition altogether: the tracks will be featured in the score to an upcoming short film produced by the band, and if the songs are any indication, it's going to be some weird shit.
Love is a collection of sonic collages–full-bore experimentation and visceral weirdness that will thrill the adventurous listener–and perhaps confuse the rest.
Aim High is the opener for the second disc, with percolating synth tones (courtesy of album co-producer Toshi Kasai) and what sounds like a conversation held in a grocery store.
Street Level St Paul is another oddball opus, with guitar cacophony, theremin wails and a mood straddling the line between humorous and unsettling.
There is a strange, eerie carnival vibe to several compositions, drawing parallels to the crazy quilt début album from Mr. Bungle (featuring Osborne's Fantomas band mate Mike Patton): Give it to Me sounds like a carny after party with cheery keyboards and washing machine percussion, while Park Head Horror conjures imagery of an ice cream truck driven by a murderous clown. Scooba is another winningly wacko tune, bringing to mind a cartoon character playing swing jazz on meth.
The phenomenally titled Eat Yourself Out and The Asshole Bastard are true showstoppers, the first resembling an A.M. radio transmission from Mars and the latter a concussion bomb of jazz drums, white noise guitars and satanic vocals.
It's impressive that The Melvins can still up the ante 35 years into their career. A Walk With Love & Death may prove too obtuse for some, but it's fever dream dichotomy will prove a perverse delight for diehards with an ear for the odd.
The Melvins 2017 Tour Dates:
July 5 San Diego, CA Casbah
July 6 Santa Ana, CA The Observatory
July 7 Los Angeles, CA The Troubadour
July 8 Fresno, CA Strummer's
July 9 Sacramento, CA Goldfield Trading Post
July 10 San Francisco, CA Great American Music Hall
July 12 Portland, OR Hawthorne Theatre
July 14 Vancouver, BC Venue Nightclub
July 17 Edmonton, AB Union Hall
July 18 Calgary, AB The Marquee
July 20 Winnipeg, MB Pyramid Cabaret
July 21 Fargo, ND The Aquarium
July 22 Minneapolis, MN Grumpy's Bash
July 24 Milwaukee, WI Turner Hall Ballroom
July 25 Chicago, IL The Metro
July 26 Grand Rapids, MI The Pyramid Scheme
July 27 Detroit, MI El Club
July 28 Cleveland, OH Grog Shop
July 29 Columbus, OH A&R Music Bar
July 31 Pittsburgh, PA Rex Theater
August 1 Syracuse, NY The Westcott Theater
August 2 Boston, MA Paradise Rock Club
August 3 New York, NY Irving Plaza
August 4 Philadelphia, PA Union Transfer
August 5 Asbury Park, NJ The Stone Pony
August 6 Baltimore, MD Ottobar
August 8 Richmond, VA The Broadberry
August 9 Carrboro, NC Cat's Cradle
August 10 Knoxville, TN The Concourse
August 11 Louisville, KY Headliner's Music Hall
August 12 St. Louis, MO The Ready Room
August 13 Lawrence, KS The Bottleneck
August 15 Englewood, CO Gothic Theatre
August 17 Salt Lake City, UT Urban Lounge
August 18 Las Vegas, NV Psycho Fest
August 20 San Jose, CA The Ritz
August 21 Santa Cruz, CA The Catalyst
August 22 Los Angeles, CA The Echo
September 5 Phoenix, AZ Crescent Ballroom
September 6 Tucson, AX 191 Toole
September 8 Austin, TX The Mohawk
September 9 Dallas, TX Tree's
September 10 San Antonio, TX Paper Tiger
September 11 Houston, TX Warehouse Live (Studio)
September 13 New Orleans, LA One Eyed Jack's
September 14 Pensacola, FL Vinyl Music Hall
September 15 Jacksonville, FL Jack Rabbit's
September 16 Tampa, FL The Orpheum
September 17 Ft. Lauderdale, FL The Culture Room
September 18 Orlando, FL The Social
September 20 Athens, GA 40 Watt Club
September 21 Atlanta, GA The Masquerade (Hell Stage)
September 22 Nashville, TN 3rd & Lindsley
September 23 Memphis, TN Hi-Tone
September 25 Madison, WI High Noon Saloon
September 26 Rock Island, IL Rock Island Brewing Co.
September 27 Des Moines, IA Wooly's
September 28 Omaha, NE The Waiting Room
September 30 Ft. Collins, CO Aggie Theatre
October 2 Albuquerque, NM The Launchpad
October 3 Flagstaff, AZ The Green Room
Buy it on Amazon: