The Jesus and Mary Chain Albums Ranked Worst To Best: Sure 'Psychocandy' is a classic, and deserves its 30th anniversary celebration. But does it unfairly overshadow the rest of their discography? Here's our definitive JAMC ranking. 
November 18, 2015 marks the 30th anniversary for Psychocandy, the highly influential 1985 début album from The Jesus and Mary Chain. It's pioneering mix of feedback and 60's pop rock harmonies on tracks like Just Like Honey left a seismic impact, inspiring countless shoegaze and alternative rock bands in its wake.
Earlier this year, the band (fronted by brothers Jim and William Reid) took to the road for the Psychocandy tour, playing the album in its entirety to wide acclaim.
But while its influence can't be denied, the rest of the group's discography feels quite underrepresented in pop culture.
So why do albums like Darklands and Automatic take an unfair backseat by comparison? Well I'm going to plead my case on why they shouldn't.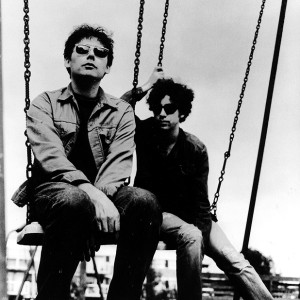 Here's our definitive ranking of  JAMC's Albums from Worst to Best, which will give pros and cons about why the Reid brother's other seven albums does/doesn't deserved to share some Psychocandy buzz.
If you'd like to own any on Amazon, simply click on the album image. Let's go!
Stoned And Dethroned (1994)
Why it deserves more acclaim: by unplugging their guitars, JAMC shine a light on their song-craft with unadorned arrangements.
Why it's not as good as Psychocandy: one misses snarling feedback after the new car smell wears off.
Stoned and Dethroned marked the most collaborative Jesus and Mary Cain effort to date, with the Reid's augmented by a full band, including drummer Steve Monti (Curve) and bassist Ben Lurie. They also drafted in guest vocalists, including Mazzy Star's Hope Sandoval, featured on the lead single Sometimes Always, and The Pogues' Shane McGowan on God Help Me.
The result is a solid set of songs, but the lack of dynamics and restrained approach makes it more of a creative exercise in limitations that would have worked best as an EP instead of an overstuffed 17 song set.
Essential Tracks: Sometimes Always, Never Saw it Coming, Come On, Bullet Lovers
Munki (1998)
Why it deserves more acclaim: full of catchy songs and experimental stylings, it's breezy feel belies its troubled gestation.
Why it's not as good as Psychocandy: 17 tracks stays too long at the party.
The Reid brothers were deeply feuding during the making of Munki. Their relationship was so fractious that they recorded tracks separately, refusing to share the same space. But it's that divisive process that ultimately makes it the most diverse album of their career.
There's plenty of standard issue feedback fueled JAMC, like the bile spewing I Hate Rock'n'Roll (with William Reid sneering: I love MTV/I love it when they're shittin' on me) and the swirling psychedelic Virtually Unreal. The group also explore electronic textures (the sublimely catchy Birthday, the sultry Perfume) and low-key garage ballads (Man on The Moon, Black). 
It's also notable for featuring the Reid's sister Linda, who provides vocals on the Velvet Underground homage Moe Tucker. But that track, along with songs like Fizzy and Commercial feel more like sonic sketches and lack punch and clarity.
Essential Tracks: I Hate Rock'N'Roll, Birthday, Virtually Unreal, Perfume, Black, Degenerate, Black, Dream Lover
Barbed Wire Kisses (1988)
Why it deserves more acclaim: B-sides like Kill Surf City and Sidewalking rank among their finest songs. Killer covers of Surfin' USA and Who Do You Love.
Why it's not as good as Psychocandy: Every B-side collection has some filler, and Barbed Wire is not immune.
JAMC has several compilation albums of varying quality, but Barbed Wire Kisses is just as essential as their proper studio efforts. Tracks like Kill Surf City, and their cover of Surfin' USA epitomizes their status as The Beach Boys on Acid, while the nihilistic blues of Sidewalking and Rider shows their Stooges influence.
You also got the band's début single Upside Down which still sounds as playfully ferocious as ever. Also notable: the lilting, soothing Psychocandy, not included on the album of the same name.
Essential Tracks: Surfin' USA, Kill Surf City, Psychocandy, Rider, Hit, Who Do You Love, Sidewalking, Just Out of Reach, Don't Ever Change, Happy Place
Automatic (1989)
Why it deserves more acclaim: contains five of their all-time best songs.
Why it's not as good as Psychocandy: not all songs are created equal, production falls flat at points.
Derided upon its release for employing drum machines and synths (there's no bass guitar on the album) Automatic gets a bad rap that's largely undeserved.

The contrast of the slick percussion with buzzsaw guitars and the Reid brothers serrated vocals allows for some truly unique material. Blues From A Gun has an industrial swagger, Head On has one of the most euphoric choruses in alternative rock, and the euphoric, druggy Here Comes Alice is a dark sugary confection. And why Between Planets isn't one of their most well-known anthems is beyond me.
But that praise notwithstanding, things begin to stagnate towards the end on lackluster tracks like Gimme Hell and Take It.
Essential Tracks: Here Comes Alice, Coast to Coast, Between Planets, Head On, Blues From A Gun, Halfway To Crazy
Honey's Dead (1992)
Why it deserves more acclaim: it's their best produced album, with expertly arranged distorted guitars. Features their most dance-worthy, hedonistic material.
Why it's not as good as Psychocandy: in its effort to align with 90's alternative, it follows trends instead of starting them.

A title like Honey's Dead implies a desire to distance itself from the Psychocandy sound, but Honey's Dead doesn't ditch it wholesale, but refining it into a more contemporary (at the time) alternative rock effort, with Curve drummer Monti giving a danceable feel throughout (most notable on the Britpoppy Far Gone and Out).
Thanks to producer Alan Moulder their rich use of distortion and feedback rides the line between controlled and chaotic better than any other effort. Their old-school religious blasphemy is intact on tracks like Reverence (I wanna die just like Jesus Christ), and Teenage Lust fits Jim Reid's raunchy vocals to a tee. 
But Honey's Dead is also notable for some of the most emotive songs in their catalogue, including the melancholic Buffalo Springfield-esque Almost Gold . And the yearning, plaintive Good For My Soul plays like U2 minus the sap.
Essential Tracks: Reverence, Almost Gold, Teenage Lust, Far Gone and Out, Sugar Ray, Rollercoaster, Sundown
Darklands (1987)
Why it deserves more acclaim: it shows the band could turn off their feedback and the songs would still stand up.
Why it's not as good as Psychocandy: from a music critics standpoint, it lacks the pioneering sonic element. But song-wise? I actually like it best. Blasphemous I know.
After drummer Bobby Gillespie left the band to front Primal Scream, JAMC used a drum machine for their Psychocandy follow-up. With that change also came a departure in sound: less distortion and subtler arrangements, allowing for a more somber element to emerge.
But it works. The opening title track sets the stage perfectly with its lamenting country tone. Other tracks like the Lou Reed'ish Deep One Perfect Morning continues to prove their sound is undiminished, even with their distortion pedals dialed down.
But there's still plenty of rockers: the Goth-anthem Happy When It Rains, and the crunchy blues of April Skies still scratch that Just Like Honey itch.
If anything, Darklands only suffers by refusing to repeat the Psychocandy formula. But song for song? I'll argue that they stack up against it quite nicely, thank you very much.
Psychocandy
Well of course it's number one! And I don't think I really need to fully elaborate on why, do you? Psychocandy is certainly deserving of all its retrospective praise. But I hope I've helped plead my case that it's not the only album that deserves iconic status. And with The Jesus and Mary Chain beginning to work on a new album, I hope we have more music to celebrate in the years ahead.
So that wraps up my ranking of Jesus and Mary Chain albums from worst to best. Now I want to hear from you. What you's ultimate JAMC ranking? List them in the comments, along with your favorite Psychocandy memories upon its 30th anniversary.