The Cure's 'Kiss Me, Kiss Me, Kiss Me' Turns 30: ranking their sprawling, ambitious 1987 double album from worst to best.
May 25th marks the 30th anniversary (30!!) of The Cure's double album Kiss Me, Kiss Me, Kiss Me (this is a big month for Cure milestones: Wish and Pornography turned 25 and 35 respectively).
Kiss Me helped cement the group as one of the most iconic and important band's of their era, propelled by the hit singles Just Like Heaven, Why Can't I Be You? and Hot, Hot, Hot!!!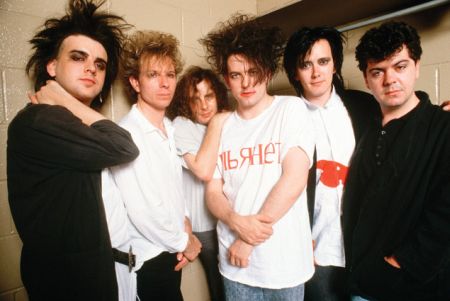 The album wasn't confined to pop music however, with the group indulging in the goth grandeur that built them a cultivated fanbase of melodramatic romantics the world over, along with other compositional experimentations. This resulted in the most wide-ranging and diverse album of their career.
That being said, double albums as a general rule are tricky–often falling prey to filler and unevenness than more concise efforts.
In honor of the album's 30th anniversary, I've ranked the album's 18 tracks from worst to best, which turned into a modest nightmare: even the weakest Cure song is better than many band's best material. Robert Smith is a tunesmith of the finest order, and he and his band mates played their asses off on this album.
In other words, this was harder than I thought it was going to be! I've tried to measure my own tastes with the predilections of other Cure fans, and have come out somewhere in the middle (although according to a recent Slicing Up Eyeballs poll, for the band's best songs, results may vary).
Without further ado, let's take a trip back in time shall we?
18. Hey You!!!
Hey You!!! was only included on cassette and vinyl due to the limited space compact discs could hold at the time. Nevertheless CD owners weren't missing much. Hey You has its moments but feels somewhat disposable in light of the album's stronger material.
17. Icing Sugar
A sultry jazz-infused number, Icing Sugar comes across like a more menacing version of The English Beat, laced with soaring sax and a stomping bassline.
16. How Beautiful You Are
This Doorsy number feels somewhat listless compared to the rest of the album. The best aspect is Smith's lyrics which recounts a bleak travelogue of a romance doomed by superficiality and lack of social graces.
15. Hot Hot Hot!!!
I realize putting one of the band's most popular singles so low in the list may cause some controversy, but Hot Hot Hot is a polarizing track for Cure fans. It's quirky, funky stylings feel a bit trite and methinks it might not have made the cut on a shorter album. Why this wasn't nixed for To The Sky (recorded around the same time) remains a mystery, but it did well for them commercially.
14. The Snakepit
A song relying on atmosphere over composition, The Snakepit is pure narcotic bliss for fans of the group's somnambulist trappings, using their patented lengthy instrumental intro before Smith's vocals creep into the mix (this goes for just about every song on the album, save the singles).
13. A Thousand Hours
A buoyant baseline collides with monolithic synth textures and Smith's pained wail. A Thousand Hours has that mixture of pop smarts and gloomy sonics reminiscent of their 1985 predecessor The Head on the Door.
12. The Perfect Girl
Sublime romantic pop euphoria as only The Cure can deliver.
11. One More Time
Oceanic guitars, ethereal flute and twinkling synths, One More Time is classic Cure heartbreak with a side of childlike whimsy.
10. Torture
A dark anthem tailor-made for a late night drive, Torture mines the "classic" Cure sound: churning bass, chiming guitars and synths that cut like a butcher knife.
9. All I Want
Smith's vocals are at their most guttural and primal, soaring across a spidery guitar riff and widescreen synths.
8. Shiver and Shake
A song as jittery and combustible as its title, with a dash of punk energy and some of Smith's most acidic lyrics: When I think of how you make me hate/I want to smash you to pieces/I want to smash you up and screaming…smash you until you're not here anymore.
7. Fight
A song that feels like a rebuttal to critics who deemed bands like The Cure wallow in their own misery, Fight sees the group at their most defiant, offering a battle cry to disaffected youth the world over: So when the hurting starts/And when the nightmares begin/Remember you can fill up the sky/You don't have to give in.
6. Catch
Only The Cure could come up with an oddball love song inspired by a scene from Rocky 2 involving the title character's wife after she lapsed into a coma (seriously, it was). It's sweet without being syrupy, with a slightly warped production that gives it a quirky, nursery rhyme quality.
5. Why Can't I Be You?
The first hit single off the album, Why Can't I Be You is a delirious carnival ride of a tune with Smith indulging in envy and infatuation all at once.
4. Like Cockatoos
Inspired by the novella The Cockatoos by writer Patrick White, this is one of the Cure's most evocative and cinematic tracks (no small feat). Enhanced by eerie flute, ornithic sound effects and a magnetic bassline, its one of their all-time best deep cuts.
3. The Kiss
The Kiss has all the melodrama of a horror film, with wah-wah guitar histrionics that stoke the ashes of Jimi Hendrix. Smith is at his nihilistic finest here, culminating in his epic wail on lines like: Get it out get it out get it out/Get your fucking voice/Out of my head/I never wanted this…I wish you were dead!
2. If Only Tonight We Could Sleep
If you ever battle insomnia, this should be your theme song. Tranquil droning bliss augmented by coral sitar, Smith and co. offer hallucinatory mediation, with the vocalist intoning Then an angel would come/With burning eyes like stars/And bury us deep/In his velvet arms. Moody make out music for the John Hughes set.
1. Just Like Heaven
Confession: I was not a fan of Just Like Heaven upon its release. Happy Cure wasn't my thing at the time–it was their gloomy sound that I craved. But who can deny the pop confection Smith conjured here? Only the most insufferable music snobs (of which I'm a recovering addict) can dismiss its charms. It proves irresistible. It's just like a dream indeed.
That concludes my Kiss Me, Kiss Me, Kiss Me ranking! How would you rank them? Be sure and tell me in the comments.
Own The Cure's Kiss Me, Kiss Me, Kiss Me on Amazon: