SXSW 2014 Interview with Lauren Larson of UME: Guitarist/vocalist from Austin buzz band discusses the highlights of their whirlwind week at SXSW.
One of the busiest buzz bands to play SXSW 2014 was UME; the Austin based power-trio who conjures the rough and ragged guitar textures of 90's alternative rock on their new album 'Monuments.'
Guitarist vocalist Lauren Larson, discussed the week that was, and their new album in our exclusive interview below:
SLIS: So you've just released your new album 'Monuments.' Congrats! From what I've scoured on the Internet, the buzz seems really positive. Are you happy with how it's been received thus far?
LL: Thanks! Yes, we're especially grateful and overwhelmed by the reaction from our fans.
SLIS: So you had one of the best promotional vehicles, a SXSW showcase gig (in addition to several other shows). Were you excited? And being an Austin band, is it a particular point of pride being associated with such a local institution?

LL: We've done SXSW for several years, but this year is really special since we have a new record coming out a week before the fest. SXSW is in a lot of ways totally chaotic and Austin bands can get lost in the shuffle, especially when there's so much buzz raging over acts like Lady Gaga this year. One of the coolest things about this week though are all the free shows that especially friendly to local acts.
SLIS: And this is your fourth year in a row for SXSW right? That's a pretty impressive achievement in and of itself. I know SXSW can be an overwhelming experience for attendees, but how bout for artists? Do you ever get sensory overload?
LL: Absolutely. We're in total recovery mode right now. I don't want to see or stand in a line for another year.
SLIS: I was reading on your website that you were stoked to open for Blondie. Does it ever feel surreal when you get paired up with such musical icons?

LL: The show with Blondie was a dream come true. I got to say hi to Debbie backstage and told her what an honor it was to play with her. She is one of the godmothers of punk rock and she definitely still destroyed on stage.

SLIS: What other bands were you excited to check out at SXSW?

LL: Soundgarden was really impressive in such an intimate setting as a roof top. Huge thanks to their bassist Ben Shepherd for getting us in last-minute! Radkey – a punk rock power trio from Missouri – was a lot of fun too.

SLIS: I'm very impressed with 'Monuments'. It hearkens back (IMO) to the heavy yet melodic tone of 90's alt-rock, which is what my site mainly focuses on. I feel like you're filling a sorely needed void in a world of poppier indie bands. Do you feel that way as well?

LL: We just love to play music and try to hold nothing back in the process. I like heavy music, but I also don't want to shy away from melody or raw emotion. I think that combination makes us a little different from many indie bands. I've seen so many bands in the last few years stand on huge stages before thousands of fans and play like they don't even want to be there. We try to be the antithesis of that ungrateful attitude, and perhaps in the process we're filling a void.

SLIS: It's a very varied album, which I always appreciate. Is it important for you to shuffle the musical deck so to speak? Is it a conscious effort to have a varied feel, or is that just how songs bubble out of you?

LL: So many of my favorite classic albums – like Led Zeppelin IV – move across a wide range of emotions. Sometimes you need a full electric assault to communicate your song, and sometimes you just need an acoustic guitar.

With this record, we really just focused on the songs – if it was a good song that struck something within us, we recorded it. (Producer) Adam Kasper (QOTSA, Soundgarden) really helped me get the confidence to take these risks, to allow myself to be more vulnerable and exposed through songwriting.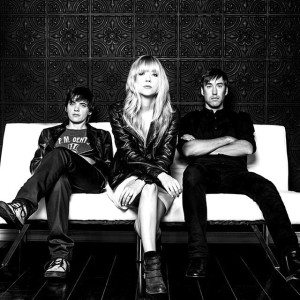 SLIS: When you read some of your press, there's often a heavy emphasis that Ume is a female fronted rock band. Does that irk you at all, and is that one of the reasons you're so involved in the Girls Rock Austin Camp to help make rock less of a boys club?

LL: We're 2/3rds female and if someone wants to point that out, we really don't mind. But our focus is the music. We just want to be respected as musicians and players, not seen as an anomaly. Working with Girls Rock Austin is one of the most inspiring things I've ever done. When I started playing in punk rock bands at age 14 in a small TX town, I didn't know any other female guitarists. So, it's amazing to me that there is a whole new generation of female musicians who are going to transform the rock world. Hopefully they'll never have to hear the insanely sexist comments I have over the years.
SLIS: So whom do you consider your foremost influences on guitar? And did any singers influence you as well?

LL: I picked up a guitar to learn a Nirvana song around age 12, staying up all night with a tape of Incesticide until I learned "Aneurysm" by ear. I also love the style of David Gilmour, Prince, Jimmy Page, and Nancy Wilson, and was influenced as a young teenager by seeing bands like Fugazi, Blonde Redhead, and Unwound perform. I was a guitarist long before I was a singer. I was super nervous to approach the microphone, so when I finally did, all I could do was scream. Visceral female singers like Kim Gordon and Patti Smith inspired me to take these chances.
SLIS: So after SXSW you're launching into a full tour correct? Will this be a headlining tour?

LL: Yes, we leave for tour on March 19th and are headed to the Midwest and West Coast. It will be a headlining tour! We're stoked.
SLIS: I wish you the best, and hope to catch some of your shows at SXSW this year. Anything else you'd like to share to your fans, as well as those who've never seen you perform?

Thanks for the interview, and to all our fans, come say hi to us at a show!
You can order Ume's new album 'Monuments' on Dangerbird Records via iTunes or Amazon below. And click here for live dates.
[amazon_image id="B00HF95O00″ link="true" target="_blank" size="medium" ]Monuments[/amazon_image]
And for more 2014 SXSW recap goodness, check out the following links: