'Inside We Are The Same' Review: the third collaborative effort of The Church's Steve Kilbey and All India Radio's Martin Kennedy continues their winning brand of dreamy atmospheric song craft.
Church frontman Steve Kilbey and All India Radio mastermind Martin Kennedy are back again to weave more of their mystical musical spell on their latest release, Inside We Are The Same.
Building on the strength's of 2013's You Are Everything, Kilbey/Kennedy's third release offers the lush atmospherics fans have come to expect, but some tracks offer a harder edge than past efforts.
Take opener Amenia, propelled by an insistent, driving goth guitar riff anchored by Kilbey's haunting baritone, siren call synths and a ripping guitar solo.
This sense of uptempo urgency extends to the dynamic Oh My Glad, where chiming guitars underscore Kilbey's lyrics of free-spirited romance: Oh my glad, you're a mad girl, it's a mad world, oh my glad, you've been had girl.
Theodora offers dance friendly bliss, with percolating percussion and a Peter Hook-worthy bass line.
The rest of the album consists of the shoegazey, ambient, textured ballads that have hallmarked past efforts and that Kilbey favors. Tracks like The Merciful Blur veers into Church territory, with Kennedy's sun soaked guitar licks and soaring strings coalescing perfectly with Kilbey's smooth delivery.
Kennedy has a gift for writing pieces tailor-made for Kilbey's calm, hypnotic pipes and clever wordplay, allowing for soothing integrated soundscapes that go down like a nice stiff drink on an overcast Sunday afternoon.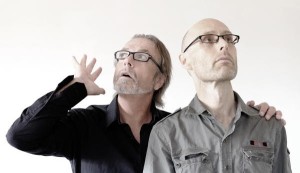 This is evidenced on the cinematic Shegaze, where the vocalist varies between soothsayer monologues and emotive yearning.
Other tracks add backing vocals which work seamlessly with Kilbey's silken croon, as heard on the shimmering dream pop of Elude (featuring Katie Marie), and This is The Universe, which employs a children's choir and orchestral grandeur.
Inside We Are The Same, further solidifies that the Kilbey/Kennedy alchemy is no fluke or mere side project: these are two artists who dovetail wonderfully, making the kind of lush, contemplative music the world needs more of these days.
You can pre-order Inside We Are The Same from Amazon below or via the duo's official website.
[amazon_image id="B00TUBZRGW" link="true" target="_blank" size="medium" ]Inside We Are the Same [Explicit][/amazon_image]