SLIS Holiday Gift Guide: Best Music Box Sets of 2015-our picks for this year's coolest music box sets and rock music specialty items.
UPDATED: Cyber Monday deals highlighted in red!
The holiday season is officially upon us, and there is no shortage of awesome gift choices for the rock music fan in our life. I've scoured the interwebs in search of the best picks in the realms of alternative, classic rock, Goth, metal and more, and this list is the fruit of my labors.
I've included Amazon links for each item. Simply click on the album/Blu-ray image that captures your interest and you can preview or purchase. I get a percentage of each item sold, so thank you SO much in advance if you choose to buy through us. Every sale helps to keep this site going!
Let's jingle bell rock!
David Bowie-Five Years 1969-1973 (12CD Boxed Set)
It seems like each year we get a new Bowie Box-Set, but this one will surely please fans of his early glam rock days. It features impeccable remasters of albums like Ziggy Stardust and Aladdin Sane, as well as exclusive rarities, remixes, and live cuts, with an 128 page commemorative booklet.
David Bowie-Blackstar
Well if you're shopping for a Bowie fan, why not throw this in as well? Sure, Bowie's 28th studio album won't be officially released until January 8, 2016, but diehards will be jazzed knowing it's on their way.
Kurt Cobain: Montage of Heck-Blu-ray
This impressionistic, raw documentary polarized many, but Nirvana obsessives will still find it fascinating, even if it can't answer all those nagging questions.
Montage of Heck: The Home Recordings
An even MORE polarizing Nirvana offering, this companion piece to the documentary compiles Cobain's unreleased  home demos. But fans may find it a revealing (if troubling) peek behind the curtain.
Montage of Heck (CD) + Lithograph Image (12″x12″) (Amazon Exclusive Bundle)
CYBER MONDAY DEAL: TBA at 3:05pm PST.
New Order-Music Complete (8LP Colored Vinyl Boxset)
One of the most pleasant surprises of the year, New Order's new album Music Complete proves they can still make great tunes, even without iconic bassist Peter Hook.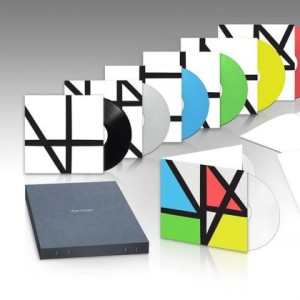 The 8 piece deluxe vinyl box set includes the standard edition of Music Complete on clear vinyl, as well as extended mixes of all ll tracks on color vinyl 12″s.  And it all looks perfectly stylish thanks to their long time designer Peter Saville.
Lush-Chorus: Complete Album Collection Box Set
In case you hadn't heard, 90's UK shoegaze darlings Lush have reformed, and will be touring the U.S. next year.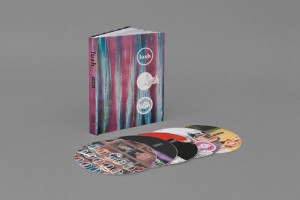 To get fans ready they're putting out a box set (on Dec. 11, 2015) that encompasses their 3 studio albums, singles compilations, and plenty of demos, remixes and more, accompanied by a hardbound book.
Bryan Ferry-
Avonmore (Limited Edition Boxset 2LP, 3CD and 1DVD)
Also due Dec. 11th, is the deluxe reissue of Bryan Ferry's excellent 2014 release Avonmore.
Limited to 1500 copies, it features a 48-page-book full of concert pics, printed lyric sheets, cd and (white) vinyl copies, loads of remixes and a DVD with videos for the singles Loop De Li, Johnny & Mary and Driving Me Wild.
Danzig-Skeletons (Splatter Vinyl Edition)
Glenn Danzig's long-in-the-works covers album comes out next week (standby for my review), and any fiend will be praising the prince of darkness to get this under their dead tree. To sweeten the deal, the album will be released on "Splatter vinyl." Bloody good.
OCCULT BOX
Another ideal gift for music lovers with a devilish taste, this comp is a grab bag of ominous fun, from artists including Laibach, Bauhaus, Gravediggaz, Nico and many more.
Faith No More:
It was a big year for FNM, with their first new album since 1998, and a pair of deluxe reissues. Let's take a look:
 Faith No More-Angel Dust (Deluxe Edition)
Faith No More's magnum opus gets a remaster along with remixes, B-sides and live tracks.
Faith No More-The Real Thing (Deluxe Edition)
The band's breakout smash gets a similar 2-disc reissue.
Faith No More: Sol Invictus (Indie Exclusive Colored Vinyl) Vinyl LP
Original recording, Special Limited Edition, Deluxe Edition
The band's excellent comeback album, issued on colored vinyl.
GOTHIC GIFTS:
Goths are going to have a good Christmas in 2015. Even if they won't admit it. Check out all these blacker than black reissues:
The Sisters of Mercy-Floodland Era Collection (4LP 180 Gram Vinyl)
This goth masterpiece gets a deluxe vinyl reissue including 12″ singles, alternate versions and B-sides.
The Sisters of Mercy-First And Last And Always Era (4LP)
Box set
The group's classic début album also gets the deluxe vinyl treatment, along with three EP's from that era that have been long out of print.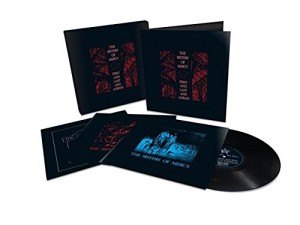 Siouxsie and The Banshees-
Classic Album Selection
This compilation features the band's first five studio albums along with 1983 concert disc Nocturne. Further details are scarce at the moment and it won't release until January, but hardcore fans won't mind the wait.
Comsat Angels' Deluxe CD Reissues
The entire back catalogue of these beloved post-punkers are getting the deluxe remastered 2-CD treatment, with rarities, B-sides and radio sessions thrown in for good measure.
Trax! Box

A sampling of classic industrial Ministry-centric material, which also features Al Jourgensen's work with Revco, Pailhead, 1000 Homo DJ's and much more.
Killing Joke-Pylon Deluxe Edition
Killing Joke have returned with another excellent new album (click here for my review), and this 2-disc edition adds extra tracks and remixes.
MISCELLANEOUS:
Eagles of Death Metal-Zipper Down
No deluxe issue to speak of here, but after all the terrible news of late, let's support a badass rock band. And if you'd like to spread some holiday charity to the victims in Paris, band mate Josh Homme has you covered.
Queens Of The Stone Age Men's Reindeer Sweatshirt Blue
Speaking of Josh Homme, how about a QOTSA sweater?
Monster Magnet-Cobras & Fire (The Mastermind Redux)

(Various Formats)
Following up on last year's Milking The Stars, Monster Magnet have released a wonderfully trippy re-imagining of 2010's Mastermind. It rocks duddddeeeeee.
Bob Marley-The Complete Island Recordings: Collector's Edition [12 LP Box Set]
This pricey, but all-inclusive vinyl collection features all 11 Marley albums in pristine packaging. Limited to 3000 copies.
A-ha-
Hunting High & Low (30th Anniversary Super Deluxe) (4CD/DVD)
Your New Wave family/friend will do the 80's dance when they unwrap this ultimate edition of A-ha's classic featuring Take on Me.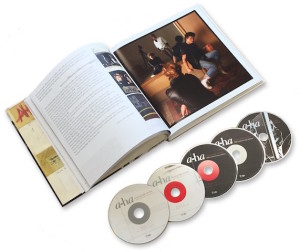 This special edition features a remastered version of the album, an alternate mixed version, tons of remixes and B-sides, and a DVD featuring two versions of the classic Take on Me video, along with a 60 (!) page commemorative book.
Alanis Morrissette-

Jagged Little Pill (Deluxe Edition) (2CD)
Full confession: I had heartburn including this one given it has one of my most hated songs on it. But hey, it means a lot to many people, so here you go. The 20th anniversary edition is completely remastered with an extra disc of previously unreleased demos.
Jeff Buckley-You and I
Fans of a talent gone all too soon will relish this disc of previously unheard covers and originals.
The Beatles: 

1 [CD/2 Blu-ray Audio and Video][Limited Edition]
The re-release of The Beatles best-selling 2000 comp comes equipped with the original 27 tracks with accompanying videos plus an extra disc of alternate versions and never before seen promo videos and behind-the-scenes footage, all painstakingly restored. Other features include commentary from McCartney and Starr, a surround sound mix and much, much more.
QUEEN STUFF:
Every year brings a new Queen reissue, and 2015 features a juggernaut of material:
Complete Studio [18 LP Box Set]
Box set

5 years in the making, this carefully crafted set features every single studio album, rare cuts, memorabilia, a retrospective booklet and more. Here's the full list of albums:
Queen
Queen II *
Sheer Heart Attack
A Night at the Opera
A Day at the Races
News of the World
Jazz
The Game
Flash Gordon
Hot Space
The Works
A Kind of Magic
The Miracle
Innuendo
Made in Heaven
Forever LP Box Set [4 LP]

A deluxe edition of Queen's greatest hits, B-sides and previously unreleased Freddie Mercury material.
Queen A Night At The Odeon-Blu-ray
A restored edition of Queen's classic 1975 concert.
Miles Davis At Newport 1955-1975: The Bootleg Series Vol. 4
Box set
CYBER MONDAY DEAL: $30.50 for Amazon Prime members. 
A collection of one of Davis's most iconic shows, with several tracks of previously unreleased material.
Dylan, Cash, and The Nashville Cats: A New Music City
This unusual new release chronicles a period where 60's rock and rollers collided with the best pickers and session players in Nashville, featuring material from Dylan, Cash, Country Joe, George Harrison, Leonard Cohen and many more.
The Slade Box – A 4Cd Anthology 1968-1991
70's UK Glam fans will dig this all-encompassing set from the band that wrote the original Cum on Feel The Noize.
The Who-50th Anniversary Releases:
The Who –
The Track Records Singles [15 – 7″ singles]
Who fans will love this collection of classic singles.
The Who-Live In Hyde Park [2 CD/DVD Combo]
Relive The Who's Hyde Park gig on CD and DVD.
Rush-R40 Live [3 CD/Blu-ray Combo]
Chronicling the prog legends 40th anniversary (and possibly final tour), experience this career spanning set in Toronto.
PINK FLOYD(ish) STUFF: 
David Gilmour-Rattle That Lock (CD/ Blu-ray Deluxe Edition)
CYBER MONDAY DEAL: $30.17 on Amazon Prime
Deluxe edition of his new solo album.
Roger Waters The Wall [Blu-ray]
Part concert film/part documentary on Waters himself, this is an immersive look at when he took the Pink Floyd classic double album out on a solo tour.
Beach Boys' Party! Uncovered And Unplugged [2 CD]
A deluxe remaster of the classic Beach Boys release, featuring new outtakes and dialogue.
Love and Mercy-Blu-ray
This excellent film about the Beach Boys' Brian Wilson's creative and personals struggle is a must have for any Beach Boys aficionado.
The Decline Of Western Civilization Collection
CYBER MONDAY DEAL: $34.99 (normally $39.98) on Amazon 
Fans of vintage punk and 80's metal are gonna flip that this is finally on Blu-ray thanks to Shout! Factory. The three disc collection follows rock anthropologist Penelope Spheeris on her quest to explore what drew kids to punk, metal and (in part 3) the gutter-punk lifestyle.
Special features includes behind-the-scenes featurettes, new interviews, a commemorative booklet and commentary by Dave Grohl.
Star Wars: The Ultimate Vinyl Collection
All of John William's scores for the previous six films in one package. Out on January 8, 2016.
John Carpenter's-Lost Themes (Remixed)
Following up on his first solo album earlier this year, this release makes it dance friendly with remixes by artists including Zola Jesus and oHgR.
The Melvins-Across The USA in 51 Days-The Movie!
This truly bizarre doc shows the sludge-metal masters attempting a record-breaking U.S. tour in 2012. Each stop on the tour=one minute of screen time giving the movie a hallucinatory feel that might explore tour exhaustion better than any other music doc has ever attempted.
ROCK BOOKS:
And here's a smattering of rock autobiographies that would also make great gifts:
So that's it! That wraps up my list of the best holiday music box sets and rock related gifts. I'll check back in closer to Black Friday/Cyber Monday in case any of these items have any killer specials.
Stay tuned next week when I'll be listing the best Blu-ray box-sets and Geek Gifts!
Until then, here's links to past music gift guides for even more ideas: