Review: Psychic TV 'Pagan Day'/'Allegory and Self' Reissues: experimental rockers 80's output gets the deluxe reissue treatment.
After industrial pioneers Throbbing Gristle called it a day in 1981, one wondered what group figured head Genesis P-Orridge would attempt next. It's safe to say Psychic TV took fans and music press by surprise.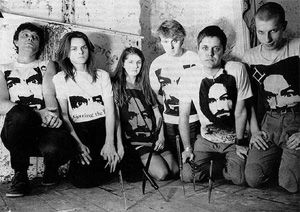 TV would see P-Orridge working with new collaborators on music more formal in structure and mellow in nature, as witnessed on Pagan Day and Allegory and Self, two 80's releases that are being reissued on vinyl, CD (and digital) for the first time since their respective debuts (out June 14th via Sacred Bones records).
1984's Pagan Day is full of sonic oddness and eerie flourishes: Cadaques is a cinematic slice of Goth, while We Kiss is a lovely acoustic ballad with Nick Drake-esque beauty.
Opium might be the weirdest of the weird: a country ballad played out of tune, sounding like a drunken back porch jam, while Cold Steel is a straight up Beatles homage.
I'm not sure if Farewell, the bonus track is mis-titled, because it's actually a faithful cover of the Rolling Stones As Tears Go By, once again showcasing that P-Orridge, despite his extreme experimental tendencies, was clearly influenced by the music of his youth.
Album closer New Sexuality might be the closest Psychic TV ever got to making an anthem, even if it's a mellow, understated one, showcasing P-Orridge's lifelong refusal to play by standard gender roles and expectations.
1988's Allegory and Self stars off with Godstar, a garage rocker that sounds straight out of the late 60's: fitting given it was written for late Rolling Stones member Brian Jones, who died in 1969. It's the band's catchiest song to date.
The album shows an expansion of Pagan Day's nascent electronic textures, be it the nightmarish Southern Comfort, the New Wave-ish Ballet Disco or the darkwave chiller Thee Dweller, but in more restrained and atmospheric fashion than the horror show theatrics of Throbbing Gristle classics like Hamburger Lady. It's a winning mishmash of classic rock psychedelia filtered through post-post atmospherics.
Both Pagan Day and Allegory and Self see P-Orridge and his bandmates in a transitional period, in-between Gristle's postindustrial experimentation and TV's pre-90's Acid House obsession. Psychic TV were never a band meant for mainstream consumption, but these reissues offer an entry point for those needing a spoonful of melodic sugar to make the band's hallucinatory medicine go down.
Buy it on Amazon: