Review: Failure Takes Fans on a Trip to 'Fantastic Planet' at Mohawk Austin: space rockers perform iconic 1996 album in its entirety.
★★★★★
Failure's 1996 album Fantastic Planet is an opus that's grown legendary with time. While overlooked upon its release, its dense, sonic layers and engaging arrangements has cultivated quite the cult following. This has served the L.A. trio well: after reuniting in 2014 they're finally able to enjoy the overdue acclaim and appreciation they missed out on after breaking up in 1997.
And the group are playing the album in its entirety on their 20th anniversary Fantastic Planet tour, which the group performed at Austin's Mohawk venue last evening.
Eschewing a traditional opening act in lieu of an experimental film (featuring clips of 2001 and the 1973 animated film from which their album gained its name), Failure played their 17 track opus from start to finish, kicking off with the thick-as-molasses riff off opening track Saturday Saviour.
Minus Ken Andrew's guitar glitch during the power-pop-on-steroids track Sergeant Politeness, the alt-rock trio were in fine form throughout: Failure are one of the few acts that come close to replicating the album experience live, with an impeccable sound mix showcasing their intricate, mad scientist arrangements in all their glory, be it the swirling Blank, the ghostly natural harmonic drenched Solaris, or the transcendent Another Space Song (featuring drummer Kellii Scott's hypnotically precise percussion). The group even included Planet's instrumental segue tracks, all of which flowed seamlessly, augmented by appropriately trippy visuals.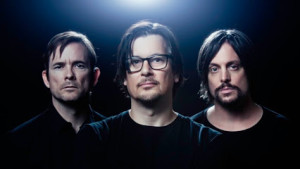 The psychedelic ballad The Nurse Who Loved Me and anthemic Stuck on You (the closest the band had to a hit single on 90s rock radio) provided the biggest singalong crowd moments, with Andrew's granulated croon soaring high above the mix.
After concluding with stratospheric album closer Daylight, the band returned for an encore featuring three non-Fantastic Planet tracks: the gorgeous Mulholland Drive (off their critically acclaimed 2016 release The Heart Is A Monster), gave multi-instrumentalist Greg Edwards a chance to show off his keyboard skills, while Wet Gravity and Screen Man showcased the early 90s angst that made them favorites of peers like Tool.
Fantastic Planet may be twenty years old, but as the packed rapturous crowd at the Mohawk proved, the album (like Failure themselves) has lost none of its luster, a planet of sound existing in its own unique universe  untouched by time or trends.
Failure Mohawk Setlist:
Saturday Saviour
Sergeant Politeness
Segue 1
Smoking Umbrellas
Pillowhead
Blank
Segue 2
Dirty Blue Balloons
Solaris
Pitiful
Leo
Segue 3
The Nurse Who Loved Me
Another Space Song
Stuck on You
Heliotropic
Daylight
Encore:
Mulholland Dr.
Wet Gravity
Screen Man