Prong 'X – No Absolutes' Review: genre-bending metal act produce their most diverse album yet. 
Between 2012's Carved in Stone, 2014's Ruining Lives and last year's eclectic covers album Songs From The Black Hole, Prong have been on an inspired creative path as of late.
And now the trio (led by founding vocalist/guitarist Tommy Victor) return with X – No Absolutes, their 10th studio album–and their most adventurous effort to date.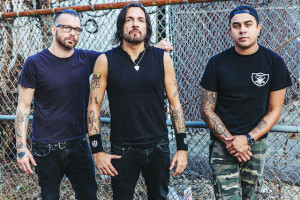 Like Carved and Ruining, No Absolutes does a good job of offering the disparate elements Prong fans have come to expect, while going in intriguing new directions.
Classic thrash is well represented on the brutal first single Ultimate Authority, which features Victor's finest machine gun riffing, while tracks like Cut and Dry and Sense of Ease, snarl with Slayer-esque mayhem. And Soul Sickness's feral groove shares sonic DNA with their breakout hit Snap Your Fingers, Snap Your Neck.
The anthemic title track will thrill fans of the band's underrated 1996 album Rude Awakening, revisiting electronic industrial textures for the first time since the Clinton era. Victor's introspective lyrics pits his inner will against world-weary cynicism: No absolutes/For you to choose/There is a truth inside of you. It should also be noted that the album as a whole shares some of Victor's most astute lyrical observations.
But the album's most unexpected moment is Do Nothing, which is as close as Prong has ever come to ballad territory: Victor's clean, multi-tracked vocal befits the song's Beatle-esque verse and impassioned, soaring chorus.
It takes a few listens to get used to (much like their Black Hole cover of Neil Young's Cortez The Killer), but pays off with repeat listens, resulting in one of their catchiest songs.
The band also indulge their well documented Killing Joke influence on the wonderfully discordant Without Words and the insistent Gothic drone of Ice Runs Through My Veins.
Add in their majestically dark album closer With Dignity, and you're left with an album that has something for every Prong fan, sounding both contemporary yet endearingly old-school.
Drummer Art Cruz and bassist Jason Christopher prove invaluable to the proceedings, giving Victor his most fertile lineup since the Cleansing-era of drummer Ted Parsons and late bassist Paul Raven.
It's that mix of the familiar and foreign that makes X – No Absolutes such a rewarding and engaging listen, leaving one excited to see where Prong go next.
You can order Prong's X – No Absolutes' via iTunes or Amazon below.