Glenn Danzig Interview: Housecore, Samhain and a Busy 2015. The veteran rocker discusses his upcoming  HHF set and busy musical plans for next year.
Glenn Danzig has a reputation for being a difficult interview, but he was friendly and approachable when I spoke with him about his upcoming Danzig/Samhain performance at Austin's 2014 Housecore Horror Film Festival. He also gave the scoop on all the musical projects that'll make for a very busy 2015 for the 59-year-old punk-metal icon. Enjoy our Q&A below:
SLIS: So when were you first asked to do Housecore? Did (festival founder) Phil Anselmo approach you personally?
GD: Well Phil had asked me to come for a while and we're available to do it this year and it's pretty cool. I like what Phil's doing.
SLIS: Did he ask for a Samhain set or was that your suggestion?
GD: Well I guess they found out we were doing a handful of Samhain shows because we did the Riot Fest Show and then we did two west coast gigs and then we decided later we'd add some East Coast gigs, and they asked if we could do a Samhain set and a Danzig set.  I'm glad it worked out (laughs).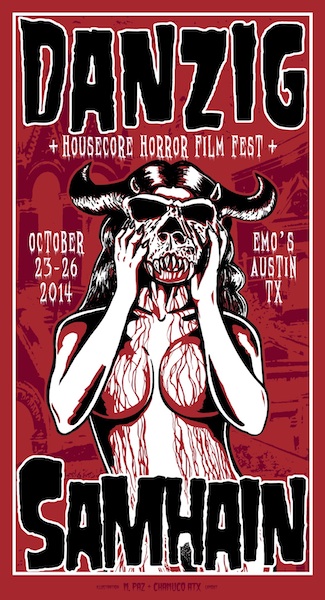 SLIS: When I heard you were going to headline, I began wondering if there would even be a Housecore without Danzig, Samhain, or the Misfits. You're one of the first musicians to use horror imagery in rock lyrics. Do you remember your first inspiration to bridge those two worlds together?
GD: Well I've always been interested, and have always liked horror movies: whether they're monster movies or dark murder movies and then as I developed and progressed and read more and experienced more life it's just gone on from there exponentially it's just crazy. And the more you know about it the more you have to write about it: it's pretty wild so that's really how it's all gone down.
SLIS: At one point you were talking about directing the horror movie Ge Rouge. Is that still something you're interested in doing? What's the status on that project?
GD: Yeah we're still doing it. It's just in Hollywood you go from producer to producer. But right now I'm working with this really cool guy. It looks like it's actually really gonna happen this time so I'm keeping my fingers crossed. We've actually got a production date for March so we'll see if that changes or not. And we asked the Soska sisters to direct a Verotika pic and they reacted very favorably to it so hopefully it's all gonna happen.
SLIS: When you play Samhain songs now, does it give you a different attitude or intensity than when you play (solo) Danzig songs? What do you enjoy most about revisiting that material?
GD: Well it's kinda different and if you're gonna be in Austin you'll see it as part of the Danzig set. Now the shows that were just Samhain have been pretty wild. People knew every word of every Samhain song and I was shocked. And we did the Riot Fest show of course and 2 shows out here and we're getting ready to do a show when we go to NYC and in Washington we'll do another show. So far it's been very cool.
SLIS: Speaking of: Do you have any plans on remastering or reissuing the Samhain albums in the near future?
GD: I wouldn't remaster them, but we'll see if we re-release them not. Some bootleg company in Europe released them awhile ago and we're trying to shut them down. So hopefully we'll reissue some stuff in the future.
SLIS: You've been working on the Danzig Sings Elvis EP. Any idea of when that will be released?
GD: Yeah I'm working on that right now. We're halfway done with it. It's just gonna be an EP like 7 or 8 songs. And once all this stuff is done…I'm probably gonna go back in the studio and start working on a new Danzig record too. So there's a lot of stuff in the pipeline now that's ready to get released.
SLIS: You've also been working on a covers album of various artists; last year you released a Nancy Sinatra cover with Cherie Currie (Runaways). Will that still see the light of day in a different release?
GD: The cover record is hopefully gonna come around March 2015, and then it'll be followed later by the new Danzig record next fall. And then the Danzig Elvis EP, I'm not sure when that's coming out since I'm not done with it yet…but we'll see.
SLIS: So this month Danzig 4p turned 20. That's always been my favorite album of yours, and an underrated one at that. Will you be doing any special anniversary reissues, or adding more songs from that album to your set list this year?
GD: Well we're talking to (producer) Rick (Rubin) and his label about doing some special stuff. We'll see. Cause trying to get Rick to pay attention to his label is just really hard these days (laughing). But there's a guy over there who's really cool so we've talked to him so we'll see how it all progresses.
SLIS: When you look back on that album, what are your thoughts?
GD: Well I still like it. Of course I like heavy guitar and Rick likes a cleaner guitar. So if it I was to remake it nowadays I'd probably have some heavier guitar on it (laughing). But that'd be it. I wouldn't change much else.
[amazon_image id="B000068GA2″ link="true" target="_blank" size="medium" ]Danzig 4[/amazon_image]
SLIS: You gave us a taste of some of your older lyrics with The Hidden Lyrics of Danzig, which came out in 2010. Any chance of releasing the stuff you put out from 77 to 85?
GD: Yeah. Bis (Simon Bisley) and I started talking about doing another lyric book but this time it could be whatever lyrics we wanted. It didn't have to be songs that no one ever had seen the lyrics to. But depending on Bis because he's always behind schedule…if it does come out I wouldn't see it coming out for a year or two from now (laughing). So if I can get him to do the stuff it'd be great. Sometimes it just takes forever to get the stuff out of him (laughing). BUT at the end of the day he is one of the best artists around so it's like a trade-off. Cause he really puts his heart and soul into the stuff he does for me and I can't ask for more than that.
[amazon_image id="B003N3KQ4Q" link="true" target="_blank" size="medium" ]Danzig: Hidden Lyrics of the Left Hand[/amazon_image]
SLIS: A friend of mine wanted to ask if the mask you wore in the Am I Demon video is actually the mask worn in the 1968 movie The Devil Rides Out. Do you remember how you got a hold of that movie prop?
GD: Yeah in England it's called The Devil Rides Out and here in America it's called The Devil's Bride and that is the actual mask from that movie so he nailed it!
(both laugh)
SLIS: Are there any modern horror movies you enjoy?
I like everything. Like a year ago somebody turned me on to the Walking Dead, which I only remembered as an indie comic back in the day y'know? So now I watch it all the time…I wrote a song for them and I think they're going to use it on the soundtrack, or it'll be on the show. Maybe I'll go on Talking Dead which would be cool.
SLIS: You've performed so many genres of music: metal, punk, goth, industrial…even classical…is there anything else you want to try that you haven't attempted yet?
GD: No, probably the Danzig sings Elvis will be about it. I think that'll cover it all for me!
(both laugh)
I'm pretty lucky in that a long time ago I started my own label and put stuff out myself. So I can just put out stuff when I want as long as I have a good distributor and no one can kick me off my own label (laughs)!  Because that would be me kicking me off my own label. But that would never fucking happen (laughing). So I can pretty much do whatever I want. So I make sure that it sounds like what people expect Danzig to sound like and hopefully they'll like the product when it come out. That's really all that I do.
SLIS: Anything else you want to add about the Housecore show before we wrap up?
No. But I'm assuming that I'm talking to most of the people that are going to be in the area. If it's what you're into, you should definitely come out and support what Phil's doing cause it really cool and it'd be great if it keeps happening every year and gets bigger and bigger.
Big thanks to Glenn Danzig for taking the time out for the interview. I'll be covering Housecore all week-long, so be sure to check back on this site as well as following my Examiner/AXS horror column over the course of the weekend. And you can get Housecore festival and ticket info by clicking here.