Faith No More's long-awaited comeback album Sol Invictus has reached wide critical acclaim (including this site) and it's clear their fan base has been receptive.
The band's first release since 1998 landed at #6 on the American Billboard charts (and $14 on their top 100, #1 on Billboard's Hard Music and Independent Album charts and #2 on Rock/Alternative Album charts.) selling 31,000 copies in the U.S. alone.
Worldwide sales for the album proved equally impressive (which was released on May 19th) and are as follows: #2 in Australia, #4 in Germany, and #6 in the UK. A full chart is below: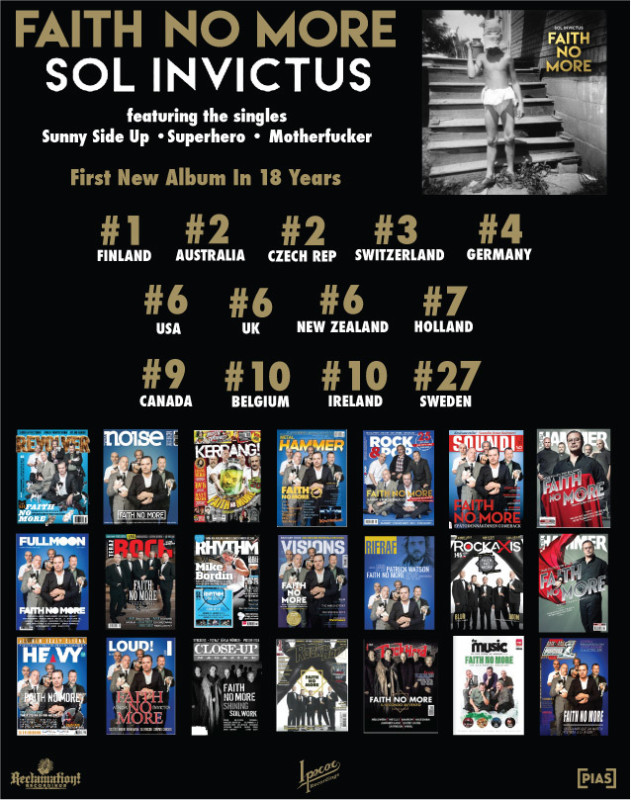 In a press statement bassist Billy Gould stated "What this tells me, is that there is a need out there; people want to hear things that exist outside the mold. It makes me feel grateful and it gives me hope."
"We are honored to be a part of the FNM team and very proud of the success of Sol Invictus," added Ipecac Recordings Greg Werckman (which released the album jointly with the band's Reclamation Recordings label) "Of course, none of this would have happened without the band delivering such a fantastic record and them having faith in us to handle it properly."
On a personal note this makes me happy as hell to see an actual rock band rising above the drudgery of current pop music, and for FNM to get the U.S. acclaim that has eluded them at points in the past.
You can catch the band playing the material live on the following 2015 tour dates below:
May 29
Gelsenkirchen, Germany Rock Im Revier
May 31
Munich, Germany Rockavaria Festival
June 2
Milan, Italy Sonisphere
June 4
Vienna, Austria Vienna Rocks Festival
June 5
Hradec Kralove, Czech Republic Rock For People Festival
June 6
Berlin, Germany Zitadelle Spandau
June 8
Krakow, Poland Tauron Arena
June 10
Bratislava, Slovakia Aegon Arena
June 12
Landgraaf, Netherlands Pinkpop Festival
June 13
Donington, UK Download Festival
June 14
Glasgow, UK O2 Academy
June 17
London, UK The Roundhouse
June 18
London, UK The Roundhouse
June 20
Clisson, France Hellfest
June 21
Dessel, Belgium Graspop Festival
June 23
Hamburg, Germany Sporthalle Hamburg
June 26
Norrkoping, Sweden Bravalla Festival
June 27
Seinajoki, Finland Provinssi
June 28
Odense, Denmark Tinderbox
July 26
Austin, TX Austin Music Hall
July 27
Dallas, TX South Side Ballroom
July 28
Houston, TX Bayou Music Center
July 30
Atlanta, GA Masquerade Music Park +
July 31
Raleigh, NC Red Hat Amphitheater +
August 1
Philadelphia, PA Mann Center for the Performing Arts +
August 2
Columbia, MD Merriweather Post Pavilion +
August 4
Boston, MA Blue Hills Bank Pavilion +
August 5
New York, NY Madison Square Garden +
August 7
Toronto, ON Ricoh Coliseum +
August 8
Montreal, QC Heavy Montreal
September 6
Seattle, WA Bumbershoot
September 18
Bogota, Columbia Royal Center
September 20
Buenos Aires, Argentina Luna Park
September 24
Sao Paulo, Brazil Anhembi Arena
September 25
Rio de Janeiro, Brazil Rock in Rio
September 28
Santiago, Chile Get Louder
October 25
Sacramento, CA Aftershock Festival
Check back later this week to see where I'll be ranking Sol Invictus in the band's entire discography. You can order Faith No More's new album on Amazon via the link below:
[amazon_image id="B00TZE3W2U" link="true" target="_blank" size="medium" ]Sol Invictus[/amazon_image]