Failure 'The Heart Is A Monster' Review: reunited space-rockers create an immersive effort that demands your full attention. 
Failure were a band ahead of their time: ambitious alt-rockers whose immersive soundscapes and unconventional song structures proved too challenging for those lost in grunge or Britpop in the mid-90's.
They fell through the cracks due to record label indifference and substance abuse issues, despite issuing stellar albums like 1996's Fantastic Planet. And not even the clout of fans like Tool or a slot on Lollapalooza stopped them from imploding in 1997.
But absence makes the heart grow fonder, and time has been very kind to Failure and to Fantastic Planet, cultivating a fervent fan base in the band's absence and influencing bands like Cave In, Paramour, and Speedy Ortiz.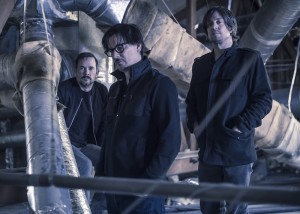 Now Failure are back, reinvigorated by a successful reunion tour, and with a new album, The Heart Is A Monster. And like Fantastic Planet, it's a labyrinthine opus. Eighteen tracks demanding a committed listening experience in the sequential order the band crafted in painstaking detail. A tall order in the short attention spanned internet era, but Failure have never been interested in playing it safe.
Instrumental opener Segue 4 sets the tone for what awaits the listener (picking up from where Segue 3 left off on Fantastic Planet): a wash of twinkling keyboards recalls the score from Blade Runner before leading into Hot Traveler, a driving track with a New Wave dance beat, angular, asymmetric guitars and a gurgling hypnotic baseline, creating a magnetic pull with its whip crack rhythm.
Other songs like The Focus pull from that same dynamic, crunchy power pop retrofitted with alt-rock drama and frontman Ken Andrew's granulated tenor soaring up top.
A.M. Amnesia's shoegaze guitar owes a nod to My Bloody Valentine, going from an anthemic crunching chorus to cleaner verses to great effect.
There is a Gothic air of melancholy songs like Snow Angel, which has a spectral chill, augmenting lyrics invoking disorienting imagery: The snow angel burned out/ran home and watched her wings cool/She kept her dreams until morning/Then took the long way back home.
That lyrical sense of blurred reality extends throughout the album. As multi-instrumentalist Greg Andrews claimed in a press release: Thematically we've moved from the outer space of Fantastic Planet to inner space. From the dislocation of one's identity to the complete erasing of it by sleep and dreams.  I think we've used instrumentation in the service of mood and emotion to an even greater degree than on Fantastic Planet.
That gives The Heart Is A Monster a sense of Twilight Zone eeriness, explored even further on the spooky I Can See Houses, which feels like a fever dream of disconnect and voyeurism fueled by a Cure-worthy guitar dirge: A stewardess walks by/Her face it talks to me/She straps herself in/Stares out the window.
The band's unique calling card is their mix of dissonance with melody: big hooks followed by compositional left curves take you in uncharted directions on tracks like the skronky Atom City Queen or the churning Counterfeit Sky, which lurches from pinched guitar squalls and hushed vocals to a soaring infectious chorus propelled by drummer Kellii Scott's precise, punishing percussion.
But the album's crown jewel is also a bit of a departure: the serene Mulholland Drive sounds like the unlikely but winning combo of Pink Floyd's Brain Damage and The Beach Boys God Only Knows. It's classic rock, Failure style, and one of the best songs you'll hear this year.
The Heart Is A Monster comes to a close with the instrumental Segue 9, a low-key stunner which fuses a trip-hop beat with ocean wave guitars and ambient scratches, going down a trance inducing rabbit hole that's a soothing end to an epic aural daydream.
Failure does not make music for the Spotify era, and God bless them for that. This is a true album experience, requiring your full attention to unearth all its sonic treasures. You'd expect nothing less from a band with perfectionists producers, and they fully deliver here, even amongst sky-high expectations.
The album is a monster, and you will be justly rewarded for diving into its gaping jaws.
You can pre-order Failure's The Heart Is A Monster via iTunes and Amazon below.