David Lynch guest stars on 'Louie' with sublime results.
The 3-part 'Late Show' storyline on FX's 'Louie', has been brilliant, with our miserable hero vying to take over 'The Late Show' from a retiring David Letterman. But things went into comedy nirvana when film director David Lynch appeared.
It's been a lot of fun seeing Chris Rock and Jerry Seinfeld as competitors for the late night hosting gig. It feels like a dark-hearted commentary of the late night talk show wars. Everyone is all smiles on the outside, but inside they are predators locked in a Darwinian duel. Even Jay Leno is palatable in his cameo.
But Conan O'Brien and Letterman were both no-shows. CK wrote for both of their shows, but after reading this, there's no love lost between CK and Letterman . As for O'Brien, I doubt he wants to revisit that chapter of his life again.
But outshining all these guest appearances, was Lynch, who played TV producer Jack Dahl, hired to get Louie prepped for his pilot taping.
For many of us in Generation X, David Lynch was our first exposure to surrealism in entertainment, Television in particular.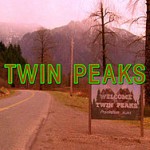 His series 'Twin Peaks' was unlike anything ever seen on network television. These days, most premium/basic cable drama and comedy shows are better than many feature films. Lynch's contribution to the medium can't be denied.
Lynch brought his cinematic tone to TV, imbuing 'Peaks' with the same visual richness and dark subject matter of his feature films ('Blue Velvet' the most noteworthy). He's the first to introduce bizarre characters and non-sequitirs into a serialized drama, as well as non-linear storytelling.
Given how 'Louie' dabbles in surrealism, it makes weird sense for these 2 to connect. Without Lynch's injection of the sense of the absurd into television, would a show like 'Louie' even exist?
But Lynch was in acting mode here. And he was gutbustingly funny.
He henpecked Louie relentless on his comedic skills: "You're a comedian? Well, I've known you for a week; you haven't made me laugh once. I had no idea you were a comedian. I thought you were a newsman."
He also ridiculed him on his fashion sense and physical shape: "Listen crackerjack, if you're gonna be televised, you gotta be easy on the eye. It's no good if people hate looking at you. You need a suit, a tie and some Brylcreem."
Louie's consternation with Jack was hilarious and they had a real comic chemistry. And Lynch wasn't playing himself; he nailed the part of a short-tempered aging television producer.
I would love to see Lynch do more acting. He's lost me on his last few films, but I could watch him on 'Louie' forever.
Dahl tells Louie: "Comedy is about timing son". And boy does David Lynch have it in spades.
Season 3 of
Louie
airs Thursdays at 10:30 on
FX
.

You can catch Seasons 1 and 2 of Louie on Netflix streaming, as well as David Lynch's 'Twin Peaks'. Currently Netflix offers a free, month-long trial of their service. Click Here to get started today.