Book Review: DC Comics' 'Color Me Powerful' and 'Awesome Activities for Super Heroes': Downtown Bookworks is back with two more excellent kids books based off classic D.C. Comics characters.
With the holidays fast approaching, parents are feverishly looking for great gift ideas for kids. And for those with little superheroes-in-the-making Downtown Bookworks  has you covered with two wonderful new D.C. Comics based activities books.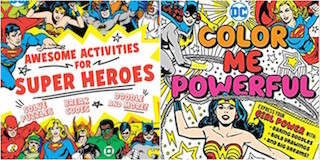 2017 served as a banner year for women's empowerment in entertainment (and culture in general), as exhibited by the massive success of DC's Wonder Woman. And Color Me Powerful is an excellent book that Wonder Woman fans (as well as those of other classic D.C. comic book heroines) should love. As the title suggests, Color Me Powerful is a coloring book, but that's just the tip of the iceberg.
From the official press release:
Inspiring prompts, coloring pages, list starters, phrases, and powerful patterns—all featuring DC's fearless female super heroes—jump-start the imagination. Wonder Woman, Supergirl, Batgirl, Bumblebee, Katana, and other beloved characters appear throughout this empowering and creativity-boosting book. Readers are encouraged to doodle their own super hero name and decorate words and slogans about courage, strength, and kindness. They'll design a motto, create a costume, answer insightful questions, and explore their creativity. Classic DC art and a fun retro design complete this inviting package.
The book, written by Sarah Parvis, is chock full of fun activities for children to celebrate their inner and exercise their creative muscles. Examples include designing their own superhero costumes, listing their special talents, finishing unfinished illustrations of characters like Batgirl and Raven, designing their own superhero lair and much, much, more.
It's extremely interactive and fun, packed full of creative exercises and empowering activities, with classic comics illustrations featuring the likes of Wonder Woman, Black Canary, Bumblebee, Hawkwoman, Katana and more.
DC's Awesome Activities for SuperHeroes (also written by Parvis), is another very entertaining children's book that makes the perfect companion piece to Color Me Powerful. Check out the press release:
Super heroes-in-training can build their brain power by cracking codes, racing through mazes, solving picture puzzles, designing gadgets, sketching secret lairs, and much more. Classic illustrations of Superman, Batman, Wonder Woman, Green Lantern, The Flash, Supergirl, and other favorite DC characters are featured in more than 100 engaging activities that are guaranteed to entertain—and to hone important skills.
Like Color Me Powerful, Awesome Activities packs a lot of bang for your buck: it features a ton of puzzles, mazes, matching games and brainteasers (some of which even challenged this 46-year old blogger), while also inviting kids to create their own superhero profile, utility belt contents, question how they'd use super powers,  and much more. It also contains tons of classic vintage D.C. artwork which, like Color Me Powerful, may inspire some older comic geeks to enjoys its charms when they can wrestle it away from their kids.
Both books are recommended for ages 6 and up, but my 2 year-old daughter has pawed through them repeatedly, enamored by the glossy illustrations and fun layouts. I can't wait until she gets older and can really dive into both books, but I'm having enough fun enjoying both books myself!
Own them on Amazon:
[amazon_link asins='194136750X' template='ProductAd' store='httpsmellslik-20′ marketplace='US' link_id='5e257ee6-d93c-11e7-9af9-79ed8b107715′][amazon_link asins='1941367402′ template='ProductAd' store='httpsmellslik-20′ marketplace='US' link_id='7b0c7b07-d93c-11e7-aa60-fb79a38bb7cf']