Billy Corgan Announces Smashing Pumpkins 'Adore' Reissue Details; Smashing Pumpkins darkest album to be given a 6 disc deluxe makeover,
Just a few months back, I reported that Billy Corgan was putting the finishing touches on a deluxe reissue of Smashing Pumpkins' 1998 album 'Adore.' And today he put up an official press release on the band's website.
But in typical dramatic fashion, the mercurial frontman has a bone to pick; this time it's with Amazon.com who supposedly dished out the details before his intended announcement. So the press release (you can read it in full here) serves not just as a marketing purpose, but as an anti-corporate diatribe as well; I'm very upset that an online retailer broke their agreement, posting up the tracks up before we could do it here first AS THEY'D ASKED.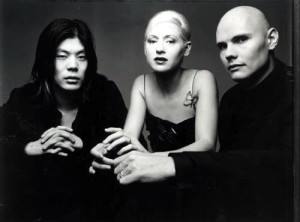 The press release also notes that while 'Adore' was coldly received upon its initial release, it has gained stature over the years, as Corgan states; I love Adore, but for a while, my opinion of the record was so intertwined with people's reactions to it at the time. I would say that my kind of iffy feelings lingered long past the point when a lot of fans seemed to come back around to the record–which seemed to really start happening around seven years ago. Now Adore is name-checked by fans constantly.
All the Smashing Pumpkins reissues have been grandiose, and this album is no exception. The box set will feature 107 tracks including demos, mono takes, and live recordings. Also included will be a DVD of a 1998 band performance.
Below is the full track list. You can order via Amazon by clicking on the product image below (sorry Billy). The box set will be officially released on September 23rd.
Disc 1 – Adore: Stereo Remastered
01. To Sheila
02. Ava Adore
03. Perfect
04. Daphne Descends
05. Once Upon a Time
06. Tear
07. Crestfallen
08. Appels + Oranjes
09. Pug
10. The Tale of Dusty and Pistol Pete
11. Annie-Dog
12. Shame
13. Behold! the Night Mare
14. For Martha
15. Blank Page
16. 17
Disc 2 – Adore: Mono Remastered
01. To Sheila
02. Ava Adore
03. Perfect
04. Daphne Descends
05. Once Upon a Time
06. Tear
07. Crestfallen
08. Appels + Oranjes
09. Pug
10. The Tale of Dusty and Pistol Pete
11. Annie-Dog
12. Shame
13. Behold! the Night Mare
14. For Martha
15. Blank Page
Disc 3: In a State of Passage
01. Blissed and Gone (Sadlands Demo)
02. Christmastime (Sadlands Demo)
03. My Mistake (Sadlands Demo)
04. Sparrow (Sadlands Demo)
05. Valentine (Sadlands Demo)
06. The Tale of Dusty and Pistol Pete (Sadlands Demo)
07. What If? (Streeterville Demo)
08. Chewing Gum (CRC Demo)
09. The Tale of Dusty and Pistol Pete (CRC Demo)
10. The Ethers Tragic (Instrumental/ 2014 Mix/ CRC Demo)
11. The Guns of Love Disastrous (Instrumental/ 2014 Mix/ CRC Demo)
12. Annie-Dog (Take 10/ CRC Demo)
13. Once in a While (2014 Mix/ CRC Demo)
14. Do You Close Your Eyes When You Kiss Me? (CRC Demo)
15. For Martha (Take 1/ CRC Demo)
16. My Mistake (Take 1/ CRC Demo)
17. Blissed and Gone (CRC Demo)
18. For Martha (Take 2/ Instrumental/ CRC Demo)
Disc 4: Chalices, Palaces and Deep Pools
01. For Martha (Symphonic Snippet/ Instrumental)
02. Crestfallen (Matt Walker Reimagined/ 2014)
03. To Sheila (Early Banjo Version)
04. Ava Adore (Puffy Combs Remix 1998)
05. O Rio (Instrumental/ Sadlands Demo)
06. Waiting (Adore Outtake)
07. Once Upon a Time (Sadlands Demo)
08. Eye (2014 Mix/ From the 'Lost Highway' Soundtrack)
09. Saturnine (For Piano and Voice)
10. Cash Car Star (Matt Walker Reimagined/ 2014)
11. Pug (Matt Walker Reimagined/ 2014)
12. Perfect (No Strings Version)
13. It's Alright (Instrumental/ Adore Outtake)
14. Czarina (Take 1/ Adore Outtake)
15. Indecision (Sadlands Demo)
16. Blank Page (Early Version)
Disc 5: Malice, Callous and Fools
01. Let Me Give the World to You (Adore Outtake)
02. Tear (From Digital Transfer)
03. Cross (Adore Outtake)
04. Because You Are (Adore B-Side)
05. Jersey Shore (Sadlands Demo)
06. Shame (Take 1)
07. Summer (Instrumental/ Adore Outtake)
08. Blissed and Gone (Drone Version)
09. Heaven (Instrumental/ Sadlands Demo)
10. Daphne Descends (Matt Walker Reimagined/ 2014)
11. Saturnine (Matt Walker Reimagined/ 2014)
12. Behold! the Night Mare (Alternate Vocal)
13. Perfect (Acoustic Demo/ Adore Outtake)
14. Do You Close Your Eyes? (Adore Outtake)
15. The Beginning Is The End Is The Beginning
Disc 6: Kissed Alive Too
01. Ava Adore (Live/ Sao Paulo Session)
02. Daphne Descends (Live/ Sao Paulo Session)
03. The Tale of Dusty and Pistol Pete (Live/ Sao Paulo Session)
04. Tear (Live/ Sao Paulo Session)
05. Shame (Live With Mancow/ Chicago)
06. Blank Page (Live With Mancow/ Chicago)
07. To Sheila (Live/ Nashville/ Ryman Auditorium)
08. Money (That's What I Want) (Live/ Los Angeles/ Dodger Stadium)
09. X.Y.U. Medley (Live/ Los Angeles/ Dodger Stadium)
10. Transmission (Live/ Chicago/ Rehearsal)
Disc 7 – DVD: Fox Theater, Atlanta, GA – August 4, 1998
01. To Sheila
02. Behold! the Night Mare
03. Pug
04. Crestfallen
05. Ava Adore
06. Tear
07. Annie-Dog
08. Perfect
09. Thru the Eyes of Ruby
10. Tonight, Tonight
11. Once Upon a Time
12. The Tale of Dusty and Pistol Pete
13. Bullet with Butterfly Wings
14. Shame
15. For Martha
16. Blank Page
17. Transmission