Blu-Ray Review: DC Animated gets it right with their release of  'Batman: The Dark Knight Returns' Part One.
[amazon_image id="B008RV5K5E" link="true" target="_blank" size="medium" ]Batman: The Dark Knight Returns, Part 1 [Blu-ray][/amazon_image]
***UPDATE: I just reviewed part Two which you can see by clicking here.
Expectations have been high for the animated adaptation of Frank Miller's iconic Batman story 'The Dark Knight Returns'.
As a huge Batman fan, I was extra excited. The Dark Knight Returns came out when I was 14. I was at the perfect age to read the story. It wasn't kid's stuff anymore. Batman was given a 'Dirty Harry' edge; aging and in retirement, but coming back to face off against a grave new threat against Gotham. It made media shock waves upon its arrival in 1986. .
I've read the story repeatedly in years since, so my main question is how faithful is it to the source material?
While I enjoyed DC Animated's adaptation of Miller's  'Batman Year One', I think this is superior. This ranks among the best of their cartoon efforts.
The animation, while not entirely capturing Miller's noir style, gets enough of it right. Every character looks carved from granite, and the sooty textures and cyber punk vibe is palpable.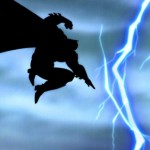 And much of the dialogue and plot points have been preserved. Director Jay Olivia deserves major kudos. The action scenes snap with brutal vitality, and key moments from the comic come to vivid life. The two best of which are Bruce's flashback to his parent's shooting, and Batman's battle against the Mutant leader in a mud pit. I'm glad the film doesn't overly sanitize the source material. It's rated PG-13, but much in the way that 'The Dark Knight' often felt R-rated, this doesn't flinch from the grim subject matter.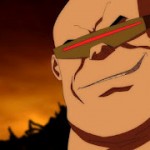 But the movie isn't without its flaws. The biggest being the excision of Batman's inner monologue. I realize many find that narrative device distracting in film, but it adds crucial layers to Wayne's psychology and gives it that film noir edge that saturates Miller's work. (And my favorite line of dialogue is absent; Batman saying 'Welcome to Hell' as he pulls a thug through a rickety floor).
And while I miss 'BTAS' Kevin Conroy's voice as Batman, 'Robocop"s Peter Weller makes Batman his own..
Carrie Kelly aka Robin,  is also rendered perfectly, and voice actor Ariel Winter does a fine job.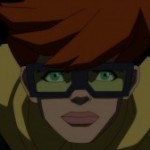 I feel the main thing working against this film is Christopher Nolan's Bat-trilogy. Nolan gave us the best superhero film series to date, and for the uninitiated, many will think this is derivative of his work.
But the reason for this is Nolan borrowed many elements from Miller's tale; The 'Tumbler' style Batmobile came from the hulking Bat-Tank from 'Dark Knight Returns'. As did Batman's adversarial tone to the police force. And lastly, a hero in hiding who emerges when he feels he has no choice was an obvious influence on 'The Dark Knight Rises'. Nolan has admitted many of Miller's elements helped influence his work.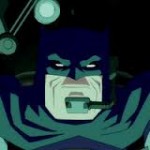 Be that as it may, this film is a winner, and I think fans will be pleased.
As for Blu-ray extras, they're a tad skimpy. The best is 'Batman and Me; The Bob Kane story', which is a wonderful retrospective on Batman's creator. Featuring interviews with the late artist's wife, Joker creator Jerry Robinson and loving rival Stan Lee, it's mandatory viewing for Batman lovers. There's also a nice featurette on the genesis and animated transformation of Kerry Kelly.
Also included is a sneak peek at Batman: The Dark Knight Returns' Part Two, (due out in 2013) which covers the last 2 issues of Miller's series, where Batman's battles both the Joker and Superman. These are the most controversial elements of the series, so it'll be interesting how they're handled.
But what's sorely  missing on this disc is a good documentary on the history and cultural legacy of  'The Dark Knight Returns'. Maybe Miller wouldn't do an interview (or DC wants to distance themselves from him after he blew a political fuse and put out the truly wretched 'Holy Terror'. Not to mention the god-awful 'Spirit' movie).
Want to buy  'Batman: The Dark Knight Returns' Part One on Blu-ray or DVD? Or grab Miller's original graphic novel? Then check out the Amazon links below. And you can also read my review of Part Two here.
[amazon_image id="B008RV5K5E" link="true" target="_blank" size="medium" ]Batman: The Dark Knight Returns, Part 1 [Blu-ray][/amazon_image][amazon_image id="1563893428″ link="true" target="_blank" size="medium" ]Batman: The Dark Knight Returns[/amazon_image]