Albums Revisited: The Cure's 'Disintegration' Turns 25; a look back at one of the best albums of the 80's (or any other decade). A timeless gothic masterpiece.
On May 2nd, 1989, The Cure released their eighth album 'Disintegration.' It's now renown as a singular expression of heartache, introversion, solemn resolve and bleak beauty.
It's hard to fathom the album is celebrating its 25th anniversary, because despite its 80's trappings, in songwriting and in mood, it remains timeless.
'Disintegration' was the first CD I ever bought, and what a perfect album to dive into the digital format. On the liner notes Robert Smith noted "This music has been mixed to be played loud so turn it up."
And indeed, listening to the album at full blast or at low volumes creates an almost different experience. At high volume you're sucked into the deep gothic vortex of the band's mix of the dismal and beautiful.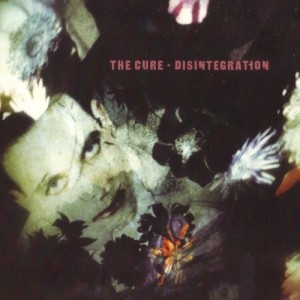 But despite its acclaim by fans the world over, be it a nod on 'South Park' or winning the best album of the 80's in a Slicing Up Eyeballs poll, it wasn't seen as an instant classic by many when it debuted. Some critics saw it as a step back, the band retreating from their more recent pop-oriented releases into their gothic beginnings.
Melody Maker's review cited it as lacking in melody and called it 'often tedious.' The Village Voice gave it a "C+." Rolling Stone gave it 3&1/2 out of 5 stars. The fact that it's since been cited as one of the best albums of the 80's in Melody Maker and as one of the best albums of all time in Rolling Stone, proves the reviewers shortsighted snobbishness.
But Robert Smith intended from the start to take the album in a darker, less radio friendly direction, making Elektra record company execs nervous. Smith mentioned that they claimed it was commercial suicide and that he was being 'willfully obscure.' 
Depressed at turning 30 and concerned about their rapid ascent to fame, he wanted to distance himself from the outside world. Perhaps part of his depression was due to ousting longtime friend and bandmate Lol Tolhurst during the album's recording. His rampant drug and alcohol abuse made him a musical non-presence and the subject of abuse from his angry band-mates.
And through heavy intake of hallucinogens and spearheading much of the albums songwriting and conception, Smith created a work of true myopic beauty.
The great irony is that despite Elektra's fear of commercial failure, and Smith's desire to dial down their fame, the album did the exact opposite. It remains the band's commercial peak, selling over 3 million copies by 1992.
And the reason for that success is the collision of Smith's songwriting talent, the band's musicianship and moody, layered atmospheric arrangements. From the opening wind chimes and kaleidoscopic keyboard assault of 'Plainsong', to the melancholy nostalgia of 'Pictures Of You', to the plaintive 'Lovesong', and harrowing title track, it's a truly perfect album. No filler.
And it's sequenced beautifully, in particular the transition of 'Prayers For Rain' and 'The Same Deep Water As You', connected by the ambient sound of falling rain.
It's as soothing piece of work, despite its harrowing feel. Even the slightly sinister guitar jabs of 'Lullaby' or the brooding bass of 'Fascination Street' provide nocturnal comforts.
And while it's as dark as their early 80's album 'Pornography', it's less harsh and more melodic. And Smith's lyrics takes depressive navel-gazing to dazzling heights. The lyrics to 'Homesick' offer a perfect example: "Just one more and I'll walk away/All the everything you win turns to nothing today/And I forget when to move when my mouth is this dry/And my eyes are bursting hearts in a blood-stained sky "
My college roommate and I were equally obsessed over the album, and we used it as a nighttime sleep aid. And it's remained a tool in my lifelong battle with insomnia ever since.
The Cure would go on to release their hit album 'Wish', but that hasn't kept the same sonic pedigree (I consider it quite underrated), and every album since has seemed less essential than the last.
Perhaps 'Disintegration' said everything so perfectly, so completely, that Smith and co. know better than to try to oust it from its royal perch. It's a masterpiece of mood and sentiment that transcends nostalgia. It still touches the inner goth inside us all.
Do you have fond memories of The Cure's 'Disintegration' 25 years later? Tell us in the comments. And if you'd like to own the excellent deluxe edition on iTunes or Amazon just check out the links below:
[amazon_image id="B00FZ1CSNG" link="true" target="_blank" size="medium" ]Disintegration: Deluxe Edition (3 CD Set) (UK Pressing) Box set, Import Edition by The Cure (2010) Audio CD[/amazon_image]
Buy The Cure T-Shirts and Merchandise Rock.com