An intoxicating work that defies expectations, 'Like Clockwork' is the feel weird hit of the summer, showcasing Queens Of The Stone Age band leader Josh Homme's dark side.
When Dave Grohl confirmed his drumming on the new Queens Of The Stone Age album, fans got excited. But he tempered expectations: The Queens record's pretty great, man. It'll surprise you, it's not what you would imagine it to be, it's better. It's cool.
This worried fans who were expecting a Songs For The Deaf Part 2. But the hype from such long dormancy and impressive list of collaborators (Elton John, Trent Reznor, Grohl, former bassist Nick Oliveri, Mark Lanegan, etc) remained massive.
Love Queens Of The Stone Age? Check out this awesome selection of authentic Queens Of The Stone Age apparel and gear from Rock.com!
So if you're counting on another No One Knows, prepare to be bummed out.  This album is far more subdued. But, if you appreciate QOTSA's quieter, weirder moments, (think Long Slow Goodbye off Lullabies To Paralyze), then this album will win you over.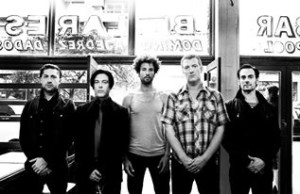 The album's opener Keep Your Eyes Peeled, sets the tone for the album; eerie atmospherics, a subterranean bass line and lyrics that espouse self-doubt, culminating in Josh Homme's battle cry : If life is but a dream..WAKE ME UP!
Sat By The Ocean is the closest they get to their desert rock sound (and Them Crooked Vultures), with a classic rock riff supporting Homme's quirky falsetto.
The Vampyre Of Time And Memory, is a haunting piece of work, with Portishead style blues framing Homme's fragile mental state: I want god to come and take me home cause I'm alone in this crowd…Does anyone else get this right?
Indeed much of the album concerns Homme's malaise, inspired by a health scare and slow rehabilitation. And despite all the collaborators, this is his show. There are no guest turns on the mic, except for backing vocals.
These come to the surface on the slinky super catchy Bowie-Low-period romp  If I Had A Tail, featuring the backing vox of Oliveri, Lanegan, and Alex Turner of Arctic Monkeys.
The Bowie vibe continues on Kalopsia, which starts off with oceanic synths  (courtesy of Reznor, who also does backing vocal duties) before crushing into glorious glam rock. It's one of the album's highlights.
First single, My God Is The Sun is the album's weakest track; too lacking in power or purpose to generate enough energy.
Smooth Sailing is a killer skronky funk number which has Homme at his most lusty and irreverent; I want to shoot my load all over the status quo. It brings to mind Homme's work with UNKLE.
Sir Elton makes his appearance on Fairweather Friends, which isn't a piano ballad as would be expected. It's a classic rock flavored piece espousing Homme's heartbreak; Is there anyone out there or am I out there all alone?…Broken promises that never came true/when the sun is gone so are you.
I Appear Missing has a gothic spectral chill, recounting Homme's near death on the operating table; Shock me awake/Tear me apart/Pinned like a note in a hospital gown/Prison of sleep/Deepened now/A rabbit hole never to be found.

Its epic peaks and valleys make this one of the band's best tracks.
The title track is equally impressive; a beautiful ballad, who's lush melancholy  chill evokes Pink Floyd, complete with symphonic strings (arranged by UNKLE's James Lavelle). Homme remains morose to the end; Not everything that goes around comes back around you know/one thing that is clear/it's all downhill from here.
That last sentence epitomizes the album's dour vibe. But through it all you hear Homme fighting his way out from the dark side…with a little help from his friends.
…Like Clockwork keeps odd time, and isn't going to win you over on the first try. But it rewards repeat listens and is a grand dark gem.
Want to own the album on iTunes or Amazon? Just click on either link below. And you can preview the album for free until its release date by clicking here.