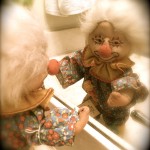 I'm a 40-something guy who is both obsessed and repulsed with pop culture; be it music, tv, movies or comics.
In a nutshell, this site's focus is pop culture commentary through a Generation X prism.
Music-wise this site's main focus is on the Alternative Rock and Metal Artists from the mid-80's-mid-90's (think back to 120 Minutes and Headbanger's Ball), as well as select current bands that hearken back to that era.
Movie-wise I focus on genre and cult films, primarily horror, suspense and sci-fi from past to present.
I record music in my spare time, and enjoy going to concerts in my hometown of Austin, TX. I also have vast amounts of useless trivia using up valuable space in my grey matter. I have a lovely wife that puts up with me, for which I'm grateful.
This site covers all my various interests and if you clicked here you must share a few. I give reviews, lists, retrospectives, celebrity interviews, and the latest news on the elements of pop culture which helped form my identity. I've also written for Cracked,  Buddyhead and Sound Check Magazine. I'm a frequent contributor to Screenrant, Itcher Magazine, and AXS Entertainment.
If you're wishing to advertise with us and would like a rate sheet, are a supporter who'd like to donate to support the site (always appreciated!) or just have general feedback, contact me via the form provided below. And if you dig my stuff,  I'm also available for guest blogging. 
 Stay connected with SLIS: