Welcome to Part 3 of my list of the 40 great but forgotten horror movies.
I'm covering the most obscure, underrated, and unfairly ignored scary films worth checking out over Halloween. Be sure to read PART ONE and PART TWO if you haven't already, to see earlier entries.
If you'd like to own any of these under-the-radar treasures,  I have  Amazon links under each entry. 
19.'Incubus'-(1966)
If I were to tell you William Shatner starred in a horror movie filmed entirely in Esperanto (the constructed 'universal' language which never took off), you'd think it was a turd right? Well, it's actually  an atmospheric occult thriller, and the odd language gives it the air of an artsy foreign film (rumors of a curse on the cast and crew remain).
18. "Eyes Without A Face"-(1960)
This creepy French film begins with a woman's body dumped in a river. The corpse's face was used by a deranged doctor, in a failed skin graft operation to repair his disfigured daughter's face . They later lure another victim to the home and repeat the bizarre and cruel procedures. But things do not go as planned…This film was particularly gruesome for its time, and it still has an unsettling edge. And yes, that's where Billy Idol got the song title from…
17.'Rampage'-(1987)
Available On Netflix Streaming. Currently Netflix offers a free, month-long trial of their service. Click Here to get started today
'
Rampage
' is  based on serial killer Richard Chase, who felt compelled to drink the blood and innards of his victims. What makes the murderer so disturbing is his sunny, innocent demeanor. This adds conflict to the courtroom scene of the film, which debate the death penalty.  'Rampage' is yet another 
underrated movie
from talented director William Friedkin.
16. 'Near Dark'-(1987)
Kathryn Bigelow ('The Hurt Locker') directed this visually stylish horror-western, about nomadic vampires who feed off victims in small rural towns. But they're in jeopardy due to their new member Caleb, who has been turned against his will and wants to escape. 'Aliens' actors Bill Paxton and Lance Henriksen steal the show and make the shaky plot forgivable.
15. 'Attack The Block'-(2011)
Despite strong buzz, this movie was a box office dud. It's a clever sci-fi horror film that takes place in London's inner city, where a street gang are under siege from an alien invasion. It balances scares with humor and visual panache (the monster design is very cool). If you're a fan of films like 'Shaun of The Dead', this is a must see (FYI, actor Nick Frost has a supporting role).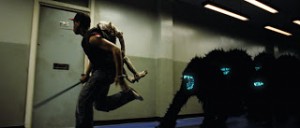 14. 'Jacob's Ladder'-(1990)
This film stars Tim Robbin's as Jacob, a Vietnam vet plagued with nightmares and hallucinations involving demonic creatures and a filthy hospital where he undergoes cruel experiments. An Army buddy claims they're suffering side effects from 'The Ladder', a drug used on them in the war, which was designed to heighten aggression.
This film is a constant guessing game on whether Jacob is insane, dreaming, or figuring out a government conspiracy. I feel the twist ending is predictable, but the creepy imagery and excellent performances make it worth viewing. (And the 'head shake' sequences has been copied in tons of music videos and other horror films). Check out the original trailer:
13.'Duel'-(1971)/'Road Games'-(1981)
'Duel' is Steven Spielberg's directorial début. A cat and mouse tale about a motorist being relentlessly pursued by a sinister trucker , it's well scripted (by 'I Am Legend's' Richard Matheson') and shows Spielberg's early grasp on suspense and pacing.
'Road Games', directed by Richard Franklin concerns a truck driver who keeps noticing a green van at various points during his route. When he hears there's a serial killer in the area, he suspects the driver. The film veers into the Hitchcockian 'wrongly accused man' plot device as he finds himself blamed for the murders while trying to find the real killer.
12. 'Psycho II'-(1983)
Speaking of Hitchcock, and Richard Franklin, he directed the sequel to Hitchcock's classic. But how could he top the original? He doesn't, but it's still a fun thriller, with Anthony Hopkin's returning as Norman Bates.  Bates has been released from the sanitarium. But Lila Lewis, the sister of victim Marian Crane is incensed. Bates returns to his home and hotel, which is under new management.
Between Marian's scheme to get Norman recommitted, and Bates questioning his sanity when new murders occur at the Hotel, it's a satisfying sequel with a great twist.
11. 'Halloween III: The Season Of The Witch'-(1982)

Had this film not been called 'Halloween III', I'm convinced it would be appreciated for its B-movie charms. But fans felt short-changed without Michael Myers, and it bombed.
But what's not to love about a sinister toy maker who makes evil Halloween masks that will kill the wearer on Halloween night? And the only man who can stop it from happening, is Dr Dan Challis and the odds are against him. Humanoid robots, all sorts of creepy crawlies, and a nice John Carpenter score add up to a flick that's undeserved of its hated reputation. But the music to the commercial triggering the carnage will drive you crazy!
*I also think 'Halloween II' is a solid sequel, even if it can't match the original, and feel Rob Zombie's 'Halloween' , while an uneven film, still has some terrifying moments, and was unfairly critically thrashed.
So that wraps up Part 3! Now go read the recently finished TOP 10.  Be sure to check out all my other Halloween related goodness, including my review of the new horror anthology V/H/S , the Best Halloween Party Playlist, and the scariest  film scenes of all time.