WTF Did Nine Inch Nails Just Send Me In The Mail? The Physical Component Revealed The physical component for NIN's 'Not The Actual Events' is a mess. Literally. So what does it mean?
Last December I eagerly snapped up the new Nine Inch Nails EP Not The Actual Events. When I purchased it off the official NIN store it said they would ship a "physical component."
This was described on the website (in all caps) as the following:
THE INTENTION OF THIS RECORD IS FOR IT TO EXIST IN THE PHYSICAL WORLD, JUST LIKE YOU. CHOOSING THIS PACKAGE GETS YOU THE DIGITAL FILES AND WE WILL SHIP THE PROPER PHYSICAL COMPONENT TO YOUR HOUSE FOR YOU TO DEAL WITH, WHILE VERY LIMITED SUPPLIES LAST.
"For you to deal with…" that very odd product descriptor made me very curious about what was coming my way.
Weeks went past and life got busy and I only just realized that I'd never received this physical component, but after contacting customer support I was assured it was on its way. Apparently there was a mass delay in shipment across the board.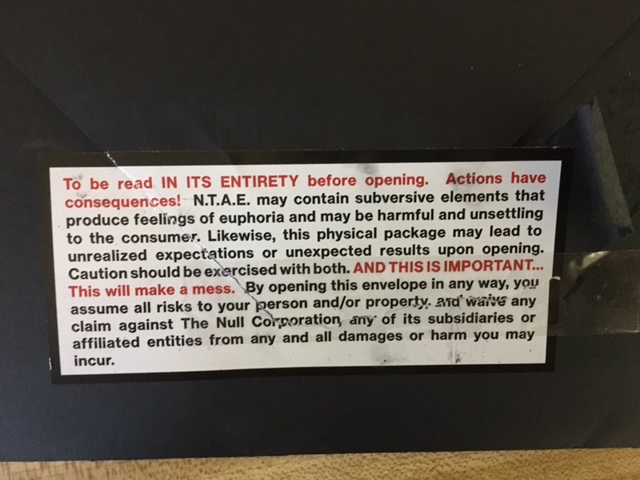 Well, today I received a big black envelope, with yet another very curious (not to mention ominous) description:
"To be read IN ITS ENTIRETY before opening. Actions have consequences! N.T.A.E. may contain subversive elements that produce feelings of euphoria and may be harmful and unsettling to the consumer. Likewise, this physical package may lead to unrealized expectations or unexpected results upon opening. Caution should be exercised with both. AND THIS IS IMPORTANT… This will make a mess. By opening this envelope, in any way, you assume all risks to your person and/or property, and waive any claim against The Null Corporation, any of its subsidiaries or affiliated entities from any and all damages or harm you may incur."
Okay, now I'm even more curious, and waving caution to the wind I opened the envelope and its packaging. Included were some aesthetically pleasing postcards with album lyrics, and credits, along with a semi-translucent sheet featuring the cover art with Reznor and collaborator Atticus Ross that you can rest on top of the aforementioned cards. Each card has that degraded, singed and textured look that's been a trademark of his past album art. So far so good.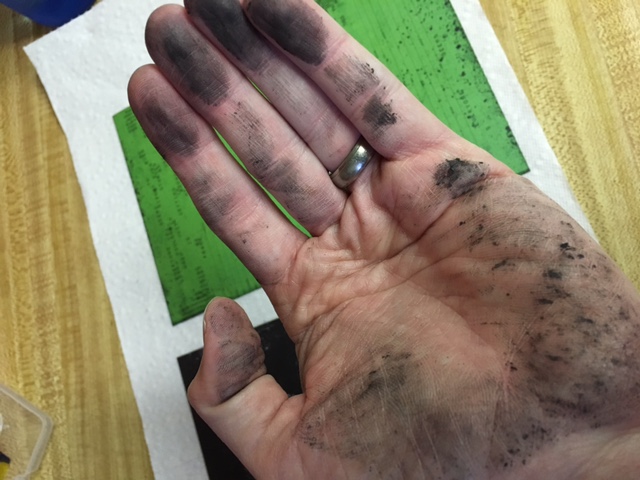 So where was this mess I wondered? And then I looked at my hands. Turns out the cards are all covered in a thick black dust that got all over me (and unbeknownst to me, the kitchen counter. My wife is now irritated with Trent Reznor. Sorry, babe).
So what does it all mean? What do I do with it? I mean I waited weeks for something that's a gag gift? Have we been trolled? Or is it the next stage in conceptual album art? Is the idea to smear my fingerprints across the cards, like a Goth finger painting?
Trent Reznor in my mind is a musical genius. He's always been on the cutting edge in both his album production and accompanying visual presentation. I write about NIN all the damn time. I'm an easy sell. This is a head scratcher though.
There's a thread on Reddit where other NIN fans are also conjecturing over the point of the packaging, many noticing that each set has different colors, which would further my "fingerprint, make-it-your-own" theory. There's another thread with less than thrilled fans. All I know is I'm leaving black powder all over the damn place. Note: if you ordered the physical component, make sure to have a roll of paper towels handy.
So I guess I'll just put this in a giant Ziploc and meditate on just what to do with my physical component. It certainly leaves an impression. I'll obsess over it some more tomorrow. Just need to get some rubber gloves because I'm tired of washing my hands.
What are your thoughts on the Not The Actual Events physical component? Share your theories in the comments.
Order Nine Inch Nails Not The Actual Events on Amazon: