William Patrick Corgan 'Ogilala' Review: the artist formerly known as Billy gets minimalist on new Rick Rubin produced LP.
It hasn't been easy to be a Billy Corgan fan in recent years (or let's face it, for longer than that).
Whether it's his blistering critiques on his peers, indulging in conspiracy theories with Alex Jones or continually teasing fans on an official Smashing Pumpkins reunion with the original lineup, he's a polarizing figure, his ego often getting in the way of his artistic legacy (his view may be softening, however).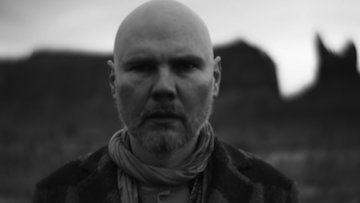 But diehards stick with him, because as aggravating as his public persona can be, you can't deny the talent, which is represented on Ogilala, his new solo album produced by Rick Rubin (out October 13 on BMG Recordings).
It's also the first album where he goes by his full birth-name, William Patrick Corgan. This will strike some as pretentious (his reasoning suggests otherwise), but it does help serve as a reset button to manage expectations.
Ogilalais a stripped down, genteel affair using acoustic instruments, strings and intimate vocal performances on songs that feel like a departure for an artist remembered for blistering anthems soaked in distortion.
Longtime fans realize this isn't quite an anomaly as casual listeners might think: Corgan is no stranger to acoustic ballads or songs with orchestral touches: look at past singles like Landslide or Disarm, or albums like the understated, electronic driven album Adore.
Likewise a Corgan solo album isn't without precedent (see the moody, also electronic driven 2005 solo album The Future Embrace).
So what makes Ogilala stand out? Primarily Rubin's sparse production and simple arrangements, which puts Corgan's nasal twang front and center. It's a risk, given his quirky pipes are an acquired taste, but his reedy, androgynous delivery is an emotive instrument that is key to his appeal.
Another factor that separates it from prior releases sees the multi-instrumentalist/vocalist/songwriter stepping away from the production process, allowing Rubin full control over the presentation.
Opener Zowie (a Bowie tribute) sets the template of what's to follow, a piano driven song in the vein of John Lennon's Imagine, while Processional is a slice of 60's-esque folk (featuring Pumpkins guitarist James Iha) that culminates in the mournful chorus it's a long way to get back home.
Corgan is a new dad, and this feeds into the gentleness of tracks like Aeronaut, which has a paternal focus: went down the middle/The world survives/Look out son the air's alive.
The Spaniards is a particular standout, featuring an anthemic chorus with Corgan wailing Take me as I am. It's the closest the album gets to Pumpkins territory with spacey Mellotron touches that recall Spaceboy off 1993's Siamese Dream.
Amanrinthe has the feel of a Rolling Stones country tune, all cowboy chords and watercolor organ, while The Long Goodbye isn't dissimilar from a Shins track in its laconic, pastoral delivery.
Half Life of an Auto-Didact is a misfire, with an awkward vocal delivery as wonky as its title.
The album ends with Shiloh and Archer, two lilting numbers that exhibits the best elements of Corgan's romanticism, conjuring images of autumnal, starlit nights and hushed confessionals.
At 11 tracks, Ogilala is homogeneous at times, with some tracks bleeding together where perhaps some variety might have helped differentiate the material.
But maybe that's the point: by focusing on the basic elements of Corgan's sound, it's all about the arrangements and his voice, not concerned with his proclivity for stylistic shifts. This starkness exposes his talent to the molecular level and it largely holds up.
Oglala may not reinvent the wheel, but it does illuminate it, showing what makes the singer songwriter such a singular presence in rock music.
Buy it on Amazon: