Hello and welcome to Part 2 of the 25 Weirdest Kids shows of the 60's, 70's and 80's!
If you dare to revisit any of these fever dreams, I'll have Amazon links under each title.
16. Land of the Lost (1974-1976)
More bat-shit craziness from Sid and Marty Krofft. Land of the Lost's premise is so bizarrely disjointed that I wonder if they used a focus group of sleep deprived, sugar bombed kids holed up in a room for brainstorming. "Come up with a show if you want to go home!"  And they'd shoot back: "Dinosaurs!"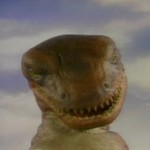 "A dude made up of blinking lights!"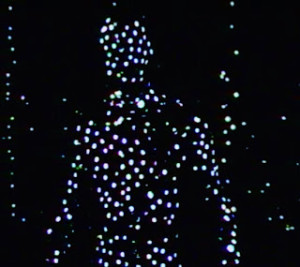 "Wheezing monsters (Sleestaks) that remind me of Grandpa!! "And an ape-kid, I'll call him Chaka!"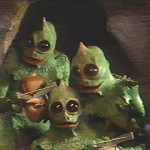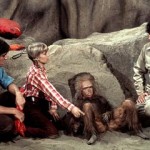 It was this scattershot approach that made it insanely appealing and a beloved cult favorite:
15. Pryor's Place (1984)
Richard Pyror's comedic style was brilliant, profane and controversial. Not exactly kid show material. But CBS gave him a Saturday morning show. Like Bill Cosby's Fat Albert (which it replaced), it dealt with inner city life. But unlike Cosby's rose-colored view, Pryor's Place was more sobering. While this was more realistic, it made for miserable kid show-fare.
Take this clip, where a wayward baseball feels inadequate and a rat feels despondent due to his illiteracy.
And guess who co-created the show? Sid And Marty Krofft!
14. Monster Squad (1976-1977)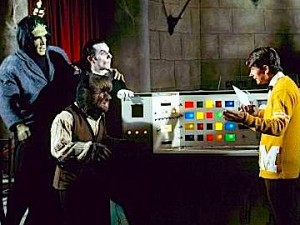 This show was about a criminology student who works in a wax museum. He makes a 'crime computer' and hides it in a stone sarcophagus near a classic movie monsters display. Oscillating waves from the computer bring the statues to life, and the beasts fight crime using the computer's info. Uh, wha??
There was a kinetic charm to the show that made it great fun to watch. I had a board game from the show too!
*Check out my list of coolest retro toys of 70's/80's.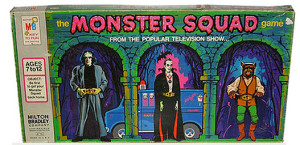 13. The Bugaloos (1970-1972)
This was the Krofft's take on The Monkees. In Tranquility Forest resides a British musical group The Buggaloos who have insect costumes allowing them to fly (they also have flying surfboards). All the while they're castigated by Benita Bizarre who has deep-seated jealously for their musical talents. She also had the most terrifying visage I'd seen at that age! Take and look and she'll haunts your nightmares:
Here's the opening title sequence.
And here's another one of their spacey musical numbers, "The Senses Of Our World".
Again this questions the Krofft's credibility when they always claimed sobriety while coming up with ideas, saying "we're just weird, that's all".
*Trivia fact: Phil Collin's auditioned for the show, but was turned down.
12.  Lancelot Link Secret Chimp (1970-1971)
Lancelot Link was a detective show with an entire cast of chimpanzees.
What makes this bizarre premise even stranger was the overdubbing of human voices. Rather than using a script, they'd just improv to match the chimp's mouth movements. Amazing lunacy followed:
 Check out more info on the series here from The Believer Magazine.
11. Sigmund and The Sea Monsters (1973-1975)
More Krofft brothers madness. Sigmund is a lovable sea monster. He gets kicked out of his parent's house because he won't terrorize people. He's befriended by two humans, young brothers Johnny and Scott, who try to keep him out of trouble and out of harm's way from his bullying brothers.
This sets up a disturbing pattern, because Sigmund is always terrified. His family was a bunch of abusive dicks! But I was cackling away at his suffering like everybody else!
And it had a maniacally catchy theme song. Oh Sigmund, how I loved thee.
10. Captain Scarlet and The Mysterons (1967-1968)
Gerry Anderson produced several British TV shows using Supermarionation, ornate puppetry using a combination of wires, electronics and magnets. The result was unique and bewitching.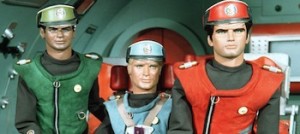 I caught the series in cable reruns in the early 80's and became transfixed by its attention to detail with all the cool miniature gizmos and dreamlike feel.
The plot involved a futuristic war between Mars and Earth, and it had a pretty dark vibe for a puppet show. Captain Scarlett had the power of invulnerability, which prompted the disclaimer: "Captain Scarlet is indestructible. You are not. Remember this. Do not try to imitate him."
Check out the intro and you'll get a sense of the dark tone:
I'm not alone in my love for Anderson's shows; South Park creators Trey Parker And Matt Stone were inspired by Anderson's work when they made Team America. And it inspired a Portishead Song.
Check out skooldays.com for a list of other cool Anderson shows.


9. Shazam! (1975-1977)
This superhero show had all the charm of a truck-stop toilet. It's faithful in that, like the comic book,  Billy Batson is able to become Captain Marvel by yelling the name of the wizard Shazam.
But where the comics featured lots of action with super-villains, this just involved helping a bunch of yokels out of jams of their own making. It had all the visual appeal of a Driver's Ed movie, and the guy playing Captain Marvel looked more like an overzealous youth minister than a badass.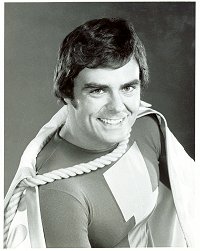 Not to mention there was just something creepy about the teenage Batson going cross-country in an RV with an old guy named 'Mentor'.
Alright folks, this wraps up Part Two of The 25 Weirdest Kid Shows Of The 60's, 70's and 80's.