Top 20 Oddball Toys From the 70's/80's Part 2
Okay, here we are for 2nd installment of the  kookiest and most beloved toys from my childhood. Be sure to catch part 1 if you haven't done so already:
9. Eagle Eye G.I. Joe
G.I. Joe originated as 12 inch action figures, long before their relaunch in the 80's to the 3¾-inch scale. Eagle Eye was a strange idea for a figure; If you pulled a lever on the back of its head, the eyes shifted from left to right. That was it. Why was this exciting? I don't know, but I played with mine a lot. But check out that headshot. Yeesh. More like "Peeping Tom" Joe, or "Restraining Order" Joe.
8. Megabug Gladiators
These toys were pretty sweet, making robots out of insects and arachnids. The scorpion model was so cool; I loved the mace ball for the stinger. Plus if you pushed it along the ground its legs would move. I also owned their spider model, and my friend had the Dragonfly. Check out the full line here.
7.The Black Hole Action Figures
'The Black Hole' was the poor man's 'Star Wars', but kids ate it up, and Mego's Toy tie-ins were a hit (remember their name). I think what really sold the line was 'Maximilian' a robot which had rotating metal skewers with which he'd disembowel anyone who disobeyed his master, the evil scientist Dr Reinhardt. The robot sentry guards and R2D2 knockoffs V.I.Ncent and Old Bob had cool designs, and who doesn't want their own Ernest Borgnine action figure? And once I saw 'Psycho' and realized Anthony Perkins was the 'Durant' figure I used him as Norman Bates, stalking my other action figures. What? Why are you looking at me like that?
6.Super Powers
Super Powers were the last toys I remember playing with. I was getting a bit long in the tooth for toys, sadly. I was phasing more into a collector at this point. These were based on DC Comics characters. All the figures would make movements. Push the Flash's arms together? His legs start running. Squeeze Batman's legs, and he would punch. What made this line extra cool were the inclusion of more obscure comic characters like Darkseid and Red Tornado. Add in some awesome vehicles and play sets and you had a world-class assortment of some of the best toys ever produced.
5.Pulsar and Hypnos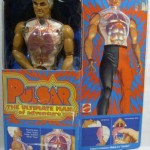 These 2 figures were really strange. Pulsar had a plastic see through chest. Press a button on his back and watch his lungs inflate, his heart beat and see blood flow through his circulatory system. He also wore a sweet Mafia style track suit. I don't know what his purpose as a hero was. All it would take is one bullet to that plastic chest and that would be it. But he was addictive to play with.
His nemesis Hypnos was even cooler. He had the power of mind control. Just stare at that spinning hypnotic wheel in his chest (which emitted sparks!) and it was all over.
Here's an old commercial for Pulsar's 'Life Systems Center' play set:
4. Micronauts
I'm firmly convinced that if not for Star Wars, that Micronauts (again, made by Mego) would have been a much bigger success. They were great looking interactive toys; a strange fusion of a Logan's Run style future mixed with elements of design from ancient Egypt and Greece.
You had the Pharoid, a figure who came in a teleporting Sarcophagus,  a robot centaur, and many more. As an added bonus, you could disassemble many of the figures and create hybrid figures. The one play set I always wanted were the rocket tubes, which would propel the figures in space age cars though pneumatic tubes.
My favorite toy that I owned was the Micronaut Battle Cruiser, which you could disassemble into a variety of ships. Check it out:
3. Alien Action Figure
I remember going with my Grandfather to Toys'R'Us when I was 8. Upon a shelf sat a 16 inch Alien monster. I begged to have it and he gave in. When my Mom found out, she was not pleased, but I loved it so. It's crazy that Kenner green-lit a toy associated with an R-rated movie! It was recalled shortly afterwards due to this, making it quite rare.
You could extend its second set of teeth by pressing a lever in it's back but they broke off easily. I don't know why it has skull eye sockets though, as what made the Alien so terrifying was the lack of eyes. Regardless it remains one of my favorite toys ever.
2. Shogun Warriors
One of the first of many robot toy lines imported from Japan, Shogun Warriors were mightily impressive. They had 3 variations; the towering 24 inch variety (which I would use to fight the Alien figure) and smaller die-cast models.
There were 2 villains, monster movie veterans Godzilla and Rodan.
All of these toys shot large projectiles which caused some controversy. I owned Dragun (top toy on the right) and Godzilla (and most of the die-cast line). Dragun shot throwing stars and tossed an ax. Godzilla had the truly strange power to fire his fist off! At close range it could give you a wallop.  Here's some more detailed info on the toy line.
Check out Godzilla in action:
1.Mego 8-inch Action Figures, Vehicles and Play sets.
Mego ruled the Toy world pre-Star Wars. They had licenses for several film series, comic book characters, tv shows and more.
The superheroes were my first love. Growing up on comic books, Batman reruns and Super-friends, I coveted their  Marvel and DC figures. And the play sets were amazing! A bat-cave with a working bat-signal, a Bat-cycle with deploying sidecar? How cool is that?
In addition, you had toys from Planet of The Apes, Classic Movie Monsters, and Star Trek, with the truly excellent Starship Enterprise (pictured at top of this post). And don't forget the KISS figures.
But what makes Mego odd is when they went off script: A Spider-car?  Why would Spider-Man need a car? Well it could throw a giant web….over the driver, which would only end with Spider-Man being involved in a traffic collision.
How about the Bat-Lab, which had Batman and Robin working out of a VW van?
And who wouldn't want a Fonzie figure? They had Laverne and Shirley and Love Boat action figures too. It's this hit or miss randomness that makes Mego so endearingly wacky.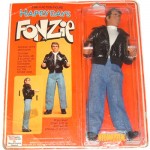 They weren't the most durable toys. The paint would wear off, and occasionally the elastic that held their limbs together would snap. My Dad would try to repair them with rubber bands, but I remember telling him with OCD seriousness that they didn't move right. He'd just bury his head in his hands.
Regardless, Mego were the coolest. For more info in exhausting detail, be sure to visit the Mego Museum.  And check out this classic commercial for the Super Heroes and Villains line. Ah, the memories:
Well that's my top 20 oddball toys from the 70's and 80's. I need to give a sincere thanks to my parents and grandparents for indulging me with all of my toys, they were put to good use. Do you remember any of these?  What would you add to the list?
Here's some Amazon links for some Mego reissues:
[amazon_image id="B003BLQK9U" link="true" target="_blank" size="medium" ]Retro-Action DC Super Heroes Batman Figure[/amazon_image][amazon_image id="B000ULSDIU" link="true" target="_blank" size="medium" ]Star Trek: The Original Series: Retro Cloth Kirk Figure[/amazon_image]