Top 20 Best Horror Movie Scores: Counting down the scariest soundtracks of all time.
When one thinks of a classic horror movie, it's usually accompanied by a sonic mental cue. Because a great musical score is a vital component in cinema, especially when it comes to horror flicks.
A taut score escalates tension, and a sharp musical jab adds a visceral jolt to a scene.
Keeping this in mind, here are the 20 most memorably, chillingly effective horror movie scores.
If you'd like to own any of these soundtracks I'll have Amazon links under each entry (where available)
and I'll have an iTunes playlist with select tracks at the end of the list. Let's begin:
20. Night of The Living Dead (1968)-Fred Steiner and William Loose
Surprisingly, this score uses stock recordings from other films. But its somber and stressful tones perfectly fits George Romero's zombie classic.
19. Candyman (1992)-Phillip Glass
Composer Phillip Glass adds a touch of class with this classically tinged score for this adaptation of Clive Barker's short story.
18. Friday The 13th (1980)-Harry Manfredini
Overall a somewhat messy score, but the chee chee chee, kah kah kah piece is pretty iconic.
17. Texas Chainsaw Massacre (1974)-Tobe Hooper & Art Bell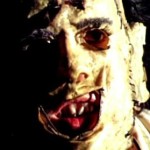 TCM Director Tobe Hooper and musician Wayne Bell combined analogue synths and sounds of household objects to create ominous soundscapes that don't qualify as music, but are tonally rich in distress.
No commercial release is currently available, but you can listen to it on Last Fm.
16. Creepshow (1982)-John Harrison 
Harrison's cartoonishly garish piano and synth driven score works wonderfully with George Romero's black comedy.
15. The Wicker Man (1973)-Paul Giovanni
The Wicker Man is one of the oddest horror films ever, as it's also a musical! Paul Giovanni's score draws upon elements from classic English and Scottish folk music, sounding authentically ancient and ominous.
Click here for info on The Wicker Man Final Cut.
14. 28 Days Later (2002)-John Murphy, Various Artists
[
28 Days Later has contributions by Brian Eno and Godspeed You Black Emperor. But its best known for John Murphy's In the House, In a Heartbeat who's eerie gothic guitar figure starts slow but escalates into heart pounding dread.
13. Dawn of The Dead (1978)-Goblin and Dario Argento, Herbert Chappell
George Romero's zombie=consumerism classic is best known for two pieces of music; the plodding analogue synth intro and the polka-esque The Gonk by Herb Chappell. The Gonk has become a pop culture in-joke; Robot Chicken uses it in their closing credits and it's also in a Newcastle beer commercial.
12. Suspiria (1977)-Goblin and Dario Argento
Goblin and Argento also teamed up for this lurid Italian horror film (for which Argento also directed). The title theme is a horror touchstone, a dark lullaby with ambient touches.
11. Phantasm (1979)-Fred Myrow and Malcolm Seagrave
Phantasm's otherworldly score has elements of jazz and prog-rock hat perfectly encapsulates its weird fever dream tone.
I visited the Phantasm funeral home  (aka the Dunsmuir Estate) last summer in Oakland, Ca. Check it out!
10. Carnival of Souls (1962)-Gene Moore
This low-budget ghost story has luxuriant black and white cinematography  that's perfectly complimented by Gene Moore's eerie organ score.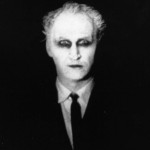 9. The Shining (1980)-Wendy Carlos and Rachel Elkind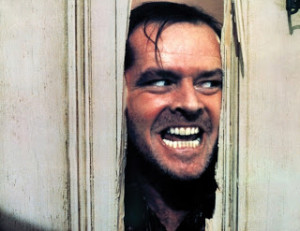 Stanley Kubrick didn't use much of Carlos and Elkind's synth score for his Stephen King adaptation, but the bits he used are certainly memorable.
His choice of classical pieces added baroque madness to accompany Jack Torrance's decaying mental state.
8. Rosemary's Baby (1968)-Krzysztof Komeda
Komeda's  jazz-tinged score for Polanski's classic sounds like a lullaby for the damned, with a waltz feel and ethereal cooed female vocals.
In addition to the limited edition CD pictured above, it's also on remastered vinyl.
7. The Fog (1980)-John Carpenter
John Carpenter was one of the first directors to score his own films and he's a master of minimalism, with an eerie piano/synth score that's chilling and hypnotic.
6. Alien (1979)-Jerry Goldsmith
Goldsmith's score for Ridley Scott's sci-fi horror game changer is the perfect mix of awe, wonder, unease and terror. Just the right touch for a film about a creature that is as elegant as it is disturbing.
(Click here to read why Goldsmith was upset with Scott for not using his full score).
5. The Thing (1982)-Ennio Morricone and John Carpenter
Carpenter reached out to Italian composer Ennio Morricone to score his gory sci-fi horror tale, and he crafted some truly haunting orchestral pieces. But Carpenter longed for a bit of his own synthetic kick and composed the eerie electronic heartbeat theme that opens and closes the film.
4. The Exorcist (1973)-Mike Oldfield
Lalo Schifrin was the original composer for The Exorcist, but director William Friedkin wasn't impressed with the score. He used bits of incidental music, but the piece everyone remembers is Mike Oldfield's Tubular Bells, an eerie gothic drone piece that is subdued evil.
3. Jaws (1975)-John Williams
Just two alternating notes are all it took for John Williams' score to sink into the subconscious of  audiences worldwide, encapsulating the feel of a Great White hunting prey through churning waters. Jaws is the perfect example of a great film made even greater by its choice of score.
2. Psycho (1960)-Bernard Herrmann
Herrmann's score for Psycho is a work of brilliance, and it shows a composer who was unafraid of butting heads with Alfred Hitchcock.
When The Master Of Suspense requested a jazz score, Herrmann only used strings. And when he claimed that  the infamous shower sequence would have no music at all, Herrmann added one of the most iconic pieces in film music history.
But Herrmann's score is more than just that jarring Skree Skree Skree moment. Listen to Temptation which highlights Marion Crane's descent into thievery.
1. Halloween (1978)-John Carpenter
Is there any other score more synonymous with horror than John Carpenter's alternating piano figure? Carpenter once again goes for less is more. It's stark, unrelenting and haunting, just like the film's villain; Michael Myers.
There are several other pieces of music on Halloween; the ghostly Laurie's Theme and the two note staccato stab of The Shape Lurks, which weaves together perfectly with Carpenter's film. Sound and vision fuse into one of the best horror films ever made.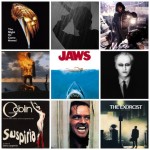 So that's my list of the Top 20 Best Horror Movie Scores. What would make your final cut? Tell me in the comments.
And click here for the Top 30 Soundtracks of All Time, which covers all film genres.