SXSW 2015 is almost upon us, and like always, it can be a bit hectic planning out your music schedule.
How to choose between new buzz bands, revered veteran acts and cult oddities?
Well I'm here to help, with a list focused on pleasing lovers of alternative rock, metal and psychedelia.
So without further ado, here are the 17 acts most worthy of braving the crowds for SXSW this year:
17. Happyness
South-London trio Happyness hearkens back to vintage Brit-pop which makes them a must see for Anglophile fanatics.
16. Cheetah Chrome
Punk rock journeyman Cheetah Chrome has played with members of the New York Dolls, Joan Jett and The Blackhearts and more. He's best known for his work with Rocket From The Tombs and The Dead Boys, so he's required listening  for fans of vintage punk.
The Canadian alternative band featuring the dual vocals of Peter Dreimanis and Leah Fay offer an unusual mix of bluesy swagger and noise rock.
14. The Juliana Hatfield 3
Hatfield reformed her power trio after nearly 20 years. But don't expect total 90's nostalgia: she'll be playing material off new album Whatever, My Love in addition to Gen-X classic My Sister.
13. Nightmare Air 
L.A. based band make a solid case for shoegaze in the 21st century. Swaan Miller's ethereal vocals glide over waves of hallucinatory guitars with incendiary results.
12. Wolf Alice
London four-piece conjures various sub-genres of 90's alt-rock (grunge, shoegaze, Britpop) and shuffle the sonic deck for immersive sonic vistas.
11. Royal Thunder 
I had the pleasure of catching these psych rockers open for Monster Magnet in 2013, and I was impressed by their swaggering rock and vocal powerhouse Mlny Parsonz (who conjures the spirit of Concrete Blonde vocalist Johnette Napolitano). The Atlanta, GA four-piece will be promoting their acclaimed new release Crooked Doors.
10. Kadavar 
Speaking of Monster Magnet, when I recently interviewed frontman Dave Wyndorf, he heaped praise on this band, whose Sabbath-baked sound is straight out of 1970. If you like stoner rock, get your ass down here.
9. Palma Violets 
English garage rockers will be supporting their rowdy new album Danger In The Club, produced by John Leckie (The Bends).
8. The Zombies 
It's the time of the season to catch one of the most underrated groups from the 60's British Invasion.
7. Swervedriver 
One of the heaviest groups from the formative English shoegaze scene have reunited and will be promoting their new album I Wasn't Born To Lose You. Make sure to bring your earplugs.
6. The Residents 
The legendary art-rock weirdos will be performing in all their quirky glory, and will also be on hand for the screening of their new documentary Theory Of Obscurity.
5. Hum
The reunited Illinois space rockers are a recent surprise SXSW announcement. You know you want to hear Stars played so loud that your ears bleed.
4. The Dillinger Escape Plan 
One of the few prog bands that sound threatening, The Dillinger Escape Plan have made a violent yet thoroughly controlled racket since the late 90's. Even if their music isn't your cup of tea, everyone should witness their batshit crazy live shows at least once in their lives.
3. Gang of Four
Gang of Four created a dance-punk style of music in the late 70's that influenced bands like Red Hot Chili Peppers and was ripped off by pretty much every band in the early 00's (Franz Ferdinand, Bloc Party, The Rapture, etc). The post-punk legends will be promoting their new album What Happens Next, featuring vocals from The Kills Alison Mosshart (no word if she'll be performing at the festival)
2. Failure
The recently reunited space rockers will be making their second appearance in Austin following last year's stint at Fun Fun Fun Fest. Expect new tracks from their upcoming (but as yet untitled) comeback album, including the excellent Come Crashing:
1. The Church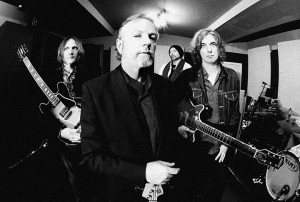 No band at SXSW has me as pumped as The Church. They're best known for their 80's hit Under The Milky Way, but hardcore fans know they have a rich discography that eclipses that song in sound and scope. And after a few years of internal discord, the Aussie veterans are stronger than ever.
They'll be supporting their excellent new album Further/Deeper featuring new guitarist Ian Haug.
So that wraps up my list of 17 bands to see at SXSW 2015! Be sure to check the SXSW official schedule for showcase events as well as artists websites for unofficial shows.