Toadies' Vaden Todd Lewis Talks New Album 'Heretics': band frontman discusses new unplugged album, playing Summerland, and Dias De Los Toadies 2015 in our exclusive interview.
Ft. Worth alternative rock veterans the Toadies are set to release their new album Heretics on September 18th (via Kirtland Records). The new disc features acoustic reinterpretations of vintage hits like Possum Kingdom, along with several new tracks and a cover of Blondie's Heart of Glass.
The album also showcases the group experimenting with the addition of keyboards, pedal steel, horns and other instrumentation, adding new textures to songs formerly bathed in feedback and heavy rock dynamics.
I recently had a chance to speak to vocalist, and primary songwriter Vaden Todd Lewis,  who discussed the evolution of the new album, their current slot on the 90's centric Summerland Tour as well as plans for the bands's 2015 Dias De Los Toadies Music Festival, and much more in the Q&A (edited only for length clarity) below.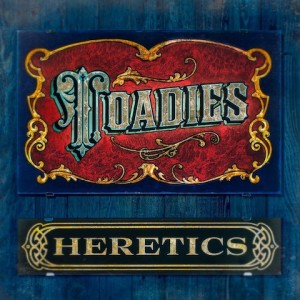 SLIS: Well first I wanted to mention that I really enjoy Heretics and the different takes on classic Toadies songs. Now I know you've played these different versions live the past few years. When did you decide to make a full album with that concept?
VTL: Well the whole thing started with our Dias De Los Toadies Festival. Six years ago we started adding a second night. And we started playing an acoustic, stripped down set for a scaled down crowd. The first year we were just doing straight up acoustic versions, and then we tried to manipulate the songs and make them something different…just to see what we could do.
So we started adding mandolin and keyboards and bringing in guest players and pedal steel and all sorts of stuff. Whatever we could think of. And then a couple of years ago we were in rehearsals and we were like man this would be great if we could try this in a studio environment. So that's when we cooked this idea up and we've tracked since last November and then finishing up in January. So it's been a good process.
SLIS: Do you remember the first time you tried presenting an old song in a different format, and how that occurred?
VTL: Probably Tyler. That's the one that took off the most immediately in a weird different direction. It was kind of immediate so we didn't really have to work on it. I just heard it (in my head) on mandolin. So I got a mandolin and learned how to play it so I could do that song. So that really just took off and turned it upside down.
SLIS: Did you have a litmus test for what songs you felt could be done in an acoustic setting, or did you immediately have a barrage of songs that popped into your head during that process?
VTL: Well we did an overview of our catalogue up to that point…which is the same way we approach our Dias De Los Toadies sets. Just look at all the albums and all the songs and see what strikes us a cool thing to do to one of these songs. So we just kind of approached it that way.
SLIS: I noticed the more laconic arrangements on tracks like Tyler or Possum Kingdom or Jigsaw Girl actually makes the dark lyrical content even creepier. Did you have that reaction as well?
VTL: Yeah totally. It's more naked and totally puts the lyrics in a different light. We noticed that in the studio. The biggest example of that for me would be Rattler's Revival. It had a different type of urgency to it.
SLIS; Many of your songs have an urban legend feel, and I think Heretics really expands on that campfire story aspect. Can you remember the first song you ever wrote that went in that direction?
VTL: Well I wasn't intentionally doing it. It's just that when I started writing for this band, or I guess when I started writing period, I was reading a lot of horror, and I still like horror movies and books and just weird stuff. So I would just kind of write from stuff that I either dreamt or urban legends that I'd hear from my relatives who live out in the country and stuff like that.
Plus being brought up in a super religious household, it's just part of my vernacular, all those phrases or just part of what goes into my brain (laughing). Not that I'd espouse any kind of religion on anybody, cause I don't buy it myself. But it's just part of my vocabulary.
SLIS: Speaking of eerie songs, it was a nice surprise to see Send You To Heaven on the track listing after hearing it in your live set over the years. Does it feel good to finally have that song on a proper album?
VTL: Yeah definitely, and we got to have Mickey Rafael, Willie Nelson's harmonica player, on that one as well as Joe Butcher on pedal steel so both of those instruments kind of lend a melancholy heartache-y type feel to the songs.
SLIS: When did you decide to add original tracks like In The Belly of a Whale and Queen of Scars to the mix, as well as your cover of Blondie's Heart of Glass?
VTL: I wrote the main riff for In The Belly of The Whale a year and a 1/2 ago during sound check. We were just kind of banging around on that with electric guitars. So I pulled that out in the studio while we were recording Heretics, and just started playing in that format and it really lent itself to that vibe. So in the studio I wrote out the rest of the music and the arrangement and then I wrote the lyrics and tracked the vocals on it.
And the Blondie cover…when we were preparing to go into the studio, I heard that on the radio: for about the millionth time of course, but I never really listened to the lyrics. I always thought it was this silly happy song, but the lyrics are so melancholy and sad so I slowed it down to try to make it match that.
And then Queen of Scars…I'm not even sure what song we were tracking, but it was Rez (drummer Mark Reznicek) and (guitarist) Clark (Vogeler) and I and we were all wired in the studio so we could hear what each other was doing. Clark's keyboards were busted, so while they were working on it, we started playing this chord progression and Rez was playing along and then by the next evening we had written the arrangement and tracked it and I went home and wrote the lyrics and came back and tracked it.
SLIS: You're currently playing on the Summerland tour with Everclear, Fuel and American Hi-Fi. How has that been going, and how much of your set-list are you devoting to Heretics for this tour?
VTL: Well the tour is going really well. Everybody gets along and we haven't had any run-ins with anybody and that been great. It's a long tour so it's kind of inevitable that somebody would get upset at something, but all the bands and crews are getting along so that's been great.
But this is a loud rock tour, that's part of what the agreement was. We've played In The Belly of a Whale every night: I do play 12 string acoustic but the rest of the band is electric. Same thing with Heart of Glass: we just play the electric version of it, which we were actually doing on the previous tour.
But it's been going really well. It'll be a big shift to come back out again on the Heretics tour and do a different vibe. And I'm looking forward to it.
SLIS: You joked in your press release that the album title Heretics refers to the Toadies of 25 years ago "laughing at us now" regarding adding "keyboards and handclaps." As someone who grew up during the early to mid 90's alternative DFW scene, it hit me that you're the only act from that era still standing in such a prominent way.
How does it feel to have that sense of legacy, and to have maintained such a huge fan base that you now have your own music festival?
VTL: It's great and it's all due to the kickass fans we have. They've stuck with us through our breakup and reunion and they're totally open to whatever we decide to do. It's just been fantastic.
SLIS: Do you ever look back on the 90's era with fondness when you guys were playing shows at places like Club Axis or Mad Hatters? Is there a nostalgic factor for when that scene was so vibrant, and do any recollections come to mind?
VTL: Oh jeez…I guess the first memory that comes back is playing at Axis and Rez showing up after his last day of work. But he was able to quit his job and he showed up in his business attire with his tie halfway cut off like they do when you quit your job. And then just being incredibly sweaty and hot in that tiny rock club. Man that was a lot of fun!
(Both laugh)
SLIS: So after Summerland wraps up, you'll be doing Dias De Los Toadies (September, 11th-12 in Ft. Worth, TX) a week before your album release. Can you tell fans what to expect as far as the set-list and from the festival in general?
VTL: Well we're going to do the Heretics set-the chill set-on night one, and we'll be playing the songs off the new record as well as stuff that people have come to expect and that'll be fun. And also we're using this Dias De Los Toadies as a launch party for the record. And I'm not sure what the packaging is (we've been hammering out logistics), but you'll be able to get the album that night. So you'll get that album a week before its official release, so that'll be a lot of fun.
And then on Day 2 we'll have our usual rock festival. We'll have Local H, 2 stages, all the vendors and food trucks and it'll be fantastic. And the Burden Brothers will be playing there also. So that'll be a lot of work for me but it'll also be a lot of fun.
SLIS: That sounds awesome. So is there any final statement you'd like to make to fans regarding the new album?
VTL: Well we're going to do a dance hall tour in October around TX, where we'll be going to famous TX dance halls out in the country and play our Heretics set and then in November we'll launch a proper nationwide tour. And its going to be big shift-so I'm eager to see how people respond because instead of doing a big rock setting with a barricade and everybody's kinda loud…or…just loud (laughing), we're shooting for seated venues and a real chill approach. So that's what we're going for and it's a totally different vibe, so it's kind of the ultimate test of our fans' willingness to accept whatever we throw at them (laughing).
And we're looking to even go for other radio outlets, like the desire is to do college radio or NPR and push it in different directions and see what happens. What the hell!
Thanks to Vaden Todd Lewis for taking the time out for this interview. Click here for Dias De Los Toadies Festival Tickets/lineup info. And you can pre-order Heretics via Amazon below: