Toadies 'The Lower Side Of Uptown' Review: Texas alt-rockers return with their best album since 1994's Rubberneck
On their 2015 album Heretics, the Toadies reworked their classic heavy tracks, giving songs like Possum Kingdom subdued acoustic makeovers that worked surprisingly well.
And on their latest disc, The Lower Side of Uptown, the band also revisit the infectious angst of their Rubberneck era, with new songs that hearken back to their heavy alt-rock roots (while also displaying their musical progression).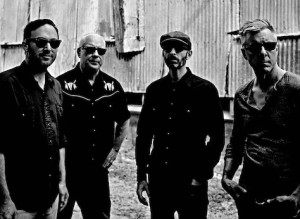 It all kicks off with the snarling When I Die, encapsulating what made them one of the biggest breakout Texas acts of the 90's: Vaden Todd Lewis's unholy howl backed by an on off-kilter riff and punishing rhythm section.
While Uptown features the group at their aggressive best, it's also delightfully varied–Take Me Alive is a raunchy cowpunk-tinged number with a scrappy textural riff, while You Know The Words draws on their Texas southern rock roots.
First single Broke Down Stupid is classic Toadies, with Lewis lamenting a late night drinking binge:
Never has a more pathetic creature hung his drunken head
And said "I'm sorry" more convincing
Never has a more pathetic soul been tormented such as this
I'm piss-drunk, broke-down stupid
It's those quirky detours that make the album both eclectic and deeply infectious. This is apparent on Mama Take Me Home, which combines a wistful psychedelic verse with a bludgeoning chorus, topped off with a gloriously skronky guitar solo from Clark Vogeler.
Human Cannonball is another gem, with a sing-songy melody that creates an instant earworm, and Echo is a revelation, marrying Beatles-esque melody with slamming dynamics.
Uptown's best track is also its most transcendent: Amen is a slow building stunner which recalls their hit Tyler with both its huge, infectious chorus and sociopathic subject matter: Cross my heart/hope to die/with you by my side/If you run/I will find/Anywhere you hide.
The group also tackle a cover–the Screaming Jay Hawkins classic I Put A Spell on You, which has an eerie carnival vibe augmented by organ and saxophone. They put their own stamp on it, with Lewis's unglued vocals heightening the track's spooky atmospherics.
The albums ends as strong as it starts, with Sentimental, a heavy, lumbering beast of a tune that shows the band at the peak of their powers.
The Lower Side of Uptown should delight hardcore fans and bring in new listeners to the fold. It's classic Toadies with some exciting new twists and turns thrown in for good measure. And the new tunes will certainly sound righteous played at full volume for the band's annual Dias De Los Toadies festival later this month. Click here for tickets.
Own it on Amazon: