Toadies Pay Tribute To David Bowie With Cover of 'Heroes': band offer free download, encourage fans to donate to American Cancer Society in late singer's honor.
The death of David Bowie has shaken his fans to the core, and veteran Texas alt-rockers The Toadies are no exception.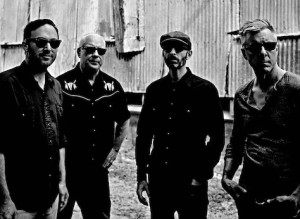 The band are offering a cover of his classic track Heroes as a free download (click here for the download link from the bands official website) which you can also listen via YouTube below. In exchange, they encourage fans to make a donation to the American Cancer Society in memory of The Thin White Duke.
The recording is from the band's performance of their recent headlining tour in support of their excellent  2015 album Heretics, taken from a October 11th set at the historic Luckenbach Dance Hall.
In the band's press release, drummer Rez stated that: "Bowie was everything an artist should be, always searching, always innovating. Words can't express my admiration or my sense of loss. He'll always be my hero."
Guitarist Clark Vogeler added: "Over the years, we have performed David Bowie's music both at live shows and just futzing around in the rehearsal space. His immeasurable talent and influence will surely live on forever. We were lucky to have had him around all this time. We just wish we would have had a chance to say 'Goodbye.' In lieu of that, this will have to do. Thank you, David Bowie and Goodbye."
Frontman Vaden Todd Lewis, summed it up more succinctly and emotionally: "I'm pissed off. And this sucks. And I'm gonna miss you. Dammit."
If you're wishing to donate to the American Cancer Society, text HOPE to 20222 to make a $5 donation or give by clicking here.