The Veldt's Daniel Chavis Talks New EP The Shocking Fuzz Of Your Electric Fur: The Drake Equation Mixtape EP. Frontman discusses shoegaze group's atmospheric return. 
The Veldt were one of the best kept secrets in 90's alternative music. Originating in the Chapel Hill, NC music scene alongside acts like Superchunk and Archers of Loaf, they bridged together elements of Shoegaze, New Wave and R&B with mesmerizing results.
But while developing a cult local following and receiving raves from critics and musicians alike (including frequent collaborator Robin Guthrie of The Cocteau Twins), their record label seemed perplexed on how to market a black rock group with Anglophile influences. As a result, releases like 1994's Afrodisiac were criminally ignored.
Frustrated by label indifference, sibling founding members Daniel and Danny Chavis formed Apollo Heights in 2002, going in even more experimental directions, and collaborating with artists including Mos Def and Deee-Lite's Lady Miss Kier.
But now the brothers are back under their old moniker and The Veldt are set to release 'The Shocking Fuzz Of Your Electric Fur: The Drake Equation' Mixtape EP (due March 18th via Leonard Skully Records). It's a stunning return (click here for my EP review), featuring 5 of their most immersive, atmospheric and intoxicating songs to date, fusing Daniel Chavis's impassioned vocals, dream pop guitar textures and Trip-hop percussion into a narcotic, blissful package.
The timing for The Veldt's return feels appropriate: with acts as disparate as The Weeknd, producer Don McKinney, and indie rockers TV on The Radio praising their influence, perhaps the world has finally caught up to their mind-bending sound.
I recently conducted an interview with Veldt frontman Daniel Chavis who discussed the new EP, the band's legacy, 2016 live dates, a forthcoming full length album, and much more. Enjoy the Q&A below.
Q. For a while you abandoned The Veldt to focus on your group Apollo Heights…what prompted you to embrace the name for the current EP? Did the material just sound more 'Veldt' in sound, or was it a deliberate decision to start a project in that style?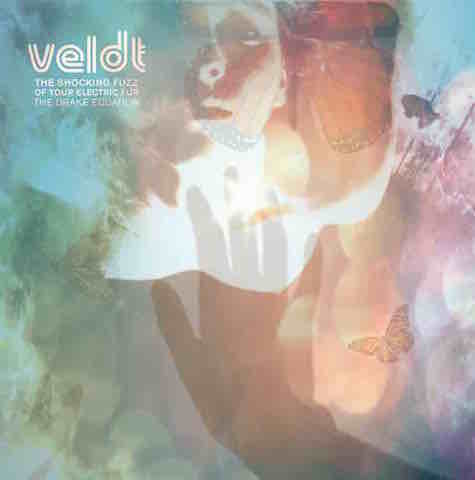 A. Well actually we were coerced by our publisher to change the name because he thought we had a bad reputation in the industry as "hard to work with," and would not work with us under The Veldt. In hindsight it was a very stupid thing to do. In all actuality, that material was nothing more than Veldt demos and just the direction we were going in anyways.
Q. There is an evolution in sound from your 90's material to the new EP: I notice a shift from hard rock songs with Shoegaze soundscapes to a sound that mixes dream-pop guitars with R&B vocals and Trip-hop elements on new tracks like 'Sanctified' and 'Token'. What prompted that subtle, yet noticeable shift in style?
A. There were always there–if you notice on earlier Veldt songs the interludes were a precursor to what would eventually become that sound. There were other harder tracks but they were left off. We have a vault of unreleased material as well.
Q. What's so impressive about the new EP is how immersive and layered it is without feeling overstuffed—did you approach the recording from a different standpoint than past albums?
A. My brother and Hayato (Nakao) are more into that technical aspect as in layering and guitar sounds. Danny (Chavis) usually has a sound in mind. If I've written the song I'll do a rough sketch guitar sound. They usually get orchestrated by the overtones of the effected guitar parts, it usually sounds like a hum and from that there is some kind of odd melody. I get bored with that kinda stuff. I'm more lyrically inclined to be honest. My guitar sound is very basic. So at times you can never hear me and I'm very lazy when it comes to my parts at times.
Q. In your press release and a recent interview with The Guardian, you noted your frustration with record labels in the 90's wanting the next 'Living Colour' and not understanding your musical approach…did any of that pressure affect your sound at the time, and what makes things different doing The Veldt without any record company pressures?
A. No it didn't effect our sound. It was our image and them wanting to paste our faces everywhere. We always demanded to be in control of those two things which was a big part of the problem. We knew what we wanted and how we wanted to sound already.
Q. To say that The Veldt is underrated is an understatement in my opinion—but you've had latter-day appreciation from groups like TV on The Radio and The Weeknd/Drake producer Doc McKinney. How does that feel…and do you think you were ahead of your time?
A. Thank you very, very much. That really means a lot to hear. Yes, and we really appreciate them. At the time we were told that but what could we do? It's pretty sad to me.
Q. Speaking of McKinney, I had to ask about the title of the EP. What does 'The Shocking Fuzz of Your Electric Fur: The Drake Equation Mixtape EP' signify for you as a group and where you're at in 2016?
A. It's the "ahead of their time" that people were talking about. It represents people catching up with where we have always been. We are just doing what we did then. Needless to say it wasn't called 'Shoegaze"–we just did it. Does that make sense?
Q. Shoegaze seems to have had a resurgence in the past few years. In addition to your new output, MBV, Ride, Lush, Swervedriver and Slowdive are all back in action. What do you think has inspired the genre to resurface in such a prominent way, and to what do you attribute its longevity?
A. The absence of "substance" in indie music and the longing from the new generation wanting music like that: it says a lot.
Q. I know you're doing some East Coast dates with Brian Jonestown Massacre…do you have any plans for more U.S. dates (and a selfish question since I live in Austin, TX): perhaps a SXSW showcase?
A. We would love to! I think we are late for SXSW though otherwise we would love to be there! It's just shocking the response we have been getting now. It was unexpected.
Q. You're also planning a full-length album 'Resurrection Hymns' later this year: what can fans expect with that release…will it be similar to 'Electric Fur' or will there be a different approach involved?
A. Kinda more of the same but more intense… Robin Guthrie from The Cocteau Twins and Rudy from A.R. Kane have produced two tracks on there. Joe Foster from Creation Records (and Television Personalities) also has a remix on this release.
Q. I think that concludes my questions: Is there anything you'd like to add regarding the new EP, tour and upcoming full length album before we wrap up?
A. The new EP is just a snippet of what's to come. We will do a string of dates with The Brian Jonestown Massacre but, in April, we'll do a mini tour of Canada – they are really ace there. And as far as the full length – like a quote from 2010, it's going to be beautiful…. noise nonetheless: but beautiful.
Thanks to Daniel Chavis for taking time out for this interview. You can pre-order The Veldt's 'The Shocking Fuzz Of Your Electric Fur': The Drake Equation" Mixtape EP from Bandcamp via the link below or by clicking here. I'll have a full review of 'Shocking Fuzz' up next week.
Own The Veldt's back catalogue on Amazon.