The Top 40 Most Underrated Guitarists in Rock Part 1
What makes a great guitar player?  Skill is important, but so is emotion. A guitar is the most versatile instrument in all of music, which range in tones, techniques and effects gives every musician their unique sonic palette. Sometimes the most innovative slip through the cracks, allowing other musicians to borrow and benefit from their sound (often without fully repaying the debt). Or others are workmanlike guitarists, avoiding flashy playing, content with just creating great songs, but overshadowed by the egos of other band members. Or perhaps it's a multi instrumentalist, whose guitar chops get lost amidst the shuffle. Or a guitarist who made a sizable impact but then vanished into obscurity. It is to all of the above this list shall cover.
For diversity's sake, I'm excluding anyone who made Rolling's Stone's Top 100 Greatest Guitarists. So previously marginalized players Johnny Ramone, Jonny Greenwood, Ron Asheton, Steve Jones, Tom Morello, Johnny Marr, The Edge, J Mascis, Thurston Moore, Link Wray, and Mick Ronson, Peter Buck, (and more, here's the full list so you can compare my choices) have finally gotten their due. No need to echo that here, same with  those who make the  predictable best of lists in guitar magazines. These will be more left of center choices.
If you want to preview or purchase any of the musicians and songs mentioned, clicking on any of the album images will take you to Amazon. All purchases help keep this site up and running :-).
Let's get started.
40. Reg Smithies & Dave Fielding
The Chameleons were one of several bands in the early 80's to weld a gloomy tone, delayed guitars and a melodramatic vocalist, but they were lost in the Goth shuffle amongst bigger acts like The Cure. But they had some great tunes and guitar interplay. Check out the crushing goth stomp on 'Everyday I'm Crucified' or the acoustic work on 'Tears'.
39. Michael Brook
Brook is a film composer as well as a guitarist and was the inventor of the 'Infinite Guitar', which played long sustained notes, hence the name. He made a copy for the Edge, who played it to great effect on 'With or Without You.' Like the Edge, Brook knows how to play off the cascading notes created by a delayed signal. Check his stellar playing off  Ultramarine,  featured in the film 'Heat.'
38. Mike Graff
Graff played guitar for the little known Course Of Empire, a TX band which lasted from the late 80's to mid 90's. Influenced by bands like Bauhaus, Graff's ethereal cutting guitar tone, aided by his hollow body guitar was excellent. Sadly they never got much national acclaim, but they had a powerful sound. Their biggest hit was '
Infested
' off the album of the same name. (Their work isn't available on iTunes).
37. Rick McCollum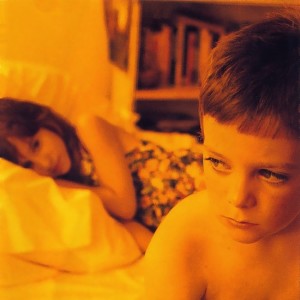 Now that the Afghan Whigs have reunited, I hope they can get more appreciation. Coming to fruition in the grunge era, they brought elements of soul music to their alt rock sound, with interesting results. McCollum's distressed tone with his frequent use of slide guitar gave them a one of a kind sound. Check out his awesome riff on 'Gentlemen', off the album of the same name.
36. Brian Molko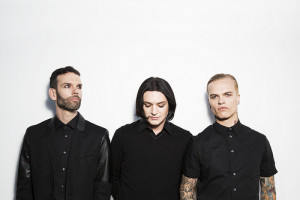 The Placebo frontman isn't a virtuoso, but his use of alternate tunings and love of Sonic Youth and  Depeche Mode  made for some novel catchy riffs and tones. One of my favorites is the deceptively simple guitar figure from 'Special Needs' or the slamming riff on 'Brick Shithouse'.
35. Dr Know
Bad Brains were in a league of their own. A mix of reggae, jazz, and punk, they were one of the fixtures of the American Hardcore movement of the  80's. But unlike many of their contemporaries, guitarist Dr Know was unafraid of pulling off wailing metal solos. Check out 'Pay To Cum' or their collaboration with Henry Rollin's on the MC5 cover 'Kick Out The Jams' to see what I mean.
34. Justin Broderick
An influence on many industrial bands, Broderick's brutal guttural tone gave his band Godflesh a disturbing doom laden sound. He also formed the band Jesu, which infuses elements of dream pop and ambient music, showing his experimental nature. Check out his slaying riff on 'Anything Is Mine' off  the Godflesh album 'Selfless'.
33. Will Sergeant
The Echo and The Bunnymen guitarist use of tremolo, delay and the occasional wah-wah pedal give songs like 'The Killing Moon' and 'The Cutter' a majestic, cinematic air. He's released several solo albums of much more experimental material, awash in ambient soundscapes.
32. Tracii Guns
L.A. Guns are known for one hit, the crappy  'The Ballad Of Jayne'. But they were a great hard rock band, with a nice dark edge and look making them not dissimilar from rock heavyweights Gun's N Roses. But what many don't know is that Guns was originally in a band with Axl Rose (hence his last name 'Guns' in G'N'R). I have a source who claims Tracii had his hand in many of the songs off 'Appetite For Destruction'  but whether that's true or not, the guy has serious chops and would have gone on to more acclaim had the rest of his band matched his skill set. Check out his shredding skills on the arena rock blowout 'Never Enough'.
31. James Stevenson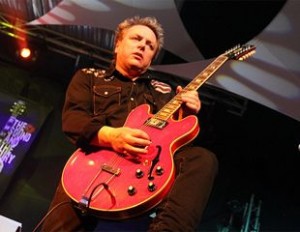 Stevenson was in Generation X, the punk band fronted by Billy Idol (his guitar player Steve Stevens is also a badass, but is pretty widely regarded as such at this point), and came up with the riff for 'Dancing With Myself'. He later went on to play guitar for Gene Loves Jezebel, which were an odd fusion of glam and goth. They could get a little silly, but his knack for a guitar riff and great soloing skills kept them interesting. Check out his playing on 'Josephina', 'Desire' or 'Set Me Free'.
And Click here for my review of The Cult's Electric 13 Austin show, which featured Stevenson on rhythm guitar.
30. Kaki King
King is an experimental guitar player,  whose use of tapping and alternate tunings with her acoustic playing give her songs an alien, exotic dimension. Check out her performance on Conan O'Brien from a few years back.
29. Justin & Dan Hawkins
The Darkness are a bunch of goofballs, but their guitar chops are no joke. Playing searing double guitar leads and licks out of the Brian May playbook, they are excellent musicians (and having seen them live recently I can attest by my review). Check out the awesome solo in 'Growing On Me'.
28. Martin Gore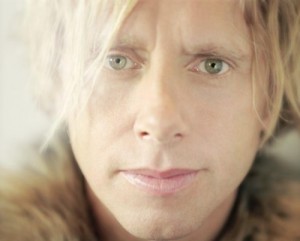 Gore is Depeche Mode's chief songwriter, occasional vocalist and all around de facto leader. But in-between his synth pop soundscapes he also plays some pretty great blues guitar riffs. He doesn't show off, but his phrasing is spot on. A great example is his singable melodic solo off the song 'Home' from their under-appreciated album 'Ultra'.
Well that's it for Part 1!  Click here for Part 2. And you can catch  Parts 1, 2 & 3 of my Most Underrated Vocalists lists here, here, and here and my Best Lyricists in rock list  here.