The SLIS 2017 Holiday Gift Guide: Music Box Sets–exploring the best deluxe editions, CD Box Sets and Vinyl reissues in alternative, classic rock, soundtracks and more.
Well it's that time again: to stuff yourself with turkey first, and then get prepared for your holiday shopping for Black Friday, Cyber Monday and beyond. And if you're stressing out about picking out a gift for the music lover in your life (and don't want to leave the house to shop), we at SLIS have you covered.
So if you're looking for music ideas for fans of alternative rock, punk, classic rock, metal and soundtracks, we have a whole treasure trove of choices available on Amazon.
If you want to preview, check pricing or purchase, simply click on the album image to go to Amazon's website. We get a chunk of change off any product you buy through us, which helps keeps this site afloat, so thanks in advance if you buy through us!
Without further ado:
Alternative Rock, New Wave and Punk:
U2 The Joshua Tree Deluxe Edition, Super Deluxe Edition 4 CD, Box Set
U2 fans will find what they're looking for in this immersive 30th anniversary reissue of their immortal 1987 album, featuring the following:
-The Joshua Tree 2007 remaster
-1987 Madison Square Garden concert
-The Joshua Tree 2017 Remixes
-The Joshua Tree B-Sides & Outtakes
-The Joshua Tree Photographs by The Edge: 84-page hardback book of never-before seen photography by The Edge, and collection of 8 rare 12′ Anton Corbijn colour prints.
OK COMPUTER OKNOTOK 1997 2017
Radiohead's finest hour (c'mon, you know its true) gets the 20th anniversary reissue treatment, with a new remaster, B-sides and previously unreleased bonus tracks.
The Smiths The Queen Is Dead Super Deluxe Edition
This deluxe edition of The Smith's 1986 classic is a treasure trove for fans, including a remaster of the album, a disc of B-sides and rarities, a concert recording and a DVD documentary.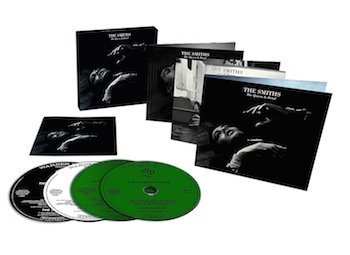 The Sex Pistols Never Mind the Bollocks: 40th Anniversary
40 years old? Seriously? Well this punk classic sure hasn't mellowed with age as this excellent 4-disc box set illustrates. The box set features a remastered copy of the album, with B-sides, outtakes, live performances and a DVD including their infamous "boat party" performance. Top it off with a handsome 48 page hardback book, and no one opening this under the tree will feel like they've been cheated.
Soundgarden Ultramega Ok (Expanded Reissue)
Losing Chris Cornell this year was devastating for Gen Xers like myself, but thankfully his music lives on to remind us of his massive talent. True blue Soundgarden fans will freak over this remastered reissue of their Sub Pop début featuring outtakes and demos.
INXS Kick (30th Deluxe Edition)(3CD/1Bluray)
Kick was INXS's career zenith, and this 30th anniversary reissue is the ultimate edition, featuring remastered audio, a bonus disc of B-sides and remixes, and a Blu-ray disc of the band's videos, plus a Dolby Atmos surround sound mix, deluxe booklet and more.
R.E.M.-Automatic For The People (25th Anniversary Deluxe Edition) [3 CD/Blu-Ray][Deluxe Edition]
Considered by many fans to be R.E.M's best, this 25th Anniversary remastered Deluxe edition box set contains a host of unreleased tracks and demos, plus a Blu-ray disc features a mix of the album in Dolby Atmos along offers the full album, music videos and a 1992 concert recording.
It also includes a 60-page book, featuring expanded liner notes, band interviews and photos by Anton Corbijn and Melodie McDaniel.
STP Core 25th Anniversary Deluxe Edition, Super Deluxe Edition 4CD
Stone Temple Pilots landmark début gets a fittingly "plush" 5-disc 25th anniversary reissue, featuring a remastered recording, demos, acoustic tracks, MTV unplugged performances, a live set, and DVD featuring  5.1 Surround Sound Mix of the album plus music videos.
The Verve Urban Hymns Deluxe Edition, Super Deluxe Edition 5 CD
The Verve's 1997 masterpiece still holds up (yes, its much more than just Bittersweet Symphony). And this handsome 6 disc edition includes B-sides, live performances plus a Blu-ray featuring music videos and concert. Also includes deluxe booklet, postcards and more!
Midnight Oil The Full Tank: The Complete Album Collection
The entire discography from the Aussie political rockers, remastered with extra tracks, a live DVD, a collectible book, all housed in a watertank collector's case.
The Fall Singles 1978-2016
This massive 6-disc set features remasters of every single ever released by the grumpy post-punk icons. Also includes an illustrated discography.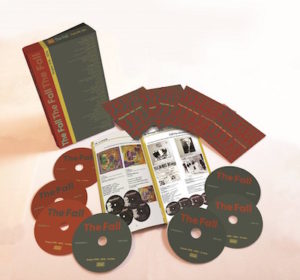 The Sisters Of Mercy: Some Girls Wander By Mistake Vinyl 4LP Boxset

Deluxe vinyl edition of one of the greatest collection of B-sides, covers and more. Gothic perfection.
OMD Punishment of Luxury LP (12″ album, 33 rpm)

Deluxe edition of synth-pop masters latest release.
Classic Rock: 
David Bowie-A New Career In A New Town (1977 – 1982)
The late David Bowie's Berlin period is captured in its entirety along with the albums Scary Monsters and Super Creeps, the EP Baal, B-sides, extended versions and much more in this massive 11 disc set.
Also included:a hardcover book with photographs by Anton Corbijn, Helmut Newton, Andrew Kent, Steve Schapiro, Duffy deluxe liner notes by producer Tony Visconti.
Tom Petty The Complete Studio Albums Volume 2 1994-2014 7 Album 180 gram, Box Set
Rock fans are still grieving the loss of the great Tom Petty, and this box set is the perfect tribute to his legacy, featuring his entire 1994-2014 output on deluxe vinyl
Queen News Of The World 40th Ann. Super Deluxe-3 CD, Box Set
Queen's bestselling album gets an amazing reissue, so chockfull of stuff I'll just quote the Amazon description: Super deluxe edition of "News Of The World" from Queen consists of 3 CDs, a DVD, and a LP. Disc 1 (original album) includes "All Dead, All Dead" featuring Freddie Mercury on vocal.
Disc 2 (raw sessions) consists of alternate takes, demo ones, and rough mix versions, including "We Are The Champions" with entirely different rendition and vocal from the previous recordings.
Disc 3 includes 19 rare tracks, featuring live, BBC session, and instrumental. The DVD is a documentary "Queen: The American Dream" featuring never-before-seen footage from the band's 1977 U.S. tour, both onstage and backstage. The package comes with a hardcover booklet, press kit, posters and more!
Iron Maiden Collectors Box: No Prayer for the Dying / Fear of 180 gram, Import, Box Set
Deluxe box set of NWOBHM legends early 90's output.
Pink Floyd 1972 Obfusc/ation

Amazon product description: 1972 saw the release of 'Pink Floyd Live At Pompeii', a film of the band performing without an audience in the historic Roman amphitheatre of Pompeii, directed by Adrian Maben. The video material includes the performances from the 'Live At Pompeii' film, edited to new 5.1 audio mixes, plus material from contemporary French TV as well as performances from Brighton Dome in June 1972 and further performances with the Roland Petit ballet company:
-Obscured By Clouds 2016 remix 
-Live at Pompeii 2016 stereo mixes
-Documentaries inc. Roland Petit ballet 
-Pompeii concert film in 5.1 sound 
-Replica memorabilia from the period
 
Rush A Farewell to Kings (Super Deluxe Edition)
The Canadian power trio's prog-rock opus gets a fittingly grandiose deluxe edition (in either 3 CD or 4 vinyl sets), including 2015 remaster, the first complete recording of their Hammersmith Odeon February 1978 performance, collection of Rush tribute recordings by bands they've influenced, new cover art, liner notes and more.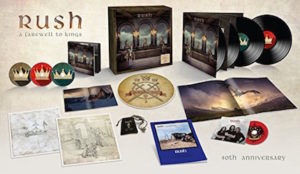 The Beatles Sgt. Pepper's Lonely Hearts Club Band – 2017 Edition
The Beatles celebrate the 50th anniversary of their psychedelic classic in fine style on this 4 disc set, featuring a brand new remaster, a behind-the-scenes audio commentary, previously unreleased demos and alternate takes, 144 page hardback book, and a Blu-ray featuring a documentary, promo films, 5.1 surround sound mix and more.
SOUNDTRACKS:
Prince Purple Rain Deluxe Expanded Edition
His Purple Majesty's landmark soundtrack has never sounded better featuring a remastered album, B-sides, 7″ singles, previously unreleased material and 1985 concert performance.
Stranger Things Vol2 Deluxe Edition, Collector's Edition LP (12″ album, 33 rpm) by S U R V I V E
Gorgeous vinyl collection for the score from ST2.
Singles Deluxe Version Soundtrack
One of the best soundtracks of all time turned 25 this year, and this grunge touchstone gets an appropriately awesome deluxe reissue featuring a host of extras, including live cuts by Alice in Chains and Soundgarden, demos and alternate takes, and unused original music by Chris Cornell.
Angelo Badalamenti: Twin Peaks – Fire Walk With Me Soundtrack (180g, Colored Vinyl) Vinyl 2LP
The previously out of print soundtrack gets a gorgeous reissue on cherry red vinyl.
Twin Peaks: Music From The Limited Event Series (Indie Exclusive Red / Black Colored Vinyl) Vinyl 2LP
All the Roadhouse performances from Twin Peaks the Return on red vinyl.
John Carpenter Anthology: Movie Themes 1974-1998
The master filmmaker/composer's new album featuring new renditions of his classic film scores.
The Thing Soundtrack-Colored Vinyl
Deluxe reissue of Ennio Morricone's complete score for the sci-fi horror classic, released on white vinyl with 11×22 poster.
JOHN CARPENTER'S THE THING – Music from the Motion Picture by Ennio Morricone
Yep, another Thing reissue.  Let the official product description explain more:
The original 1982 soundtrack release for THE THING featured Ennio Morricone's score for the film, including a wealth of music that ultimately did not get used in the film. For this new release of music from THE THING, the music has been produced and arranged by Alan Howarth and Larry Hopkins, to include newly recorded renderings of the Morricone music (including recreations of the tracks not used in the film) and Howarth has also provided new performances of the music he produced for the film with John Carpenter, making their premiere appearance on this album. The music is presented in a sequence closer to film order.
Well that wraps up our list! Stay tuned for later this week when we'll have our list of the best Blu-rays and DVD Box Sets of 2017. And if you're looking for more music ideas, click here for our 2016 edition.