SLIS 2014 Holiday Geek Gift Guide: A regular Smorgasbord of pop-culture gadgets and apparel. 
**UPDATED with Black Friday deals!
Hello and welcome to the 2014 edition of the SLIS Holiday Geek Gift Guide. I've compiled a list of the must-have (or fun to have) pop culture gifts for nerds and geeks everywhere (be sure to check out list of best music box-sets and best Blu-ray gifts too.
I have links from Thinkgeek, Amazon, Modcloth and Entertainment Earth below for a variety of apparel, gadgets, toys and collectibles, broken down by genre or pop-culture affiliation.
We get a percentage of any item that you purchase through this site, so thanks in advance if you choose to do so.
Let's begin:
STAR WARS STUFF:
Star Wars Accordion Sunshade

In between Kessel run breaks, keep your car nice and cool with Star Wars crew in tow.
Classic literature this is not…or is it?
This speaker is completely operational. Make your miniature evil space orb play all your fave tunes.
For when you don't have a light saber handy…
Downward facing droid.
Sugar Skull Trooper Heather Black, M
Blast off to the Dagobah system…or just for a trip to the store…he'll be along for the ride.
Cue the John Williams' music
Star Wars Boba Fett Bathrobe
Even the galaxy's most infamous bounty hunter needs something to keep warm in the mornings.
Classic old-school Star Wars poster right on your chest.
Shop our Holiday Gift Guide at ModCloth!
To wheeze or not to wheeze…
They can't shoot straight but they should light up your home just fine.
STAR TREK:
Drink long and prosper!
He controls your life already, might as well make it official with this nifty dog bed.
Does it get any more awesome and nerdier than this? I don't think so.
Strike that…only if you pair it with this awesome communicator replica.
Dr. WHO:
The long running British sci-fi series has an endless amount of cool merch; here are some highlights:
SUPERHERO STUFF:
We are Groot. Everyone needs a Dancing Groot, and here's your chance.
Wear this comic book goodness and forget about the Ryan Reynolds movie.
More GOTG goodness.
Your books will be under the watchful eye of these comic book titans.
I want this…bad.
Another vintage Batmobile, just with adorable passengers in tow.
Holy memorable melting ice, Batman! Even Mr. Freeze would be on board with these groovy icetrays.
It's like having your own one-man Adam West wax museum. Quite detailed.
More 60's Batman goodness (and don't forget about the newly released Blu-ray Box-Set, the ideal gift for Bat-fans.
Marvel's crabbiest duck (only duck?), finally got some respect in GOTG. A perfect time to have him immortalized in bobble-head form.
More Guardians of the Galaxy figures, all cute and pint-sized.
Secret History of Wonder Woman
Wonder Woman is getting a lot of attention lately, with an upcoming appearance in Batman v Superman, and her own solo film. But she's had a very interesting journey from concept to execution, as told in this new book.
Batman 75th Anniversary Box Set

In honor of Batman's 75th birthday, DC has released a box set of some of his greatest comic stories, all for just $31.61.
Batman Fleece Robe Black
Batman has let himself go…the Dark Knight lounges.
Exclusive Premium Rocket Raccoon Hoodie 2XL
Off-putting or awesome? A bit of both I spose.
ThinkGeek Exclusive Batman Wreath Black, L
Tis' the season to be batty!
Superheroine Caped Sleep Tanks 
TWILIGHT ZONE:
I think it goes without saying that Bob and the Gremlin should be a package deal. Luckily there's a current special where they're only $2.60 a piece, (normally $13.99!)
ALIEN STUFF:
JK Alien monster Punk Gothic jewelry Silver/Gold Color Metal
A ring that perfectly encapsulates how the late H.R. Giger's Xenomorph is both repulsive yet beautiful, and a true work of art.
Alien – A Perfect Organism – 2014 Hallmark Keepsake Ornament
For when you care enough to scare the very best. Hallmark's Alien ornament is out of this universe in coolness.
Alien: Isolation – PlayStation 4
Filled with visuals that rival the best in current cinema, Alien:Isolation is a scary good time in video game-dom.
Aliens Xenomorph Plush
Awwww…ouch!!!
Diamond Select Toys Aliens: Alien Head Metal Bottle Opener
I admire its purity…and how easy it can open up a beer.
Something snazzy to pour your xenomorph opened beer into.
FUNKO ReACtion Figures
Funko has made an impressive cross-section of pop-culture characters get immortalized in Kenner action figure-esque form.
Want to see the full Funko figures toyline including Alien, Snake Plissken, Marty McFly and more? Then click here: Funko
MISC:
Cue up the Huey Lewis…
DeLorean not included.
Cards Against Humanity: Fifth Expansion
The latest edition of the card game that brings out the worst and most hilarious in you, your friends and family.
Crabs Adjust Humidity – 4-Pack (Vol. 1-2-3-4)
Is standard Cards Against Humanity too tame for ya? Want to really blacken your soul in the name of a good time? Crabs Adjust Humidity raises the bar for depraved lowbrow humor. Add all four packs to your Cards stack and get ready to be horrified…and to laugh.
Apocalypse Snow Globe
The end of the world in tranquil, miniature form.
Sorry, Folks! – National Lampoon'S Vacation – 2014 Hallmark Keepsake Ornament
For the Clark Griswold in your life (everybody has at least one).
Kicking it old-stool…I mean school.
Relax the camera doesn't actually work. That would be the Chuck Berry model.
The game is never over…but make sure you don't step out into traffic ala Frogger playing this thing.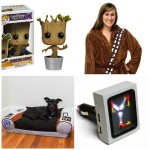 So that wraps up the 2014 Holiday Geek Gift guide! Thanks again if you choose to buy through us. I'll update with Black Friday and Cyber Monday deals where available.
Make sure to check out my 2012 and 2013 editions for even more geek gift awesomeness!