The Melvins with Le Butcherettes at The Mohawk Review: a grand evening of syrupy thick riffs and rhythmic whiplash on their Chaos As Usual tour.
Those who like it loud, heavy and weird were in heaven at Austin's The Mohawk last night. Sludge metal titans The Melvins' heady, trippy riffage felt perfectly in tune with the sticky humidity of the evening.
Like their last Mohawk set in October, the show featured opening band Le Butcherettes, whose sensual art punk got things off to a fever pitch, with vocalist Teri Gender Bender's voice cutting like a white-hot knife through the crowd on tracks like the strident The Devil Lived (from Chaos As Usual, their recent 10-inch split release with their headliners).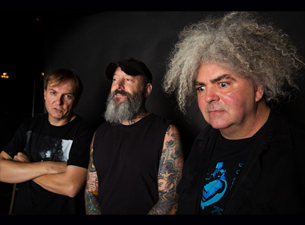 The Melvins took the stage shortly afterwards, opening with the bruising track Hag Me (from 1993's Houdini), which showed off the tight trio of founding frontman/guitarist Buzz Osborne, drummer Dale Crover and the newest recruit, bassist Jeff Pinkus (of Butthole Surfers fame).
The band pulled some material from their  2014 album Hold It In, including the gloriously mean Sesame Street Meat and monolithic Bride of Crankenstein. They also gave a nod to their bassist's roots with two Butthole Surfers covers (Graveyard and Moving to Florida). Chaos As Usual track Captain Comedown was a multi-tentacled beast, leaving no eardrum un-bloodied.
Despite Osborne's talent for telling hilarious rock anecdotes and his recent unfiltered opinion on the Kurt Cobain doc Montage of Heck, he was content to let the music do the talking this evening, and the band slammed through songs in a seamless wrecking ball fashion that had the crowd swaying in unison to the tidal wave pull of their choppy rhythms.
Osborne cuts a unique figure, clad in a psychedelic robe, with his spidery tendrils of hair bobbing like a hypnotic sea anemone succumbing to the weight of the music.
The band also celebrated the re-release of formerly out of print albums The Bulls and The Bees & Electroreteard (now available as a joint release), which included an incendiary performance of their classic Wipers cover Youth Of America, and the gloriously Sabbath-fried We Are Doomed.
The group closed the evening out with Pop-O-Pies cover Fascists Eats Donuts, raising an unholy din that showed off their devilish chops.
The show may have lived up to its Chaos as Usual title, but it's a controlled, ever precise bombast that hasn't dulled with time or age. Austin feels more righteously weird when they're in our company.
Le Butcherettes Mohawk Set-list:
Burn the Scab
Demon Stuck in Your Eye
The Devil Lived
Boulders Love Over Layers of Rock
I'm Getting Sick of You
Take a Step Back
The Leibniz Language
We No Owe
Henry Don't Got Love
Melvins Mohawk Setlist
Hag Me
The Water Glass
Captain Comedown
Onions Make the Milk Taste Bad
Sesame Street Meat
Graveyard
(Butthole Surfers cover)
It's Shoved
(Unknown)
(listed on setlist as "Stop")
Moving to Florida
(Butthole Surfers cover)
Sweet Willy Rollbar
Bride of Crankenstein
A Growing Disgust
We Are Doomed
Youth of America
(Wipers cover)
The Bit
Your Blessened
Night Goat
Fascists Eat Donuts
(Pop-O-Pies cover)