The Melvins 'Across The USA in 51 Days: The Movie!' Review: Sludge-lords document their (almost) record-breaking American tour.
Back in 2012, Sludge-metal icons The Melvins attempted a Guinness World Record: to play 50 states in 51 days (+Washington DC). While the title apparently belongs to George Thorogood (who claims he did it first, others cite singer Kevin Montgomery), the group have documented their epic slog in the concert film 'Across The USA in 51 Days: The Movie!' (due out on DVD November 27th via Ipecac Recordings).
While that sounds like a daunting topic to capture on film, it actually goes by briskly, with each state (starting in Alaska-ending in Hawaii) getting just one minute of screen time.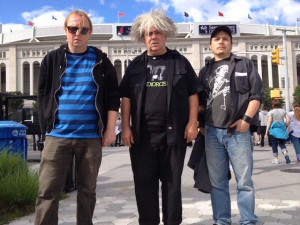 Thus it works less as a concert documentary, and more as a bizarre fever dream, which shows the Melvins-lite incarnation: guitarist/vocalist Buzz Osborne, drummer Dale Crover, and bassist Trevor Dunn (Butthole Surfers bassist Jeff Pinkus appears at various points) plowing ahead with undeterred momentum.
There's lots of flipping the bird to the camera, and battling the tedium of non-stop touring, whether it's doing (actual) golf swings during sound check, trying out weird food items (Circus Balls cereal) and lamenting interacting with the locals (Osborne at one point deadpans: "there's a guy outside who called me a fag" at their gig in Des Moines, Iowa).
In its breakneck pace, 'Across The USA' might come as close to possible to showing what's it's really like to play on a relentless touring schedule.
Between the lack of sleep, the tedium of driving in long stretches and depending on fast-food to survive ("someone in the back is a big fan of Culver's" Pinkus jokes at one point-the band invoke Black Sabbath lyrics before entering a Bob Evans diner at another), you'll feel like a bleary-eyed roadie along for the ride.
But the band also play with rockumentary conventions in their inimitably strange style, featuring trippy touches like animating fan's eyeballs with swirly patterns while they're asked questions by the band ("What do you love about Detroit?" "Getting mugged!")
"We figured it was time for us to do something REALLY crazy,"Osborne stated when revealing his touring strategy, and 'Across The USA' mainlines right into their ambitious undertaking in fitting bizarre fashion.
Fans should feel well satiated, while awaiting the more extensive doc 'The Colossus of Destiny: A Melvin's Tale' to be completed.
You can pre-order 'Across The USA in 51 Days: The Movie!' via Amazon below.