The Feelies 'In Between' Review: New Jersey jangle pop pioneers return with their first album in 6 years.
The Feelies are one of those groups that remain criminally underrated in the pop culture landscape, yet are revered by diehard fans and have inspired scores of musicians. And while their latest release In-Between may not break past cult classic status, it's a fine and fervent execution of what the band does best–pastoral ambling guitar textures and hushed vocals which conjure an autumnal atmosphere.
The title track (and album opener) is a perfect example, opening with the sounds of a crackling fire and chirping birds and crickets before launching into frontman Glenn Mercer's subdued acoustic guitar and serene vocals.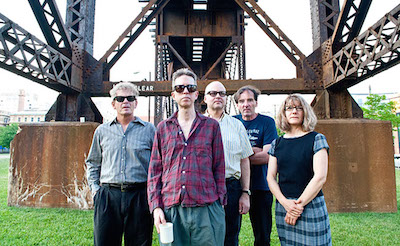 Turn Back Time is more upbeat, with spritely guitar figures and chiming keyboards, Flag Days has a roots rock vibe, with distorted garage rock guitars and Mercer taking on a husky tone, while Gone, Gone, Gone is a sonic road trip, more about the journey than the destination.
In Between isn't an album in a rush to get anywhere, and its the passage of time that is the unifying theme–the Lou Reed flavored Pass The Time is a perfect example, with an ambling groove and spiky guitar accents, while Time Will Tell offers a wistful, meditative paean to take it easy, and give time for personal reflection. The album ends almost as it began, with a reprise of the title track, but adding some buzzsaw distortion and noise rock elements to the mix.
These themes make perfect sense for a band that has only released six albums since their formation in 1976. The Feelies work at their own pace, in their own microcosm of sound, In Between is yet another enjoyable step in their ambling, jangling journey. Its the aural equivalent of a Sunday drive for your mind–sorely needed in these stressful times.
But The Feelies In Between on Amazon: