The Darkness 'Pinewood Smile' Review: Brit rockers are back with a new album of their quirky brand of arena rock.
U.K. rock revivalists The Darkness continue to blaze their own idiosyncratic path on Pinewood Smile, their fifth studio album (out October 6th on Cooking Vinyl), expanding on the diverse strengths of their 2015 effort Last of Our Kind.
The album kicks off with All The Pretty Girls. It's vintage Darkness, a catchy, 70's glam inspired number that combines Justin Hawkins glorious falsetto with Queen-esque guitar. It also features his patented witty/crass lyrics, with the frontman noting his dating prospects improved dramatically when rock stardom came a calling:
(All the pretty girls) Like me for who I am
(All the pretty girls) When the record goes platinum
Plenty of action, massive attraction
When you're selling out stadiums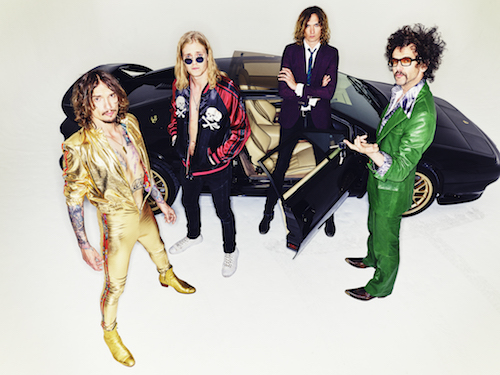 Pinewood Smile is the first album featuring drummer Rufus Taylor (son of Queen's Roger Taylor), and his muscular approach results in some of the heaviest Darkness tracks to date, including Buccaneers of Hispanola, which features a slamming NWOBHM riff, chain gang vocals and a rumbling bassline from Frankie Poullain. Likewise, the production by Adrian Bushby (Foo Fighters, Muse) is unfussy and direct, lending itself to the album's punchy, direct delivery.
Solid Gold is a stone cold anthem in the AC/DC mold, featuring the hilariously profane stomping refrain and we're never gonna stop shitting out solid gold, while Southern Train is a blues metal rocker that recalls classic Guns N'Roses (who they recently opened for on tour).
Perhaps the biggest highlight is Japanese Prisoner of Love, whose harmonized guitar lines and catchy chorus channel Thin Lizzy, topped off with hilarious lyrical content: And you can scream and yell, before bed, you're pissing on the sheets At least you have your own toilet, with a seat.
The band has always had a flair for balladry, and Pinewood doesn't disappoint: Summertime is a power ballad that could have come straight out of the mid-80's, and I mean that as a high compliment, while Lay Down With Me Barbara mixes bawdy lust and tender romance in equal measure.
The Darkness are never afraid to add some experimentation upon their familiar template, and as a result, Pinewood Smile offers a few quirky detours, including Why Don't The Beautiful Smile which recalls pre-disco Bee Gees, and Stampede of Love, which borrows a bit of The Beatles Blackbird before shifting into head banging glory.
The Darkness keep on admirably plugging away, mining their classic rock influences to engaging effect. They're still chasing the tail of their classic 2003 début Permission to Land, but they're coming ever so close to catching it. They're right to be smiling.
Buy 'Pinewood Smile' on Amazon:
[themoneytizer id="12119-19″]