The Darkness 'Last Of Our Kind' Review: Hard rocking Brits return with their most diverse work to date. 
We should be doing things that are challenging in the sense that people can't tell if we're serious or not…there's a line, and when we're doing our best stuff, we're walking directly along that line. So said The Darkness frontman Justin Hawkins in a recent Rolling Stone interview while discussing their new album Last of Our Kind (due out June 2nd via Canary Dwarf Records).
It's a telling statement because The Darkness are a band that have long confounded expectations. Where does the humor end and the earnestness begin?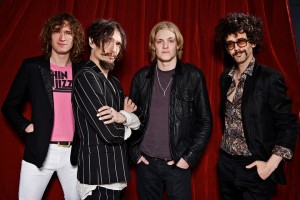 But it's that guessing game that makes them so much fun. And on Last Of Our Kind, they've shuffled the deck on just what defines The Darkness, resulting in their most varied and exploratory album to date (and a huge improvement over 2012 reunion album Hot Cakes).
Opening track and heavy metal Viking history lesson Barbarian is a stomping beast of a song, replete with folklore lyrics (Harbingers of pain!/Edward the Martyr cut down/By a Dane!) ripping guitar solo and Hawkins' satisfying Tarzan yell (a sly nod to Led Zeppelin's Immigrant Song).
Open Fire feels like an homage to The Cult's She Sells Sanctuary, with its swirling goth arpeggios and Hawkins' vocals hitting a lower register (don't worry, he still goes full helium wail during the chorus).
The title track is an anthemic call to arms, recounting their position as one of Britain's last hard rock bands. The chorus (200 Darkness fans contributed backing vocals) also serves as mission statement: We are the survivors/The ones left behind/Defenders of our legacy/The last of our kind!
There's a fair share of tasteful power ballads (Sarah O Sarah, Wheels of Fire), but the lighter waiving showstopper is Conquerors, featuring bassist Frankie Poullain on vocals who proves he's also no slouch in the falsetto department. His lyrics  befit an album written on an Irish isle: We were never gonna sail home again! The tide is strong-so keep holding on! 
Indeed much of the album's themes feels tied to harsh elements, from the lumbering Roaring Waters to the Thin Lizzy flavored Mudslide, giving it a timeless, journeyman quality. Guitarist Dan Hawkin's handles production duties, allowing for sonic clarity amidst righteously saturated guitar tones.
The most adventurous moment comes with the genre defying Mighty Wings. 80's sci-fi synths cozy up with thrash metal riffing while Hawkins' falsetto cuts through like a laser beam. The track pushes and pulls in interesting angles (and a highlight for former drummer Emily Dolan Davies) and features the band contemplating their own mortality.
Last of Our Kind is a transitional album, with the band subtly redefining their musical approach.  Their appears to be a lifting of the veil, and a more personal lyrical take. Perhaps the spoken word intro to Mudslide says it all: This ain't no double entendre/This ain't no euphemism/ This is real life! But even if Hawkins' has ditched his cat suits, the band haven't lost their sense of fun.
But they do feel like they have something to prove. During my recent interview with Poullain, he stated: The last album was a comeback album. We're glad to get that out-of-the-way and now we can concentrate on actually being creative. And that's wonderfully apparent.
 Last doesn't scale the heights of their classic début Permission To Land, but it's certainly their most cohesive and charismatic follow-up to date. Where they go next is anyone's guess, but they feel liberated: maturing in sound, but with their mischievous charm intact. The last of their kind perhaps, but plenty of life left in them yet.
You can pre-order The Darkness's Last of Our Kind from iTunes and Amazon via the links below: