The Church 'Further/Deeper' Review: Veteran Australian alt-rockers sound refreshed and vibrant, 34 years into their career. 
Fans of  The Church have been on a rollercoaster ride the past few years. In 2012, frontman Steve Kilbey threatened to pull the plug due to frustration with their record label.
But last year, the crisis seemed averted when the band announced working on a new album. But this proved bittersweet, as longtime guitarist Marty Willson-Piper would not be joining them.
Into this intimidating fray stepped Ian Haug, former guitarist for Aussie rock band Powderfinger. And now, the band's new album Further/Deeper is upon us. After such anticipation what are we to make of this new incarnation?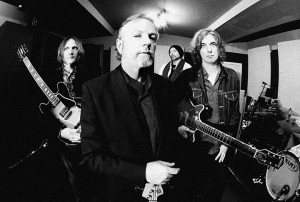 The Church are a band that truly rewards repeat listening: their intricate web of layered guitars, thrumming bass, and Kilbey's silken-croon is a rich meal that takes time to digest. But as those details come into focus, the full power of the song craft becomes clear.
And once Further/Deeper sinks in, it makes a potent argument that The Church are still going strong, and that Haug's energy and enthusiasm has rubbed off on the band.
Kickoff track Vanishing Man's wash of guitars and mysterious vibe gets the blood running, continuing their tradition of  moody album openers. Follow-up track Delirious straddles the line between optimism and unease, with Kilbey at his most emotively plaintive.
First single Pride Before A Fall is rich with dream-pop atmosphere. The band are in many ways progenitors of that sound, but it feels more pronounced here: gauzy, dreamy, and tranquil, with Kilbey pushing his vocal register into an ethereal, fragile falsetto.
This foggy haze continues on the ambling Toy Head, and the swirly, disorienting Volkano.
The band's twin-guitar alchemy has always been unique. Not content to have one player rip leads, and the other stick to rhythm, the band's interweaving guitar harmonies make one wonder where one player ends and the other begins.
So it's a credit to Haug's work that he integrates seamlessly with veteran guitarist Peter Koppes, maintaining that delicate dance that defined the Willson-Piper/Koppes era, while giving it a new flavor.
Take note of the lazy-sunbeam atmospherics that infiltrate the catchy Laurel Canyon, where shimmering guitar runs collide with lush pastoral chords, while Kilbey waxes poetic with the mix of romance and nostalgia that hallmarks all his finest work.
Love Philtre has a delicate grace, slightly melancholy, with ghostly piano adding a biting angst.
Kilbey's lyrics remain impressive, his stream of consciousness phrasing adroit and precise. This is especially noteworthy on Miami, the closing track, and the best song on the album: I don't think I've mentioned/Ive met someone else/her compassionate tears, they were like tiny bells…I should've stayed my hand, I should've stayed in Miami with the seagulls and sand/But the devil is doubt and I'm out on the street. Walking about, talking so sweet.
The band fire on all cylinders here, doing that patented Church dynamic…the push-pull of the bass and guitars, steady clanging percussion from drummer Tim Powles and a heady vibe that feels hallucinogenic and celluloid in nature.
Further/Deeper lives up to its title. It cuts to the core of what makes the band great, and why they still do what they do better than anyone. And that's a comforting and reassuring thing indeed.
Further/Deeper will be released in Australia and New Zealand on October 17th
*UPDATE: the album is now available in North America. Amazon and iTunes links are below: