The Afghan Whigs 'In Spades' Review: The Whigs expand their nocturnal, cinematic sound on their latest release.
Five years after their reunion and three years after their comeback album Do To The Beast, Cincinnati alt-soul titans The Afghan Whigs return with In Spades (out May 5th on Sub Pop Records), an album that builds upon the strengths of its predecessor while revisiting elements from their 90's heyday.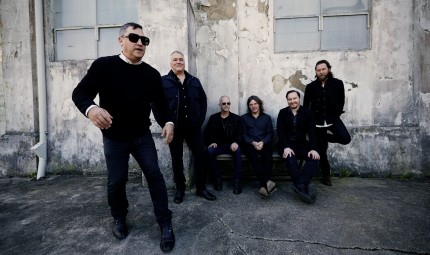 The album (produced by frontman Greg Dulli) kicks things off with Birdland which opens with staccato strings and hushed overtones before erupting in a wash of symphonic lushness and cocktail jazz textures.
The piano driven first single Demon In Profile is another jazz-inflected piece–appropriate for an album partly recorded in New Orléans. That city's rich cultural heritage looms large here, felt on the gospel-inflected piano ballad I Got Lost, which sees Dulli once again navigating a combustible relationship: Maybe you're two-faced or maybe you're three/Maybe you think that you're better than me?
In Spades also revisits the smoky textures of the band's 1996 album Black Love. Light As A Feather's blaxploitation funk is a distant cousin of that album's Going To Town, while Arabian Heights hearkens back to Blame, Etc., with Dulli assuming the role of devilish conspirator over a sinewy riff: don't you cum when they come for me/Get around it love/Don't let them know what you know.
Copernicus is another old-school stunner, a stripped-down riff-rocker that tips its hat to ex-guitarist Rick McCollum. As on Do To The Beast, The Whigs lineup is composed of Dulli and veteran bassist John Curley, working with a variety of supporting players including guitarist Jon Skibic and Dave Rosser, multi-instrumentalist Rick Nelson, and Patrick Keeler on drums. They feel like more of a cohesive unit here, which adds to the album's strengths.
In many ways In Spades splits the difference between The Afghan Whigs raunchy soul bluster and Dulli's more subdued work with The Twilight Singers, which speaks to the album's diversity: Oriole is a prime example, which marries Mellotron, cello, vibraphone and viola to create a rich tapestry that slips over the song's insistent groove.
In Spades has such a well-rounded, enjoyable atmosphere that its faults are few: Toy Automatic is the odd man out, with Dulli utilizing a strange vocal effect that detracts from its otherwise gorgeous Sigur Ros-esque soundscapes and undulating guitar-line.
The band save the best for last with Into The Floor, a track that's been a live staple for years. With a melodic motif that resembles Don Henley's Boys of Summer (filtered through a goth prism) it's an haunting ballad featuring one of Dulli's best vocal performance.
The Afghan Whigs are now elder statesmen of their own inimitable musical genre–and In Spades proves it's a remarkably fertile one. They still make excellent tour guides to the dark side.
Buy The Afghan Whigs 'In Spades' on Amazon: