Welcome to Part of The 40 Worst Band Names Ever. Click here to read Part 1 if you missed it.
We have just 20 turds to go!
20. Prefab Sprout
The reason they chose this name is convoluted and boring (read here if you suffer from insomnia). Let's just say their name blows and leave it at that okay?
19. Coheed And Cambria
These guys excel at the unintentionally infuriating. Dude sings like a goat on helium. Has wretched hair. Always make concept albums. Named their band after their own comic book characters. Must I continue?
They also made one of the worst songs ever!
THREE WORD TURDS:
I covered the 90's fixation with one word (usually bad) band names, but they also had a bunch of shitty ones in triplicate. Let's discuss.
18. Cherry Popping Daddies
These guys should really provide the theme song for 'To Catch a Predator' don't you think?
17. Archers Of Loaf
Makes me think of both pinching a loaf and Meat Loaf. Either way induces nausea.
16. Goo Goo Dolls
The band's original name was 'Sex Maggots' but when told that would limit their exposure they  chose a name referencing a talking doll. Seems they could never pick a good "Name." Get it? Get it?
15. Neutral Milk Hotel
I think I'd rather check in to the Opinionated Phlegm Inn.
THE TRYING TOO HARD TO OFFEND CATEGORY:
All metal bands want a name that sounds badass and evil, but sometimes they jump the shark into laughably pathetic territory. Here are the worst offenders.
14. Cradle Of Filth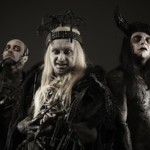 Dirty Diapers? That's the best you can do? FAIL.
13. Vaginal Defecation.
Have you ever vomited from reading text before? Have you already answered my question?
12. Lake of Anal Mucus
Okay admit it, you just dry heaved a little right?
11. Anal C–t
Charming!
Why are all these guys obsessed with mixing the plumbing?
ANNOYING LONG-WINDED PRETENTIOUS TITLES
The current trend in hipster band names is to make them as long and boring as their tunes.
10. Portugal The Man
Pretentious The Band.
9. We Were Promised Jetpacks
Hope You Dorks Crash.
8. The Airborne Toxic Event
Who farted?
7. Dogs Die In Hot Cars
Grrrrrrr.
Also see And You Will Know Us By Trail Of Dead, Clap Your Hands Say Yeah, etc, etc.
STUPID POP-CULTURE REFERENCES:
Dude this'll be so funny! People will ponder our genius by our wacky name choices?
Attn: hipsters. Ironic Mustaches are over. So is this shit!
6. The Devil Wears Prada
This Christian metal band THOUGHT they were being clever. They took the title of the chick-lit book assuming its theme was 'anti-materialism.' But they never read the book. So they decided to make up their own meaning. But the bigger mistake was picking a title for a chick-lit book! NOT METAL!!
5. The Tony Danza Tap-dance Extravaganza
This was a metal band. Thankfully they've broken up. Too bad they didn't have a song called 'Samantha!, Mona!'
4. Bowling For Soup
Taken from a Steve Martin SNL sketch. Comedic brilliance does not always equate to a good band name. Bowling for Poop!
3. Minus The Bear
An in-joke revolving around lame 70's show 'BJ and The Bear.' Minus The Laughs. Minus The Talent. Minus The Cool.
2. Toad The Wet Sprocket
Taken from a Monty Python sketch. Amazing how something intended for humor can make one furious in a different context.
AND THE WORST:
1.Hootie And The Blowfish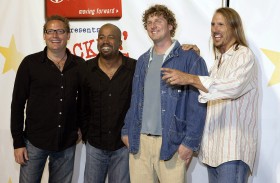 How could it be anyone else? Singer Darius Rucker named the band after the nickname of two of his schoolmates. Then he gets bummed coz people think he's Hootie and the rest of the band are The Blowfish. But that's what happens when you make the ampersand mistake! Besides, I don't think anyone would want to be known as the blowfish either. Just sayin.'
So that's my list? Agree? Wanna defend one of the bands I branded with the scarlet letter? Think I missed a few? Sound off below.