SXSW 2016 Interview: The Cult's Billy Duffy Talks New Album Hidden City
The Cult are back with Hidden City, their first album in four years. The release shows the band exploring more subtle and atmospheric elements, culminating in one of their most varied efforts to date.
Guitarist Billy Duffy's simmering riffs, always a highlight of each Cult album live large on tracks like Birds of Paradise, Hinterland and G O A T, ably assisting the evocative dusky vocals of Ian Astbury.
The band arrived in Austin to promote their album for SXSW 2016, and I had a chance to chat with Duffy before their ACL Live gig. The interview, a lively encounter that ran nearly an hour, couldn't be contained in my piece for AXS Entertainment, so here's the entire, spirited Q&A, discussing the group's new album, his love for Austin, TX, his signature guitar line, and why he and Astbury's partnership endures for 33 years and counting.
SLIS: I'm really enjoying the new album Hidden City. It has the band's signature style but there's a bit more subtlety and nuance than earlier releases. Was that intentional from the beginning, and what was the creative process like this time around?
BD: Each album evolves in its own way with The Cult. Ian and I have never ever put any rules and regulations on albums. The only one we weren't really happy with was the first version of Electric.
Even though there were some cool facets of it…we realized it wasn't the right thing to do: hence hiring Rick Rubin. So we've always been pretty open.
We get together and see what we're both into at the time and how we're feeling and whatever songs we come up with sort of leads the way. And just life and circumstances dictates the course of each album.
Like if you've just come off a long tour and you roll right into an album it's probably going to be different from this one, where we spent 2 years, and approached songs in a low-key way. We sort of allow each album to take its own shape.
And the story of this one was simply based on our last album Choice of Weapon, where we ran out of time and money. We worked with Chris Goss and we felt good about it but we just couldn't quite get it across the finish line.
So we brought Bob Rock in yet again and he was available to help us finish it off…put the icing on the cake you know what I mean?
So once we went back into the studio, Ian was comfortable with the idea of working with Bob again. So that's what we did. We just worked when Bob was available…and doing the album over two years allowed each song to evolve naturally. So those disparate sounds and elements that have gone into making The Cult over the years, we had the time to fine-tune them on each individual song rather than…"guys you've got a week in the studio"…like a sausage grinder factory y'know? So there is a difference.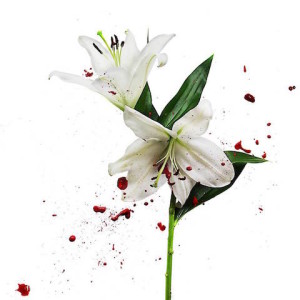 But ultimately it's all about the songs…you have to serve the songs…and each song needed to be looked at as a unique thing rather than just one entity.
Looking back now it sounds like a very complete album. But it is quite disparate.
SLIS: And do you recall what song kicked off the process for the album?
BD: Good question…what happens is we reconvene with our own particular ideas and I put together some demos in my house as a guide, with just a very basic drum machine a couple of guitar riffs and bass. The first riff I had was No Love Lost and then another that became Dance The Night. I had those in my pocket.
And then funnily enough, the first one where the two of us collaborated in the same space with Bob was G O A T, which ironically is the last song that we finished. I never thought that song would get done and now it's the new single in America and other countries that are more rock orientated.
And right at the end of that session we really got into watching UFC, and Conor McGregor in particular (laughs) and we kind of connected him to the spirit of Muhammad Ali…that "boastful but they got the skills to back it up shit" you know? And that's what the G O A T's about, its our fight song, but very irreverent and tongue in cheek.
But we just cranked the fuck out of the guitars when we were mixing it…we all just went "more guitar!"
(both laugh)
But there's also a piano ballad on the album (The Sound And the Fury) with no guitar at all. So there's a diversity that I think we are confident with…so that when it calls for bringing the hammer down we bring the hammer down and when it calls for a lighter touch we can do that.
SLIS: So I believe this is your third time playing SXSW and you also played Stubbs a few months back. What do you enjoy most about visiting Austin and the SXSW experience?
BD: You know I went and saw Jake Bugg last night at Stubbs and that's funnily enough the first time I've ever been in the audience rather than on the stage. And someone was like "well this must be weird for you." I remember I played SXSW there around 2001.
SLIS: I was there. Great show.
BD: Right, and it was two nights. One of which was a party: remember when people used to throw parties like MAXIM (laughs) when there was money sloshing around pre-9/11? So we did that and then we did our own show the next night where people could pay to see us.
And I remember that night was freezing cold.
SLIS: It was! It blew in out of nowhere.
BD: Right you remember? And it was kind of ironic because it was absolutely freezing and we have on these layers of leather onstage.
So that was the first one I recall playing. And then we did the thing (in 2012) with Matthew McConaughey playing bongos on Spiritwalker .
SLIS: Another great show.
BD: Yeah it was and we did the three gigs, the one with Gary Clark Jr. at Waterloo and the best one for me playing was the Chevrolet Sound Garage…I don't know what happened, there must have something in the water that night but I remember having the most rippingest guitar show ever. So I have many fond memories of SXSW and Austin in general. It's a town I'm really fond of coming to. And that's really not a platitude.
I think we tried to play here on the Love tour (85) but they booked us into a venue that was too small to get the gear in (laughing). And I remember this vision of coming to Austin and seeing this cute town and thinking this will be great, this will be fun to play, but then the venue was way too small and we had to cancel. I think it was like 1986. So it took awhile to get to play here…I'd already done Houston and Dallas a couple of times prior to that…Austin was a bit of a delayed gratification for me.
But I do remember loving the vibe and the blues bands and Will and The Kill and Charlie Sexton who I knew and that whole 6th street scene back in the 80's.
And we had a support band from Austin–the singer I think his name was Jason. They opened for us on the Sonic Temple tour, and they were a rock and roll band from here…trying to think of their name.
SLIS: Oh yeah! Jason McMasters from Dangerous Toys.
BD: Yeah! They were funny, I remember him.
And on a personal note one of my best buddies ever grew up here. So I have a kind of affection for Austin that kind of exceeds the normal amount I have for other towns in America.
SLIS: You've been promoting your new signature "Evil Twin" black Gretsch guitar. How extensively did you use it on the new album, and how did its genesis come about?
BD: Well I've got to give credit where credits due: loads of people have said, even Ian, like "why hasn't Gretsch made a Billy Duffy guitar? You've been plowing Gretsch's since the 80's, you and Brian Setzer. And he's got like 500 models and you don't have anything?"
So this cool guy named Michael Schultz at Fender hustled to make it happen. He said "we've got to get you a signature guitar." and I said, "I know we do!"
So we started from that mad idea and we eventually got it done and they brought out one a few years ago–the White Falcon which I'm sort of known for. And I've got my own model, which is based on Falcon from the 70's, which I used on the Love album.
I'm not known for waxing lyrical but it's been a very positive experience for me dealing with them. And so we had a white one and it sold really well so I said hey, why don't we do a limited edition of one in black, because I certainly want one (both laugh), so on that basis alone we should do a limited edition! And it'll stimulate the White Falcon and it would be a cool thing for collectors.
And I won't mention any names but there's a couple of very famous guys in big bands that I know who already got them. They've all sold out, so I hope they make a few more…I'm actually going to be playing one tonight.
SLIS: You're also developing a signature wah-wah pedal as well correct?
BD: Yeah! I've been very fortunate that I've had a relationship with people that's grown organically. Because I'm not really one of those guys that pimps himself out. But if I have a good relationship with stuff that I use…like Ernie Ball strings, I've used them since I was kid and they endorse me now, And I've got a TV show coming out called The Pursuit of Tone. Mike Ness (Social Distortion) did the pilot. There's a county artist kid from Nashville, Buddy Guy and me.
Ernie Ball and Direct TV finance it and it's an hour-long documentary that was filmed in about 3 days. So that's kind of a big deal and another example of a partnership that sort of organically developed. And its the same with the wah-wah with knowing Jimmy and Scott at Dunlop–they're the guys there that make my wah-wah pedals and custom shit for me and we finally said why don't we do one since The Cult has a new album coming out?
And of course its the most expensive wah-wah we've ever made so they're very pissed off at me (laughing)…Jimmy's very unhappy because it costs a lot to make– its two complete wah-wahs in one. With one little click of a switch you can do with a toe pretty easily. Its two completely different circuits–one which I call the "classic" is my homage to Mick Ronson, because that's why I love wah-wah's, his way of using them to express himself on lead guitar. So it lights up red for Ronno.
And the blue setting is for me–which amounts to blue for Billy or whatever the fuck–and that's what I've been using over the years because its a bit more horsepower, its a bit more modern. And it looks a bit like the White Falcon–white and chrome and sexy…and it's also a limited edition.
Because nobody is going to get rich making wah-wah pedals (Laughs) but it's a fun thing to have and Dunlop has been a fun partner. So that's going to come out. I'm stoked man, I've been very fortunate to have good people to work with.
But what's most important to me is I want people to know that if I say it's got my name on it, it's as close to the shit that I use. And I use it. Tonight I'll be playing one of my wah-wahs and one of my signature guitars.
So its important that guys know that if they're gonna shell out $4g on a white or black Falcon that what they're getting is something I use professionally.
SLIS: Speaking of Mick Ronson, which ties in perfectly with my next question. I've seen clips of the band performing Moonage Daydream live and Ian has been eloquent regarding David Bowie's passing. What impact did his death have on you personally?
BD: Obviously I grew up loving Bowie, who I was fortunate enough to meet a couple of times and actually have had dinners with him.
And growing up in England in the 70's he was part of the fabric of life—I guess it would be like being an American and referring to Springsteen. He was this omnipresent figure in the UK. I know he was successful in America, but not to the degree and social impact in the UK. He set trends and was such a pioneer.
So yeah he impacted us and he always had amazing guitar players, you know: Reeves Gabrels, Earl Slick, Carlos Alomar, Stevie Ray Vaughn…you know Bowie knew to be a good lead singer you need a great guitar player to be your sidekick. That's what a lot of lead singers forget. You need that other guy; it's not all about you. Bowie always knew that you needed something special on the guitar front to really compliment your songs.
So it was really just a massive impact. Because I do remember seeing Starman on 'Top of the Pops' which was the British pop show of the time…it was mostly pop garbage. But then he came on doing Starman and I literally got a shiver.
Ian went into mourning for about two days when Bowie passed away. He was a nightmare.
SLIS: I think it hit everybody really hard. I was shaken up. I think he's the biggest rock star death since John Lennon. He had such a wide-ranging impact.
BD: Yeah he had more of a reach than people realized…I think what you said sums it up perfectly. I think a lot of people didn't realize his impact on popular culture until he was gone and then people started assessing, like "hold on a minute" he's been an important part of all our lives in terms of pushing boundaries and trying stuff for decades so it's just a great loss.
SLIS: Your new bass player is Grant Fitzpatrick: how is he fitting into the recording and touring process?
BD: Well he didn't record. We used Chris Chaney on the album. We parted company with our bassist Chris Wyse…there were no really bad feelings, it'd just run its course you know? It was all good.
But we used Chris…a great session player, played with Jane's Addiction, among a million other thing he's done, and he really helped us by intuitively making the bass right…he just knew what we needed.
And he's a good friend: we've known him for a long time so it wasn't like some stranger walked in. So the bass was kind of neutral and you know you can't keep Bob Rock or Ian Astbury off the bass guitar by the way!
SLIS: Oh really?
BD: Oh no, you can't keep those guys away from the bass!
SLIS: I had no idea.
BD: (laughs )You can't keep Bob Rock away from the bass my friend; you can't keep him off the four-string monster. And even Mr. Astbury likes to get it on it from time to time.
The bass is a very funny instrument creatively because it's such a simple thing. You're not getting caught up in chordal shit. Its linear…its an interesting dynamic…you can come up with songs on the bass you would never on a guitar or piano because it brings it down to the real root element.
But Grant is great, he just fits in…he's really known around LA and he's just a really solid Australian.
SLIS: You were talking about how a vocalist is only as good as his guitarist and that interplay is so important. It seems like the gist of many articles about The Cult is that Ian always has an ear to the ground for new musical trends and you're a traditionalist that keeps the band rooted in its signature sound. Is that too simplistic a description or is that what gives The Cult its special push-pull dynamic?
BD: In some respects it's simplistic, but that's okay, simple is good. I don't mind that…but I'm willing and open to try stuff. But I think I am the anchor of the band. I mean…there have been times when I've possibly been a bit too conservative. But that solidity and sort of digging in a little bit makes it not get too far up its own ass and pretentious. So I think it's a blend.
But it's very easy to paint me as a caricature wishing everything was like the mid-80's and "let's just rock man"!
(Both laugh)
I've always liked a diverse selection of music, and I still do. But I just like the physical act of playing guitar, and I like doing gigs and connecting on a physical level. And maybe less into making records…I mean I like it…but it's not something where I'm like "oh great! I get to do a new album."
So that dynamic between Ian and me has been effective in keeping the band going for a long time. But I'm open. I mean how many guys do you know in the 80s that put a Gretsch White Falcon through an overdrive pedal and a wah-wah? I mean listen to Phoenix off the Love album and think about what else was going on in 1985.
SLIS: Very true.
BD: Because that's when I recorded that song, and Sanctuary. Obviously some stuff sounds of its era but there's stuff we were trying then, so it shouldn't be a surprise that were still reaching now. In the context of 30 years ago, we were reaching for stuff then, and trying to push rock and roll and seeing what we could do to make our own little corner of it.
I think that's an important dynamic. I just think you don't need to get too dragged down into the search for the new and the shiny.
So I think we've managed it on this album. I mean its been very well received critically. I don't know if that really means anything, I mean I used to not be too bothered, because some of the worst reviews we ever got were for some of our best-selling albums. So the two things don't always follow, but there's a connection and harmony between the age of the Cult, and the fact that people maybe look back and go "you know what they really have made some interesting music in their field."
And there's not really many of us around anymore–when you think of bands you might put into the same bracket as The Cult, it's not a massive list. Alternative rock, you know? You got Jane's, G n'R, and Soundgarden…and once you get into like Soundgarden and Alice in Chains you're talking about grunge, kind of the next generation…there's kind of a connection between the bands…but there's not many bands left from our era that you could happily go see at SXSW.
SLIS: And that reminds me when you were talking about The Phoenix, you were really one of the first bands to do alternative in a heavier fashion.
BD: Well I think that resonated a lot with the people in Seattle so there's clearly a connection, because we did have a hit with She Sells Sanctuary on mainstream radio there.
Everywhere else it was college radio and underground, the Love album was kind of for cool hipsters. In Seattle it actually got more over ground. And I remember doing a radio show interview…my first big time American FM rock station interview and the DJ called us The Cure!
(Both laugh)
But he was just y'know a talking head, and I got my first eye opener of what was going on in that era. We played a big theater in Seattle in '86 and like everybody who was in the grunge scene were there. I got to know them as friends and played with several of them.
Because that song resonated, it wasn't just that lightweight catchy British indie which there were tons of, and it was great: New Order, Depeche Mode, The Smiths, The Cure…lots of amazing bands. The Psychedelic Furs who I really liked, Siouxsie, Billy Idol…dance rock and stuff like that.
But we were the first ones who kind of turned it up a notch with a hint of Zeppelin or Free or Hendrix, or even a suggestion of that in the music. And I think that resonated a lot with the people in Seattle.
If you listen to the early recordings of Mother Love Bone or Soundgarden and you compare them to The Cult, you can hear a hint of that. And that's great; I'm not looking for a pat on the back because I'm really happy that happened. I'm just saying, there's definitely a connective tissue there.
SLIS: That reminds me of something that's always struck me about you guys,  you predated the heavy alternative stuff like Jane's Addiction and 90's alternative, and Ian put on the Gathering of the Tribes, which predated Lollapalooza.
BD: Sometimes its a little difficult being the pioneer: you're a pathfinder pushing against the resistance, finding the way through the dark forest and its pitfalls. And then once there's the path maybe you make some mistakes and you fall over but there's others behind you who see the potential in what you're trying to do and you've cleared a lot of the debris out-of-the-way.
And they can come and go ah, that's a good concept they didn't quite get quite right there, but I can fix that; and that's what happens sometimes in the music business in any kind of creative endeavor, not just music. But there's the originator sand then there's people who're sharp and have a lot of cool stuff to say, but they are kind of like right just behind it. They're like runners going around the track: there's the leader who's setting the pace and then there's a guy in the pack behind him going "I'm going to do him in the last corner."
(Both laugh)
And I think that analogy in some way is what had happened with The Cult. But you know there's loads of other bands like that: Bauhaus or Killing Joke, It isn't just the Cult. But because of my background liking rock music prior to punk rock and Ian having lived in North America in Hamilton, Ontario, for several years and being exposed to American and Canadian FM and rock radio, which didn't exist in the UK…that's in the DNA of the Cult. And you throw some punk rock in there and stir it all up. I mean Ian was just as aware of Van Halen as he was The Sex Pistols. Because he was in Canada and that was around.
Whereas in the UK, I was a bit more in the punk thing, but before punk I was totally into Bad Company, Free, and Thin Lizzy.
SLIS: The Cult has been going strong for thirty-three years, minus a breakup and hiatus. What do you attribute your longevity too, and how would you define the band's legacy?
BD: Well I don't want to get too posthumous yet, about here lies the Cult…and why not.
(both laugh)
Very Spinal Tap…but what I would to say to you, is that simplicity thing…The Cult got together in London because there was 2 guys in 2 different bands: I was in Theater of Hate, Ian was in Southern Death Cult. We both for different reasons ended up leaving those bands and we were drawn together. It was just a very solid partnership. Like in a lot of bands who have endured there's a fundamental respect and love and trust there even though you know there's going to problems and arguments and all that life shit–deep down at the core of it it's just two guys you know: his voice, my guitar. We write together and nothing's really changed since early '83 in London when we got together.
You know people ask us about the band's lineup. Well The Cult was just two guys who wrote some songs and said "we'd better get a rhythm section together." I would have loved for us to have the same lineup forever like U2 but that wasn't our story.
We didn't grow up together: we were in two different bands that met on tour, became friends and decided to write together and it was instinct.
And I think one of the things about The Cult is that we've always followed our gut and I think we've got more things right than we got wrong…I think we lead with our chins sometimes, and in a way I'm kind of proud that we've done that. If we feel it, we do it. We don't sit there scratching our heads thinking how are people going to take this? Were not calculated.
Because I think deep down there's just that earnest desire to rock and that's how we get off. Trying to push the boundaries of guitar music. You know back in the day (when we were Death Cult) we were fighting not to be a Goth band. Oh you guys are Goths right? No! Not really. I mean what's a Goth? I don't sleep in a coffin.
(Both laugh)
We were fighting to get out of that. We were never really easy to pigeonhole but I do think the biggest connection between us and the grunge bands…was that mixture of new wave and punk but with hard rock like Zeppelin and Sabbath as well.
Like how do we marry this and make it about something? And still be able to go on stage and play to the same audience who were also listening to stuff like Whitesnake? But I think Guns N'Roses and us were the ones doing it for real, you know?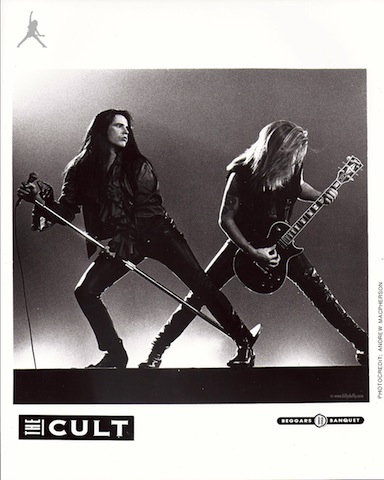 But we could coexist with all that stuff. If you look at our history, we've done gigs with Metallica, G N'R, Franz Ferdinand, Keane, shows with Patti Smith, and even Tom Jones! And we've also played with Lenny Kravitz and Aerosmith. So it's an interesting thing. We've not really been pigeonholed so I guess were a bit elusive.
But you know the best thing you can say about The Cult is that they sound like The Cult.
SLIS: Exactly!
BD: Ultimately that's the biggest achievement, to create your own little niche. We both still believe in rock. And we don't want to see it marginalized. You know sometimes, one of the things with me and Ian is we get a reputation for being a bit awkward because we won't do certain shows that may be a bit too nostalgic. What we call low hanging fruit.
Its like, no, we're about going forward. We'll play the old songs, sure, we'll rock out, but we don't want to just wallow in 30 years ago. It's also about what we're doing now.
We don't just throw albums together in a week to make some money and go on the road. We take time and we work with record companies like Cooking Vinyl who are passionate about good music.
And I think we've played the long game with The Cult. We played with as much integrity as we can in this business of show, and I think that's behooved us well, because it isn't fake. What you see is what you get. There's nobody behind the magic curtain. To us it's still a thing of passion, honesty and integrity.
SLIS: I think that wraps up my questions: anything else you'd like to add about the new album or tour?
BD: I think its a great period to enjoy The Cult. A few things have come together for us at the moment. And in the arc of our career we're on an upswing.
Thanks to Billy Duffy for taking the time out for this interview. You can keep track of all things Billy Duffy via his official webpage, and you can order 'Hidden City' via Amazon below.