Suede 'Dog Man Star' 20th Anniversary Box Set Release: band's sophomore album gets deluxe multi-format reissue.
Brit-pop forefathers Suede are giving their 1994 album 'Dog Man Star' the deluxe treatment for its upcoming 20th anniversary.
Their grandiose sophomore effort will be released in a deluxe box set edition on October 20th (the album was first released on October 10th, 1994).
The box-set will feature the album in various formats, including Vinyl, CD, High Fidelity Blu-ray audio, and even cassette (very cool retro touch there).
The release will also include several B-sides, a DVD with behind the scenes footage and band interviews, as well as a hardcover book with new liner notes from frontman Brent Anderson.
Dog Man Star was extremely underrated upon its release, and caused upheaval when guitarist Bernard Butler quit the band during its troubled production. But Suede fans have claimed it as perhaps their best work, so this should be a perfect holiday gift for the Britpop fan in your life.
Here are the full specs for the Dog Man Star box-set from the official press release, including a pre-order link: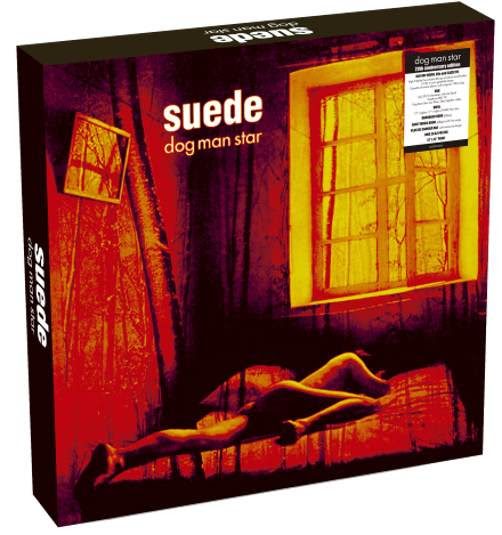 BLU-RAY AUDIO, CDs and CASSETTE
High Fidelity Pure Audio Blu-ray of album and B-sides
2 CDs in mini gatefold sleeve
Cassette of entire album, with original 1994 inlay
DVD
July 2013 interviews with Brett Anderson, Bernard Butler, Mat Osman and producer Ed Buller.
Performances on TOTP and The O Zone in 1994
Dog Man Star tour films, Stay Together promo video
VINYL
12″singles of Stay Together (non-album single, in original gatefold sleeve available exclusively to D2C store) We Are The Pigs and The Wild Ones.
7″ single of NME Flexi disc in original sleeve.
HARDBACK BOOK [48pp], INCLUDING:
Notes by Brett Anderson
Photos, handwritten lyrics, recording info, press cuttings
SHEET MUSIC BOOK [48pp] with five songs
PLASTIC CARRIER BAG with exclusive design
DMS 20 A2 POSTER
12″ x 12″ PRINT
Fans who purchase the set directly from the Suede D2C store here, will be able to purchase the very limited edition box (500 units worldwide) featuring alternative artwork approved by Brett Anderson, plus will also receive 'Stay Together' on 12″ vinyl.